The Toyota Innova needs no introduction. This formidable people-mover, renowned for its comfort, reliability and hardiness, has built an extremely loyal fan base over the years, consisting of fleet operators as well as private buyers. For this reason, it has kept Toyota's cash registers ringing ever since its launch in 2005, despite numerous price hikes along the way.
Now, with its all-new offering, the Innova Hycross, Toyota endeavours to leverage Innova's strong brand equity and take its game to the next level – larger in size, built on a new platform and stuffed to the gills with premium features. One of the talking points of the Hycross is its hybrid powertrain, which is similar to its pricier stablemates, Camry and Vellfire. With prices estimated to be between Rs 22 lakh-30 lakh (ex-showroom), it will be positioned above the temporarily discontinued Innova Crysta, which will eventually be sold alongside. Question is, can it replicate the latter's success?
Toyota Innova Hycross: exterior, styling
Toyota designers have done a splendid job in not just modernising the Innova but also upping its butch character without losing its essence. So, what you see is an imposing, almost SUV-like front-end, courtesy of its oversized hexagonal grille underlined by thick chrome, stretched-out headlamps that resemble a Fortuner and a raised, muscular bonnet. The bumper features matte silver inserts as well as oversized horizontal LED DRLs, which double-up as turn indicators.
18-inch wheels dwarfed by massive wheel arches. 
The Hycross' profile gives away that it is an all-new car from the ground up. It can pass off as an SUV rather convincingly, with its neatly sculpted body lines, subtly defined squared-out wheel arches and plastic body cladding. The twin five-spoke 18-inch alloys finished in silver look attractive, although Toyota could do with a thicker tyre sidewall to fill the wheel arches better, and on account of a rather narrow track, both in the front and at the rear, the tyre profile seems disproportionate to the overall body and stance of the vehicle. We've learnt that the narrow track has been opted for a tighter turning radius, which is very good for a car of this size.
The window line in the Hycross distinctly flows downwards towards the rear, unlike the Crysta's sharply upward kink. Its sloping rear windscreen, with its slab-sided design, horizontal tail-lamps and other elements link it to certain crossovers in Toyota's international portfolio.
Unique 'Blackish Ageha Glass Flake' paint option appears black, blue or green under different light.
Speaking of which, the new Innova Hycross is based on Toyota's global TNGA-C 'High' platform, so it is a monocoque, the engine is transversely mounted and it powers only the front wheels (all-wheel-drive available in some international models). This is in stark contrast to the outgoing Innova Crysta, which is a ladder-frame construction; its engine is longitudinally mounted and it drives the rear wheels. Due to its newer-gen construction, the Hycross hybrid is over 200kg lighter than the diesel-automatic Innova Crysta; the petrol-only version is even lighter.
The Hycross is 20mm longer, 20mm wider and as tall as the outgoing Crysta, but its wheelbase is longer by a whopping 100mm, with its wheels pushed to the corners. Interestingly, ground clearance remains identical to the outgoing Crysta.
Toyota Innova Hycross: interior details, space
Being a monocoque, what you'll immediately notice is a more agreeable cabin height due to a lower floor than the Crysta, so ingress and egress is a breeze. Its interiors are a far cry from the rather spartan cabin of the Crysta, not only in terms of design, but even in terms of the colours, quality and layout. The horizontally oriented touchscreen as well as the air vents accentuate the width of the dashboard, and some padded bits with contrasting double stitching give it a premium flavour.
Front seats feel plush, and comfort is elevated by the ventilation feature.
The brown and black theme with the matte silver highlights further lift its appeal. A welcome addition are physical buttons for climate control, for key functions of the touchscreen, as well as for other functions like drive modes and electric parking brake. Uniquely, the gear console is an extension of the dashboard, so it sits below the HVAC controls, and the lever operates with a rather solid, satisfying click.
Fit-finish and quality of some plastics lower down don't befit a car of this price. And while the gear console has freed up space, there isn't any place to rest the driver's phone flat (within easy reach). You get two cup holders between the front seats and a large elbow box. There's a nifty shelf on the passenger side above the glove box where you can stow your smartphone, and Toyota will even install a wireless charger as an accessory.
The 1.6kWh nickel metal hydride (NiMH) battery placed beneath the front seats.
But the Hycross' high-riding stance lends drivers a commanding view of the road and a glimpse of the flattish bonnet, which many are likely to appreciate. The front seats are broad and have excellent cushioning, and what makes them even more comfortable is the ventilation function. This time around, the driver's seat is also electrically operable with two memory functions.
Toyota has placed the hybrid's battery beneath the front seats, and there's even a vent on the passenger side to cool it. But does that eat into the footroom and comfort of middle row passengers? No, in fact, the extended wheelbase ensures that knee, leg and foot room for middle passengers is plenty. If you opt for captain's chairs, you get a set of part-electric chairs with ottomans, extensions on which you can rest your legs when you really want to stretch out, thus taking comfort to the next level.
Captain chairs with ottomans offer business class comfort levels. Front seats need to be manually extended for full ottoman benefit. 
In order to use it effectively, you'll have to move the front passenger seat forward, therefore, it isn't of much use behind the driver. With the middle slid fully behind and the front passenger seat all the way forward, you're in for a business class-like experience, with the ottoman supporting your legs, and the backrest in a reclined (electrically operable) position. The passenger behind the driver's seat, however,  will have limited space to stretch.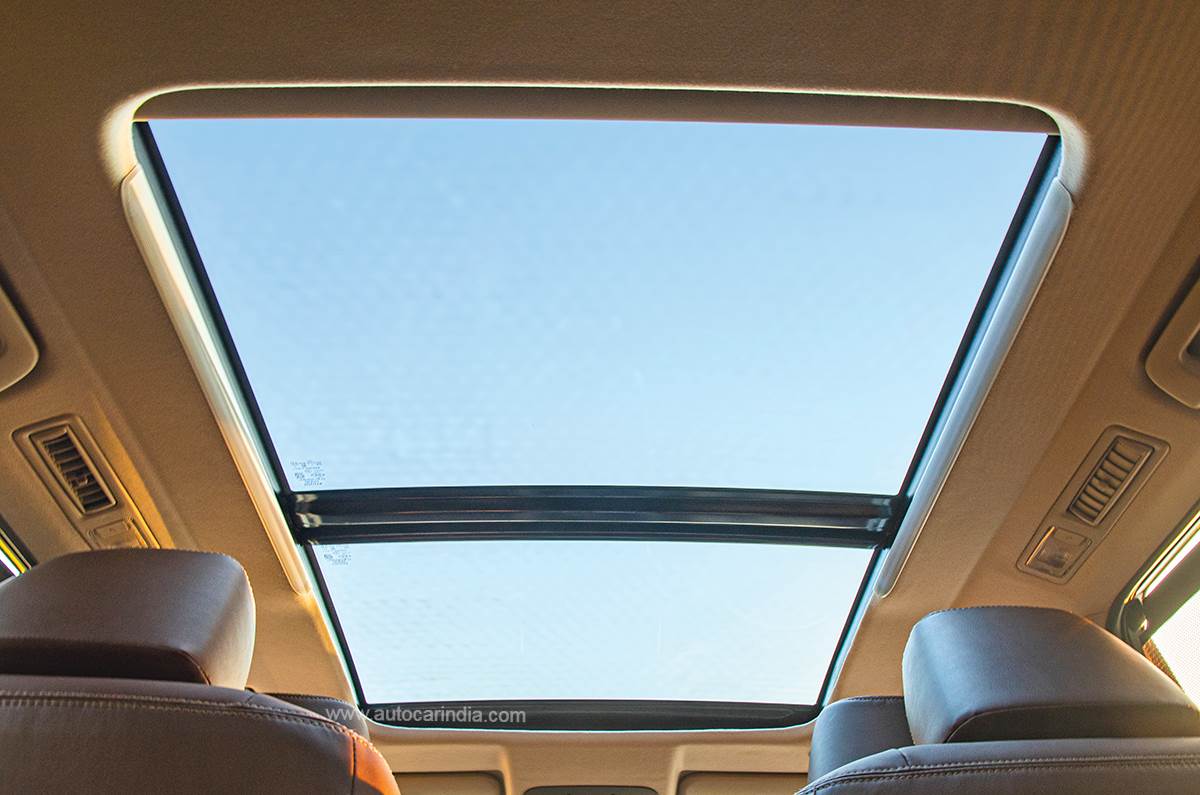 Large panoramic sunroof floods cabin with light.
For the comfort and convenience of rear passengers, there are window shades, a dedicated climate control unit, and a nifty foldable tray with cup holders between the captain's chairs. The Hycross also features a panoramic sunroof that floods the cabin with light and accentuates the sense of space. AC vents move to the sides of the roof, but these did feel rather flimsy to operate.
Getting to the third row is pretty easy too, as the middle row slides all the way in front, liberating a large opening to trundle through. Once sat, you'll appreciate the space and comfort of its third row. It feels quite bright and airy, so even adults will be comfortable on long drives without feeling worse for wear.
Third row is comfy enough for adults. Headroom for tall adults is tight.
The backrest reclines in a 50:50 ratio, and Toyota has even offered three individual headrests, as well as three-point seat belts, for the occupants. At certain backrest angles, however, taller occupants will brush their heads against the ledge of the roof, so six-footers could find headroom in short supply.
With all seats up, there's still space for a few soft bags.
With all seats in place, the boot has enough space for a couple of soft bags, but folding the third row flat liberates cavernous cargo space. What makes loading heavy luggage very convenient is the massive boot opening, low floor height and a flat loading lip. The electrically operable tailgate adds to the convenience.
Toyota Innova Hycross: features
Toyota has loaded the Innova Hycross to the gills with upmarket features like auto-LED headlamps and tail-lamps, 18-inch alloys, panoramic sunroof, ventilated front seats, electrically operable driver's seat with memory, multi-zone automatic climate control, 10.1-inch touchscreen with wireless Apple CarPlay (and wired Android Auto), JBL sound system, acoustic and tinted windscreen, electric tailgate, paddle shifters, tyre pressure monitor, and a 360-degree parking camera being the notable ones.
Digital instrument cluster also displays the flow of power.
It also packs in some very useful autonomous driver assistance systems (ADAS) like blindspot monitor, adaptive cruise control, rear cross traffic alert, high beam assist and lane keeping assist. Unlike in some cars, lane keep assist isn't very aggressive or intrusive, which does make it among the better systems out there, however, most drivers would prefer leaving this particular feature turned off as it occasionally tends to intervene while tackling corners.
Rather basic interface; packs wireless Apple CarPlay, wired Android Auto.
Vehicle stability control and hill start assist are standard across the board, but we're sore that Toyota offers side and curtain airbags for only two out of five variants.
Toyota Innova Hycross: enigne, gearbox, performance
Toyota is offering the Innova Hycross with a choice of two powertrains – a 2.0-litre naturally aspirated petrol and a 2.0-litre hybrid, the latter being the focus here. What's interesting is that, while the petrol and hybrid share the same 1,987cc, four-cylinder direct-injection engine, the latter runs a more efficient Atkinson cycle wherein the intake valves remain open for a longer during the compression stroke for a lean air-fuel mixture. Hence, the petrol unit makes merely 188Nm of torque by itself, compared to the standard (non-hybrid) petrol's 205Nm.
2.0 petrol across the range; runs the efficient Atkinson cycle on Hybrid version.
Complementing the petrol engine is an electric motor that draws energy from a 1.6kWh nickel metal hydride (NiMH) battery. Toyota engineers explain that for heavier cars in the line-up, the tried and tested NiMH battery is their go-to option, as it manages thermal runaway better than lithium-ion batteries; the latter being relatively more expensive and more suited to lighter, smaller cars.
By default, the Hycross starts on battery power and it'll calmly potter around, with the petrol engine kicking in to recharge the battery or to provide an additional punch. Toyota claims that 50-60 percent of a typical urban commute is possible in full-electric mode, with the petrol engine playing a supporting role.
Monocoque architecture has infused a sense of confidence in the way it drives and handles.
As speeds increase, it is the petrol engine that takes charge. With the battery-motor lending its electrical assistance, the car feels quite responsive and the hybrid makes light work of small increments in speed. With no spike or sudden surge, the Hycross' acceleration is very linear, so some might miss the midrange oomph of the turbo-diesel, but by no means is the hybrid's acceleration slow. Toyota claims that, flat-out, it'll accelerate from 0-100kph in 9.5sec, which is impressive for a car of this size, but as speeds climb, performance begins to taper.
Toyota's e-CVT (planetary gearbox) is at ease when driven sedately and feels in complete sync with this hybrid system. But with an aggressive driving style, particularly at highway speeds, the e-CVT makes the engine sound strained and feel outside its comfort zone, even though there's more than enough performance on tap. There are paddleshifters on offer, so drivers can manually select six predefined ratios, and then there are drive modes too – Power, Normal and Eco.
High fuel efficiency will keep a check on running costs.
The Hycross' monocoque construction begins showing its prowess almost immediately. Body movements are far better controlled, and even though the suspension feels a touch firmer than the Crysta's, it drives with a lot more confidence this time around, due to its longer wheelbase, offering a planted highway ride. Curiously, Toyota opted for rather low-profile 225/50 R18 tyres, which affect the plushness of the ride, resulting in some jolts coming through on the sharper bumps. Also, road noise filters through, particularly in the second and third row.
With better torsional rigidity, a taut structure and a long wheelbase, dynamics have improved by a quantum leap, compared to the Crysta. It rolls and pitches less, and feels better behaved than the Crysta, but what really takes the drive experience up a few notches is its electric power steering, which makes manoeuvring and parking this large MPV a breeze. And besides being light and easy, its tight turning radius is very impressive. What's nice is that the steering feels consistent, and it doesn't kick back aggressively like the Crysta's hydraulic unit did.
Toyota Innova Hycross: verdict
The new Toyota Innova Hycross elevates the MPV experience with its luxuriousness. It is a spacious 7-seater and it excels in the comfort department. It wears a more desirable, SUV-ish persona, and its interiors are dressed to impress with premium kit.
The ace up its sleeve is its hybrid powertrain, which is smooth, feels quick and responsive and is likely to return staggering fuel efficiency, thus keeping a check on running costs. Being relatively cleaner and greener than a petrol or diesel vehicle is only icing on the cake. What's more is that its monocoque construction improves its driving manners by a quantum leap, and its electric power steering makes it more user-friendly than the Crysta.
Spacious, upmarket, efficient and nice to drive, it has the makings of a success story.
But the Hycross isn't perfect. The e-CVT makes the engine sound strained when driven aggressively. And even though the hybrid performs well in isolation, it lacks the diesel's sheer punch. What could be a deterrent for buyers, especially those driving in hilly regions, is its front-wheel-drive layout. Interior fit-finish and quality of some bits don't belong to a car of this segment.
For all its merits, the Innova Hycross is likely to be priced between Rs 22 lakh-30 lakh, so it will be expensive. However, as Toyota's sales reflected in the past, pricing hasn't been a deciding factor for Toyota loyalists in India, so long as the product is robust. And the way the Innova Hycross has shaped up, this one has all the makings of yet another success story.
Also see:
Source link