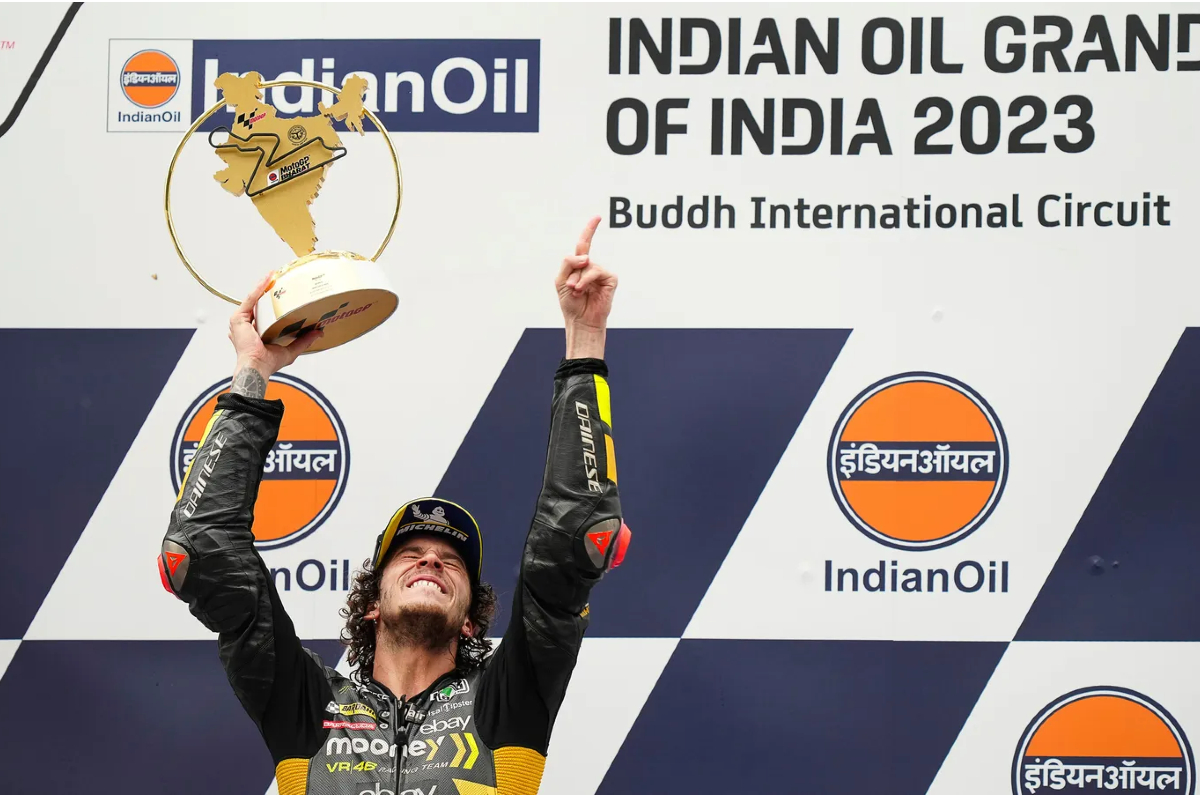 The Buddh International Circuit was a hit with riders, but did the Indian GP do enough to earn a spot on next year's calendar? We take a look.
"We kind of made it against all odds," is what Amit Sandill – co-founder of Fairstreet Sports said to Autocar India when asked about the first ever MotoGP race on Indian soil. There was a lot resting on the event going ahead; after all, it's the first time that the Buddh International Circuit has hosted a world championship event in a decade.
Given our history with F1 and with next year's Formula E Hyderabad round under threat, pulling off this MotoGP race was crucial to establish India as a country ready to host international motorsports. So did the inaugural edition do enough? We take a look at all the key talking points.
1. BIC exceeded expectations
Riders were pretty apprehensive about the Buddh International Circuit heading into the race weekend, especially given that the circuit was still pending FIM homologation with just a handful of days to go. The track was originally built for F1, so a number of changes had to be made to make it suitable for motorcycle racing. This included extending the run-off areas and gravel sections, installing upgraded barriers and more.
It was a very different story once the riders actually got some track time, though, with several of them praising the technical nature of the track with its significant elevation changes. The banked parabola section of Turn 8/9 was another hit among riders and MotoGP fans alike.
"The track is very technical, you must be very precise, but all in all, it is beautiful," said reigning MotoGP world champion Francesco Bagnaia after the opening practice sessions on Friday. Of course, the fact that it is a new track also levelled the playing field a bit, allowing riders like Marc Marquez and Fabio Quartararo – who've had a tough spell recently – to shine.
2. The heat was on
With temperatures ranging from 32-35 degree Celsius all weekend, and humidity levels above 80 percent, it was a gruelling venue for the riders. So, it was no surprise when riders asked for the race distances to be shortened. And following feedback from the official tyre suppliers, Dorna and the FIM obliged – the MotoGP Sprint and junior class races were shortened by one lap each, while the Sunday MotoGP race was shortened by three laps.
And we still saw Jorge Martin suffer from dehydration in the closing stages of the race. Running on a medium rear tyre, compared to most of the grid on softs, the Prima Pramac racer wore himself out trying to hold on to second place and later had to be attended to by the MotoGP medical team.
So, it's not surprising that organisers are now looking to give the race an October slot if it does go ahead next year, with Sandill saying "[the track is] technical, therefore it's tiring, and the weather doesn't help. It's probably a good idea to have it in October, or November even."
3. Not a sell-out crowd
Around 58,000 fans attended the race in person on Sunday and over 1,11,000 across the weekend. While those aren't necessarily bad numbers (Qatar had an attendance of just 17,972 in 2022), it doesn't paint a good picture to see empty stands, that too when India happens to be one of the largest markets for two-wheelers in the world. Some events like the French GP see over 2,70,000 fans make their way to Le Mans over the weekend.
Organisation plays an important role here. Ticket sales only started in late-June, just three months before the race, with prices ranging from Rs 800-40,000. But uncertainty surrounding the race also had a role to play, potentially holding back people from booking tickets.
Work on the track started fairly late following a legal battle between the Yamuna Expressway Industrial Development Authority (YEIDA) and Jaypee Associates Ltd. Ultimately MotoGP organisers took on the responsibility to foot the bill for all the repair work. Given this race against time, Sandill admits the focus was simply on making the event happen: "We did it in three months. The event had to happen looking at the time constraints. Marketing did take a bit of a backseat, which to me is not the best way to do it."
4. Still plenty of work to do for 2024
While the track itself exceeded expectations, there's plenty of work to be done if MotoGP returns here in the future. Several key staff and even riders like Marc Marquez were affected by visa issues. There were also a number of uncanny track delays; Autocar India understands that Friday's Moto3 track action was delayed by 45 minutes due to a drinking water shortage for the marshals.
The track itself could also do with some tiny tweaks, with riders pointing out some areas where the walls are a bit too close to the track. There were also some instances where marshal action was not as prompt as one would hope for, but that improved as the weekend went on. But these are all areas that can be worked on.
"There are improvements which will be done, this is the first time. To an extent, it's also a learning curve for us. If there are any shortfalls, next year we'll take care of all that," said Sandill. "I think for the first time, it has been successful. The services have to be improved, I do think that we need more awareness to be built. But that's not a showstopper."
He added, "The buildings are a bit dated now and need a proper renovation, which we will do for the following year."
Dorna and Fairstreet Sports have signed a seven-year deal for the Indian GP. But with several new venues like Hungary looking for a spot on the MotoGP calendar, it remains to be seen if the first edition of the Indian GP did enough for the race to stay on the calendar.
5. Title fight thrown wide open
It's game on in the 2023 MotoGP championship following the Indian GP. Bagnaia's costly crash dealt a big blow to his championship hopes, as Marco Bezzecchi cruised to a dominant win at the BIC.
Martin's second place finish means he's just 13 points behind leader Bagnaia now. Bezzecchi, meanwhile, is 31 points behind Martin.
Also see:
Source link