Taking over as RE's new flagship, does the Super Meteor 650 represent the next step in the company's steady upward rise?
If the call of the open road is one that you find difficult to ignore, then perhaps one of the best ways to answer that call is with a cruiser. Fortunately enough, our market has some decent entry-level offerings for you to get started on your cruiser journey. And lord knows there are others at the top of the food chain that'll tempt you to sign away your pension. But in the middle, somewhere between the Meteor 350 and the now-defunct Harley-Davidson Street 750, lies a gaping hole. And no, the Kawasaki Vulcan S and the Benelli 502C, with their peaky sportbike engines, don't exactly fit the bill.
Simultaneously filling this cruiser-shaped hole and raising the ceiling of Royal Enfield's line-up is the newly launched (and rather delicious-looking) Super Meteor 650. "Archetypical cruiser" is how Mark Wells, RE's chief of design, describes the bike, and it's hard to disagree with him.
Royal Enfield Super Meteor 650 cruiser: design and features
It ticks all the boxes – round headlight, swept-back bars, and the sharp swoop down from the teardrop-shaped fuel tank to the scooped-out seat (both in themselves cruiser trademarks). But RE has peppered this conventional design with just a touch of flair and modernism. The headlight is the company's first LED unit, a Tripper navigation pod is standard, old-school wire spokes have made way for neat-looking alloy wheels, and holding up the front of that swoop is an upside-down fork – another RE first.
You'll find neatness in most places you look. Be it in the way the exhaust pipes are now nicely tucked in and exit straight, or how all the body panels interface crisply with tight gaps, or even in the sparkle in the paintwork. Especially exquisite are the aluminium switch cubes, which despite sharing their design with the smaller J-platform REs, still look and feel special, thanks to the materials and finishing.
Instrumentation looks too similar to smaller single-cylinder RE models.
The first strikes against the Super Meteor are relatively small ones. I wish the instrumentation was more unique here; sharing its design and layout so closely with single-cylinder models slightly takes away from the flagship experience. And the sole exception to the panel gap mastery is the fuel filler cap, which is a literal chink in the armour, allowing unsightly bolt heads from beneath to peer through at certain angles. Nitpicking? Perhaps. But that's a sign of how well built the rest of this motorcycle is.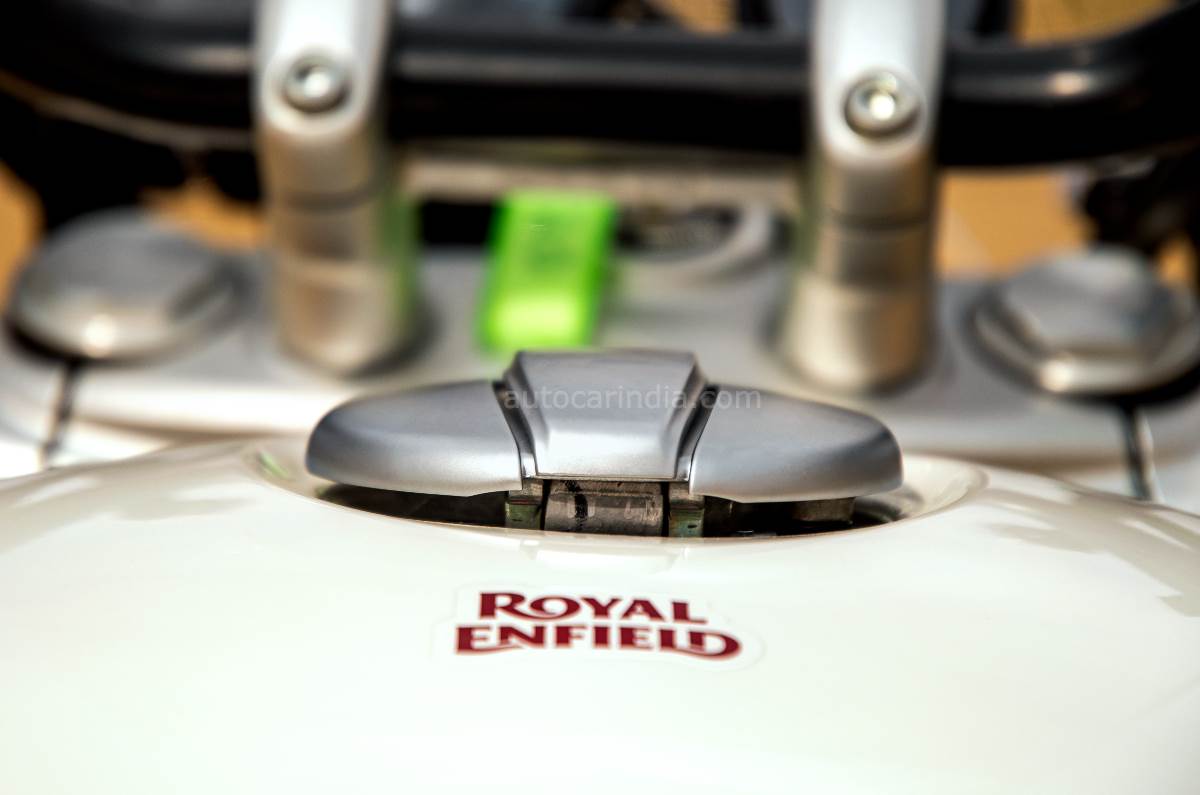 Unsightly gap around fuel filler stands out on an otherwise excellently finished motorcycle.
Royal Enfield Super Meteor 650 cruiser: engine and performance
Similarly, there's precious little to complain about once the wheels start turning. You didn't have to be a motorcycling visionary to tell that this engine would work well in a cruiser, even when riding it in the Interceptor. So at the cost of stating the obvious, the 648cc parallel-twin is adept at its new role. It's as gutsy as ever at the bottom end, which is just what you want in a low-stress, low-effort motorcycle such as this. Keep it twisted and you'll feel a nice surge in the mid-range, as the bike begins to really gather pace. What's nice is that it doesn't fall flat at the top end, instead maintaining a fairly healthy drive all the way to the limiter.
Refinement, for the most part, is also the sort you'd want from a cruiser. Fuelling is silky and precise, and for most of the riding that you're likely to do on this bike, the motor feels nice and smooth; whatever little vibes there are only add to the character of the engine. It's only beyond 110kph in 6th that a buzz begins to creep into the handlebars. But these were brand-new bikes with spanking fresh motors, and even on our second and final day of riding, it had begun to smoothen out a little. Engine mounting methods have changed on the Super Meteor, so we look forward to finding out what the smoothness is like in the long run.
The mid-range surge and the top-end meatiness aren't qualities that I remember on the existing RE 650s, but we'll have to ride the bikes back to back to be sure. That being said, there are some changes to the powertrain on the Super Meteor. Intake and exhaust are both new, which has necessitated remapping of the engine. Overall gearing is slightly shorter here, but it's a markedly heavier bike than the existing 650s, so on the whole, it feels about as quick. 
Royal Enfield Super Meteor 650 cruiser: Ride comfort and manageability
That bump up in weight has been playing on a lot of people's minds, and justifiably so – 241kg is no small figure. But truth be told, it's only during low-speed manoeuvering that you really feel this heft, and even then, it's no deal-breaker. Sure, you've got to plan ahead a little and be cognisant of the weight when taking U-turns and the like. But this is a long, low motorcycle with most of the weight concentrated within the wheelbase, so it isn't top-heavy like an Interceptor, and it's definitely not what you'd call cumbersome.
That low-slung cruiser form factor brings strengths at high-speed, too. A long 1,500mm wheelbase and a raked-out front-end help this bike feel perfectly planted and stable even at triple-digit cruising speeds. And if you happen to encounter a big bump or dip at these speeds, the geometry and suspension set-up do a great job of keeping things well in check, with great body control. You won't steamroll over it, but things won't ever get out of hand either.
So long as you keep in mind that this is a cruiser, you won't have any trouble with ride quality. This form factor has inherent limitations, suspension travel being one of the biggest – the 120mm at the front isn't too bad, but 101mm at the rear is on the lower side. So there is a firm edge to the set-up, but it still does a decent job of dealing with road imperfections. They do come through to your backside, but the shocks manage to reduce the impact, and it isn't too harsh. On the whole, as long as you manage to slow down enough for bumps, and don't try to ride this like an ADV, this is a cruiser that should work well in the Indian environment. That being said, we only had the opportunity to sample the Super Meteor on Rajasthan's largely excellent road network. And though we did our best to find the nastiest patches we could, our full verdict is reserved until we can subject this bike to the truly vile, broken road surfaces of Mumbai.
Even with a pillion on-board, ground clearance never proved to be an issue.
Another figure that's raised the eyebrows of prospective buyers is the 135mm ground clearance, and once again, this is understandable. We did our very best to put it to the test, throwing on a pillion and attacking the sharpest speed breakers and most broken patches we could find. Even with close to 150kg on board, the Super Meteor never once scraped its belly. It's also worth pointing out that the erstwhile Thunderbird X offered an identical amount of ground clearance, and that motorcycle sold in large numbers with no widely reported issues of grounding out.
Royal Enfield Super Meteor 650 cruiser: handling and brakes
Tidy and predictable handling, and a reasonable amount of cornering clearance.
You'd think a long, heavy motorcycle would need some muscling around, but this one is actually a reasonably willing handler. You don't need a lot of effort to tip it in, and unless you're riding like a hooligan or using some really poor techniques, you'll have enough cornering clearance to have some fun in the twisties. Obviously, it's no lightweight corner carver, but it's well-behaved and predictable in the corners. It's a similar story with the brakes, too – they aren't super sharp, and you wouldn't want them to be, on a bike like this. But give them a good pull and the bike comes to a stop well, always feeling in control. As is typical with cruisers, the rear brake ends up contributing quite a bit to stopping, so it's nice that there's a big 300mm disc at the back.
Royal Enfield Super Meteor 650 cruiser: long-distance comfort
So, now that we've seen that the typical compromises of the cruiser format aren't deal-breakers, let's focus on the advantages that this form factor brings. First and most apparent, the seating position is super relaxed, and quite comfortable. You're sat upright, with feet stretched out in front of you, and a slight reach to the handlebars. Despite arms and feet both being forwards, there isn't excessive pressure on your tailbone, and overall, your body feels quite unstrained. But despite this comfortable seating, overall long-distance pleasantness will depend heavily on how you go about buying this motorcycle.
Celestial variant (left) gets certain accessories as standard.
We were fortunate enough to split our time between the Celestial variant, which gets a windscreen, a 'Deluxe touring seat' and a pillion backrest as standard, as well as the Interstellar variant, which misses out on these bits. The touring seat is supremely comfortable, and with it, I would gladly spend a whole day riding this motorcycle. The stock seat does look cooler, with a split design and a scooped-out look, but it becomes a literal pain in the backside after a couple of hours on board.
Touring seat is supremely comfortable even over a full day of riding.
If there is a weak link on the Celestial version, it's the windscreen. A number of riders of varying heights all experienced varying amounts of buffeting at high speeds. For most riders of average height, the wind protection zone will end about halfway up your helmet, and so the turbulent wind catching the top of your helmet will cause a little discomfort at high speeds. What also remains to be seen is how the windscreen performs at low speeds in dense city traffic – it's quite a large unit, and the smaller windscreen on my Classic 350 long-termer already makes things quite stuffy in Mumbai traffic. On the Interstellar variant, you won't have to deal with buffeting, but you will have to contend with windblast if you want to sit at speeds of over 100kph.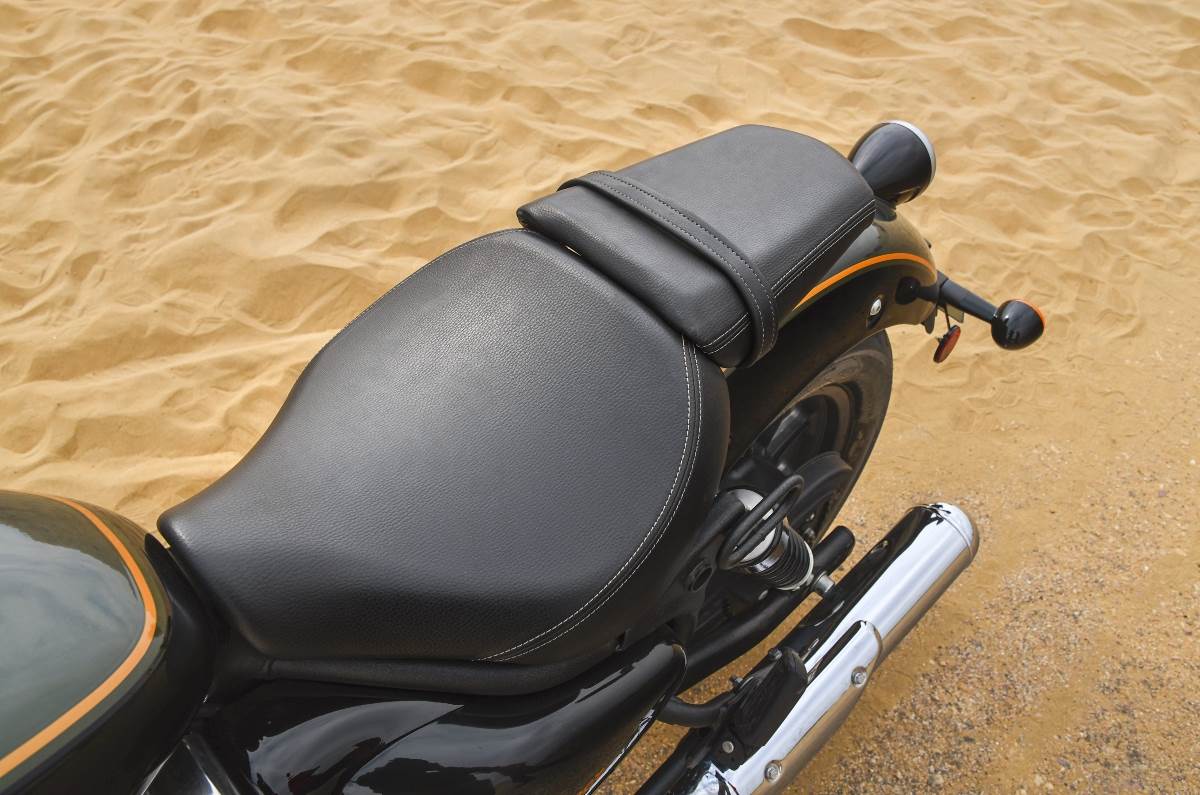 Standard seats quickly become a literal pain in the backside.
On this long-distance machine, you will likely want to share the experience with a special someone, or carry your belongings with you. Thankfully, RE has thought of this, and both pillion comfort and luggage are well sorted. But it's up to you to make it so. All the comfort that the touring seat gives to the rider is transferred to the pillion as well. Not only is the seat base much larger than stock, there's also significantly more padding, meaning you're seated much higher up, which in turn means your legs are in a more relaxed position. Throw in the pillion backrest, and your passenger will have no complaints even after a long day of riding. Once again, the stock pillion seat is nowhere near as comfortable, and is best used for occasional short distance trips within the city.
As far as luggage goes, RE is offering a very neat-looking pair of hard panniers as accessories, which can be fitted onto any of the variants. Total volume is a decent 35 litres, and there's also a top box under development, which will measure 28 litres and is being designed to fit a single full-face helmet.
Royal Enfield Super Meteor 650 cruiser: pricing and verdict
Quite simply, this is a motorcycle that makes the call of the open road very difficult to ignore. The Super Meteor just makes you want to hop on-board and chase the horizon. And you can do this at a leisurely pace with the motor purring along and the scenery slowly changing around you, or you could do it at a 100kph cruise with the world blazing past in the opposite direction. On the top variant, you can do this in a great deal of comfort, for pretty much the entire day, with a pillion and luggage too. So as far as cruisers go, this is a very good one, and one that also works well in the Indian environment, from everything we've experienced so far.
Of course, it's not flawless though. The standard seats, for both rider and pillion, can be improved, to offer a better baseline level of comfort – somewhere between the current seats and the touring seat. The windscreen could do with a little redesign, to address the buffeting. And there's also the question of seeing how much the engine smoothens out once it is run in, because a buzz-free handlebar would go a long way on a bike like this.
All this leaves just one question, but it is a big one – is it worth the price?
The Super Meteor's starting price is Rs 3.49 lakh (ex-showroom, India). And yes, that makes it over Rs 60,000 more expensive than the Interceptor. But then this also feels like a much more expensive machine than the Interceptor. First, there's all the additional hardware you're getting here – a Showa upside-down fork, the Tripper pod as standard, an LED headlight that works quite well, alloy wheels, and beefy, premium adjustable levers. And then there are the materials used, the solid build quality and the excellent finishing across the motorcycle.
Quality and finish levels are excellent all across.
So yes, the Super Meteor is the most expensive RE on sale today, but it feels it. And even the top-spec Celestial machine, coming in at Rs 3.79 lakh, manages to justify its asking price. Like RE's other 650s, the Super Meteor also stands in a class of its own, in that nobody can offer anything remotely similar for the asking price.
Source link