The new DesertX is Ducati's first serious off-road capable ADV and there's plenty to be excited about.
If you think about it, the DesertX is a motorcycle that should have been with us sooner. The demand for this kind of a motorcycle has existed for years, and Ducati also has legitimate heritage to lean on thanks to the Cagiva Elefant of the 1990s. Ah well, better late than never, right? Because look at this thing – it's gorgeous!
A PRETTY FACE
The callback to the gigantic, Ducati-powered Cagiva is clear in the shape of the DesertX's face and overall silhouette, but it's a design that has contoured and finessed into the future. The twin circular LED headlamps along with the tall (non-adjustable) windscreen give this bike an instantly recognisable face, especially since Honda went a bit Angry Birds with the latest Africa Twin. 
The DesertX gets a large 21-litre fuel tank, but unlike many ADVs, this tank manages to feel nice and slim where the rider's knees interface while standing up. In fact, the ergonomics on this bike are really very well judged, whether you're sitting or standing, and a large part of that goes to the smart design with clean surfaces.
The rear section is far simpler with the sleek oval LED tail-lamp being the only expensive looking element. I like this because it gives the DesertX a feeling of purpose and ruggedness. With some light modifications, and in the most talented of hands, the big Multistradas can be quite capable off-road, but for most of us normal folks, the Multis feel a bit too pretty and beautifully crafted to drop. The DesertX also manages to be a great looking bike, but it comes across as a more rugged one that wouldn't have you cringe as badly when you inevitably drop it off road.   
DUCATI BACKBONE
Underneath that oh-so-pretty bodywork is a very traditional trellis frame – no radical new, Monster-style front frame here. It is a new chassis, Ducati tells us, but the company is so well versed with getting metal tubes to work in triangular shapes that you can accept its claim that this motorcycle was fully developed in just two years' time. It also helps immensely that the engine is the familiar 937cc liquid cooled L-twin, but we'll get to that later.
The DesertX has a gigantic wheelbase of 1,608mm, which is even longer than the Diavel and only 7mm shorter than the most stretched out Ducati you can buy – the xDiavel. Funnily enough, I never felt like this was an excessively long or lazy motorcycle, and the number came across as quite a surprise when studying the spec sheet. 
We got a brief amount of time to ride it off road at the World Ducati Week (WDW), where the bike felt tall, but also quite easy to ride and light on its feet. The DRE course at WDW was very basic, but it was enough to tell that with its 21-inch/18-inch wheel sizes, this bike is going to be very capable and good fun off-road. The standing up ergos are spot on, the suspension has heaps of travel (230mm front/220mm rear) and there's 250mm of ground clearance. 
Even with the low seat, the seat height is at a tall 865mm.
At this simple dirt course, the few things I could tell was that Pirelli tyres do a good job in dry dirt; the steering feels a little heavy when moving the handlebar from lock to lock at low speeds (as it does on most big ADVs); and that the seat is slim, but quite tall. The stock seat height is 875mm, but India will get the low seat as standard which brings it down to 865mm. For reference, the Tiger 900 rally's seat is set at 860mm.
NO ANGER HERE
The rest of our few hours on the DesertX was spent on the roads around Bologna where we got to ride through some urban areas and towards some winding hilly roads. The familiar 937cc L-twin is just like what you'll get in the SuperSport, Hypermotard, Multistrada V2 and the Monster, although in a different state of tune. With 110hp and 92Nm, its peak figures are in the ballpark of its siblings, but the DesertX's engine has the most muted and mellow tune of the lot.
It certainly lacks the punch of the lightweight Monster or the aural drama and aggressive responses of the Hypermotard. The power delivery is quite linear and there's a good surge above 6,000rpm, but there were also moments where that strong Ducati kick I was expecting – coming out of corners at about 3,000rpm – just wasn't there. Ultimately, it's very much a quick motorcycle, but also a rather calm and approachable one, which should appeal to the wider crowd. 
New vertical TFT display is easy to read and control.
Unfortunately, we didn't spend much time in jammed traffic or at extended highway speeds either, so that will have to wait till we ride it back home. On the other hand, the Euro heat wave meant that we saw as much as 37 degrees Celsius, which felt very much like home, and just like most Ducatis, this one also throws off quite a lot of heat. Also like most Ducatis, the hydraulic clutch is on the heavy side.
Up on the winding roads outside Bologna, the bike handled very well, once you got used to the extensive movement of the long-travel suspension. It turns in quite easily, feels stable when leaned over and even side to side transitions don't take much effort. I remember being amazed by the Tiger 900 Rally's road manners given that it has a 21-inch front wheel and this bike is just like it. The main difference is that the Ducati's blocky stock tyres feel quite squishy when fully leaned over. The DesertX rides on Pirelli Scorpion Rally STR as standard, which are a halfway house between a full-on off-road tyre and a road focussed ADV tyre (like the Tiger Rally gets). Stick some more road-biased tyres on it and I'm sure the DesertX will be a very nice road handler. 
As for the brakes, you get twin Brembo M50 calipers in the front, but mated to a simple axial brake master cylinder. The resulting performance is just like the engine – not at all aggressive, but strong enough when you want it.  
ALL YOU COULD WANT?
The DesertX may be a rugged Ducati, but it's still a very well equipped one. The sheer number of electronic features and rider assists are very likely the best in the segment. The new vertical TFT display looks nice and it gives you control over almost all the same rider assists you'll find in Ducati's sportbikes. The DesertX has six customisable riding modes, four power modes, multi-level traction control, wheelie control, cornering ABS and more. Not only can you deactivate the rear ABS, but also the front system if you're talented/brave enough. Further luxuries come in the form of an up/down quickshifter, cruise control and heated grips – it really has almost everything you could need.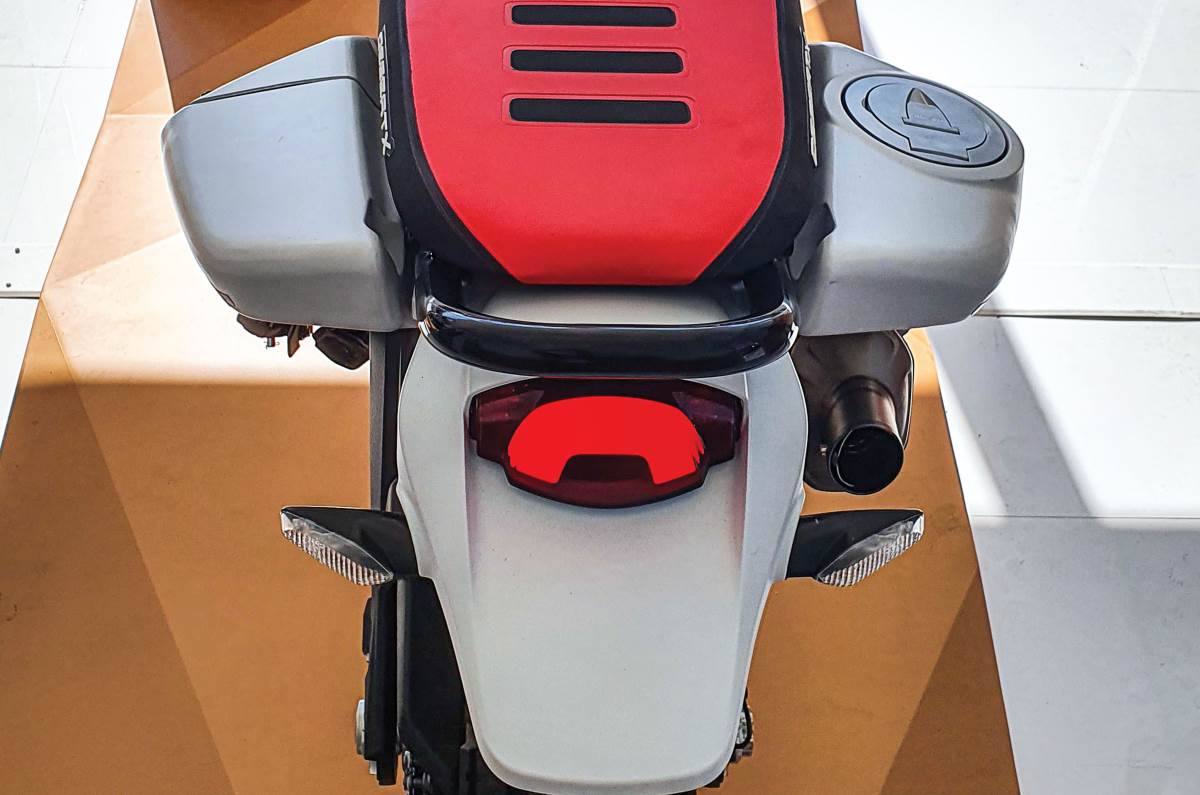 Optional auxiliary fuel tank holds 8 litres.
There is only one fully equipped variant, although Ducati will sell you a number of accessories, including a fantastic looking eight-litre auxiliary fuel tank that sits on either side of the pillion seat. 
The DesertX will only make it to India by the end of this year and we expect the price to be somewhere between the current Multistrada 950 (Rs 15.49 lakh) and the Multistrada 950S (Rs 17.49 lakh). Hopefully, it will be closer to the base Multi because that will position it well against the Tiger 900 Rally Pro (Rs 15.5 lakh), which is our current pick of the segment.
Either way, the DesertX has all the Ducati qualities of being a beautiful machine that is capable, fun, superbly equipped and packing a high price tag to match. How well it works in our environment is something we're really eager to find out.
Source link