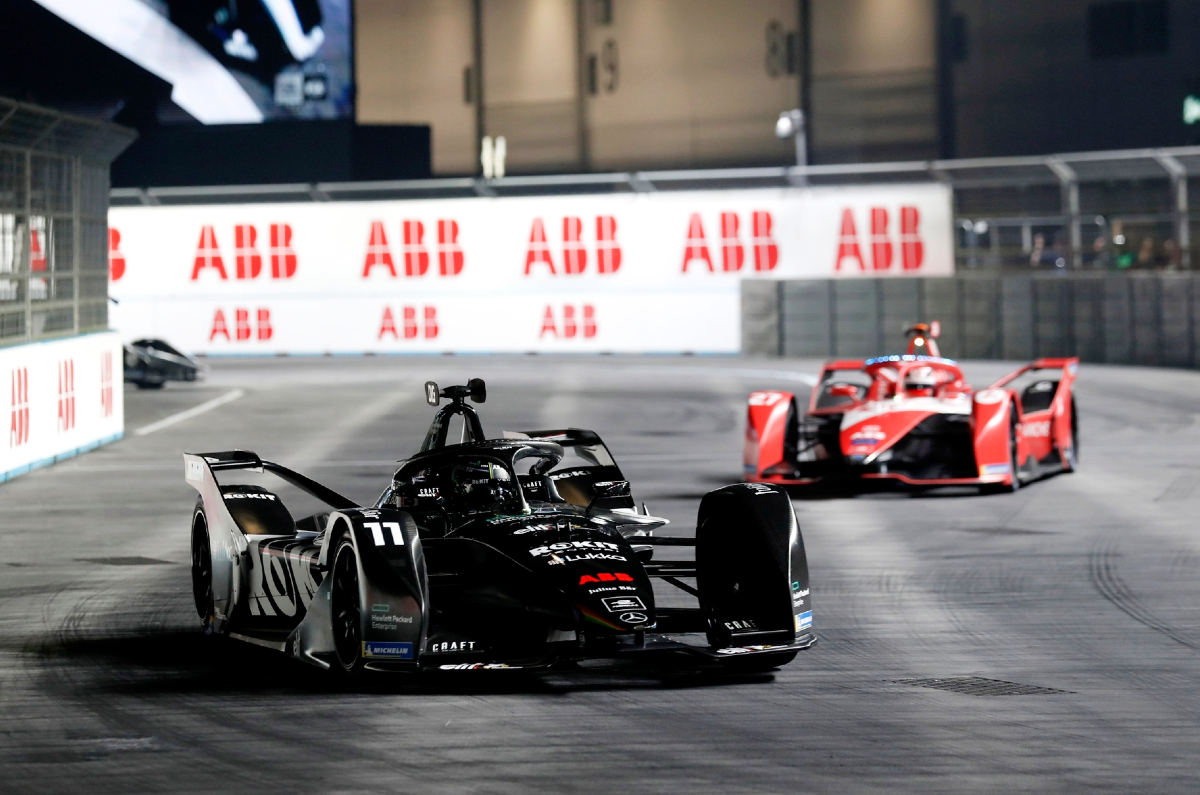 The London E-Prix could end up playing a decisive role in the 2022 championship, with Vandoorne making big gains on top of the standings.
The London E-Prix double-header saw Andretti's Jake Dennis and Venturi Racing's Lucas di Grassi win a race each. But it was championship leader Stoffel Vandoorne who perhaps had the most reasons to celebrate. The Mercedes-EQ driver took a decisive step closer to the title as main rival Mitch Evans suffered a late retirement.
Vandoorne leads standings by 36 points
Evans retires after technical issue
Dennis wins on home soil
Dennis took a dominant lights-to-flag win to make it two wins in a row on home soil. He covered off early pressure from Vandoorne and then remained in control out in front to take victory. Vandoorne would've been more than happy to finish second, though, with his closest title rivals – Edoardo Mortara and Mitch Evans – dropping down the order after an opening lap clash.
Evans was able to salvage a sixth place finish to keep this championship bid alive. He was later promoted to fifth after third-place finisher Nick de Vries was handed a five-second penalty for his defence against Nick Cassidy in the closing laps.
Stewards determined that de Vries had changed direction repeatedly under braking. The penalty dropped the Mercedes-EQ driver to sixth place, promoting Cassidy to the podium instead.
Di Grassi defeats Dennis in Round 14
Dennis was in top form once again after bagging pole position for Round 14. The race saw a tense battle between him and Lucas di Grassi, but di Grassi gained the upper hand to clinch his first win for Venturi Racing.
Di Grassi emerged from the last of his three Attack Mode activations with enough energy in hand to jump on Dennis when he moved off the racing line to active his own Attack Mode. The Brazilian then stretched his lead over the final few laps. De Vries completed the podium in third place.
Technical failure hits Jaguar's title bid
Mitch Evans had done well to climb from 14th on the grid all the way up to fourth place. But with mere laps to go, his title hopes suffered a major hit. He was running ahead of Vandoorne when his car stopped on track with no power.
Heading into London, Vandoorne's lead was just 11 points over Mortara and 16 points over Evans. But he now leads the standings by a healthy 36 points from Evans and 41 points from Mortara, with just two more rounds to go.
Mahindra Racing out of points
Mahindra Racing endured a torrid two rounds in London. Oliver Rowland retired from both races, while the departing Alexander Sims could only manage P13 and P11 in the two rounds.
Formula E now heads into the final leg of the 2022 championship, with two finale rounds in Seoul on August 13 and 14.
Also see:
New York E-Prix: Da Costa, Cassidy win; Mahindra gets highest points in 2022
Source link