Jawa expands its 'Factory Custom' line-up with another cool-looking bobber.
Different folks seek different rewards from motorcycling, and to some, looking cool is one of the biggest reasons for doing it. That is why you see all sorts of wacky custom motorcycles emerging from greasy workshops all over the world. A couple of years ago, Jawa took much of the toil out of this process by offering you a gorgeous custom-looking motorcycle straight from the factory, in the form of the seriously cool-looking Perak Bobber. Now, the 'Factory Custom' line-up has expanded with the introduction of this 42 Bobber.
Jawa 42 Bobber review: design
At first glance, it looks very much like its sibling, with a long, low-slung look that makes you stop in your tracks. The vastness of that fully exposed rear fender is an absolute visual treat, and the floating seat unit is incredibly neat. But then you start to see the differences. The company says that the Perak is the bobber form of the classic Jawa, and this is the 42 (Jawa's bestselling model) receiving its own bobber incarnation. So the headlight isn't cohesively moulded into the upper fork like on the Perak, but rather a standalone pod like on the 42. It's an LED unit, borrowed from a more distant cousin, the Yezdi Roadster, from which this bike also gets its all-digital instrumentation, switchgear and fuel tank. Standard equipment also includes LED flashers and USB charging ports, so it's a more modern and well-equipped Jawa bobber. But where it fails to improve is on the build quality front – like many Classic Legends bikes we've tested, this 42 Bobber shook some of its bolts loose.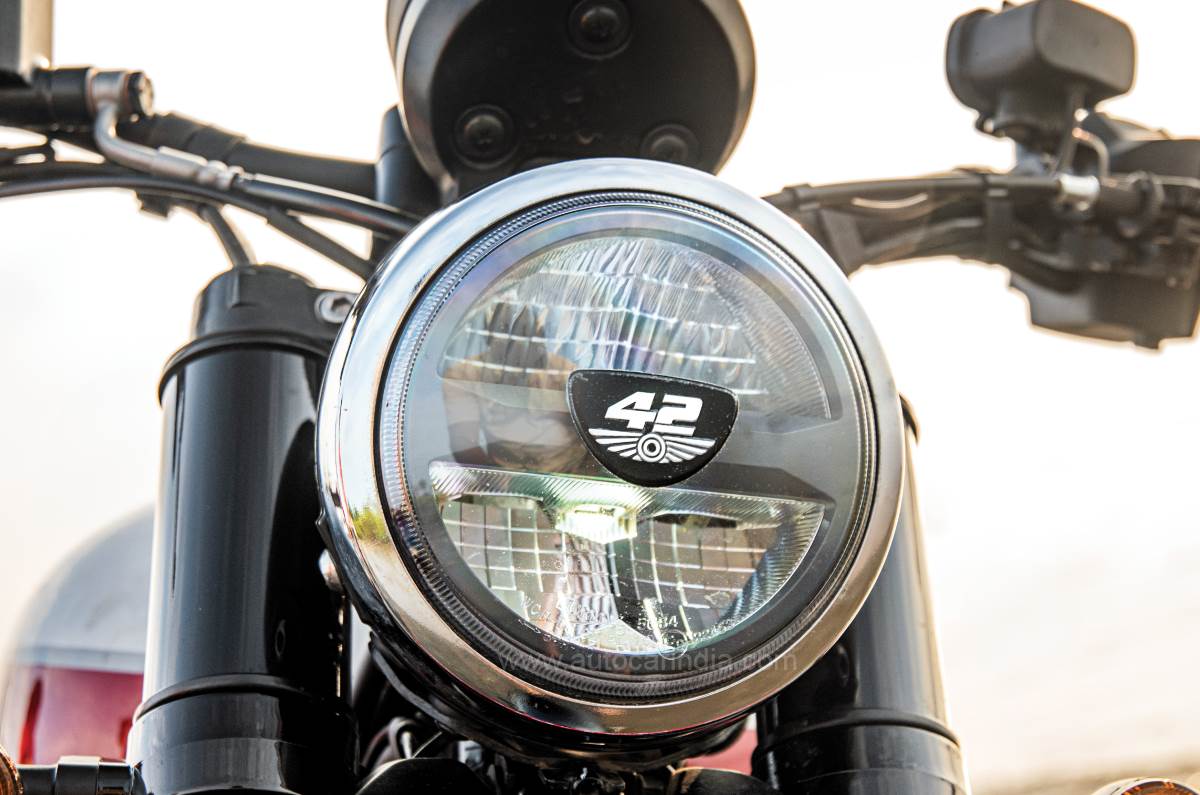 LED headlight borrowed from the Yezdi Roadster.
There are more significant changes – the tail-lamp is no longer neatly integrated into the back of the seat; it now sits on the rear fender so you can mount luggage on the fender without hiding it from view. A bit of futile exercise, since this really isn't a bike well suited to long distances, as you'll soon find out.
Jawa 42 Bobber review: ergonomics and ride
With the tail-lamp repositioning, the 42 Bobber has traded some coolness for a little practicality. This is also evident in the revised seating position – the foot pegs are now further forward, which solves (to some extent) one of the biggest shortcomings of the Perak; you don't have to be as much of a contortionist to sit on the 42 Bobber. But in absolute terms, this is still no comfy throne – your arms and feet are both stretched forwards, arching your body into a sort of C-shape. It looks pretty badass, but it isn't really a pleasant place to be. And this pretty much sums up the 42 Bobber as a whole.
Seat now more comfortable, but still quite soft.
A helmet with a dark visor is a must on this bike, or else this carefully curated cool look of yours is going to be seriously undone by the perpetual grimace on your face. Because unforgiving is the kindest way to describe the suspension set-up here. That neatly tucked away monoshock and the floating seat contribute tremendously to the incredible design but also result in rather limited rear suspension travel. Classic Legends says it has tried to make it more comfortable than the Perak, but ride quality here is still harsh. And it doesn't take big bumps and potholes for you to feel this. Any poorly levelled surface is enough to bare this flaw, and stretches of road that seem perfectly smooth on most other bikes, will see you getting tossed around by the jiggly ride on the 42 Bobber. And through bigger imperfections, you have some very significant jolts coming through to your backside. That quirky riding position means that it's not so easy to stand on the pegs and isolate yourself from bigger bumps either.
Another Classic Legends bike that shook its bolts loose.
The only real solution is to drop your pace – at slower speeds in the city, you still feel an underlying firmness, but road imperfections don't have as much of an impact, and things are just about tolerable.
Jawa 42 Bobber review: engine and handling
There is a bit of a hidden benefit here because you're effectively forced to keep the engine in its best working zone. This is the same 334cc liquid-cooled single from the Perak, in the same state of tune (30.6hp, 32.7Nm). So it also has the same characteristics – it feels rather gruff and buzzy in the latter half of the tachometer. By being limited to relatively slow speeds, you end up spending most of your time in the lower half of the tacho, where the engine feels quite alright. Vibrations aren't an issue in this region, and the motor is reasonably flexible, pulling decently enough from low rpm, though you don't want to drop to the very bottom of the tacho. It can pull the bike around quite briskly if you command it to, but as you've read, the rest of the bike doesn't really play along to this.
Exhausts don't look as cool as Perak's slash-cut units.
Even if you're willing to wince through the harsh ride in exchange for the thrill of speed, you'll still be forced to dial things down when you're faced with some twisties. Because cornering clearance is in short supply, and it won't take much trying to grind those pegs. As is becoming increasingly clear, the use case for this motorcycle is rather limited. What it's best at is dropping jaws within the confines of the city, as you slowly ride by, nursing your back and giving onlookers a nice, long look at it. Happily, this bike doesn't test your capability like it does your endurance. At just 750mm, seat height is very low (and yet, ground clearance is adequate), the 42 Bobber doesn't feel heavy, and overall, it's quite a manageable machine.
Jawa 42 Bobber review: verdict
Despite all its shortcomings, there is no denying that this 42 Bobber, and its Perak sibling, are easily the coolest-looking motorcycles you can get your hands on at this price point. If looking great on two wheels is your primary aim then you can't do better than these, for the money. And choosing between them comes down to how committed you are to this pursuit, because both of these are seriously unforgiving motorcycles but to different degrees. To my eyes, the Perak is still the nicer looking of the pair – it's a more cohesive design, the slash-cut exhausts look terrific, and it has an overall outlaw vibe that I really like. As gorgeous as the 42 Bobber is in isolation, it doesn't come together quite as neatly, and feels more like a parts-bin special, relatively speaking. The trade-off is that its appearance is more modern, it seats you a little more comfortably and offers more features, while starting at a lower price than its sibling. But, whichever one you choose, don't forget that dark visor.
Also see:
Source link