A Thar with a chunky price cut for those who don't have much use of the 4WD system.
The second-gen Mahindra Thar has been a crowd favorite since its launch in 2020. Yes, the off-roading community sure had their hearts stolen, but a vast chunk of buyers also bought it for its newfound roundedness. It could finally be used as an everyday car thanks to a modern interior and features, (relatively) easy driving manners, and automatic transmission options. Now though, Mahindra has introduced new variants of the Thar that have shed the 4×4 system and are rear-wheel drive (RWD) only. There is also a new small capacity diesel engine, which has tax benefits, and thereby, reduced price. It is better value now, but how does a non-4WD Thar feel?
2023 Mahindra Thar RWD: exterior
Before we get to the big changes, the small ones, or in this case, absolutely minor ones to the exterior shall be noted. Everything remains the same apart from the omission of the '4×4' badge. The defining shape hasn't been tinkered with, and other details like the slatted grille, round headlamps, exposed bonnet clips and chunky cladding remain. Base AX versions make do with simple 16-inch steel rims, while the higher-spec LX versions get 18-inch alloys; both come shod with all-terrain tyres. Body style options for the Thar RWD are limited to a hard top, though the RWD does widen the colour palette by adding two new options – Blazing Bronze and Everest White.
2023 Mahindra Thar RWD: interior
The biggest change inside is the missing 4WD lever, and in its place is a cubby hole that can be used to stow a mobile phone. This aside, there's no change to the dashboard, seats or feature set. Given that this is an update meant for an urban audience, Mahindra could have used it as an opportunity to add some convenience features. A driver armrest, automatic climate control, wireless charging, type-C ports for faster charging and a dead pedal for the automatic versions would be on our list of possible inclusions.
The feature set does include a 7.0-inch touchscreen with Apple CarPlay and Android Auto support (and even an inclinometer – carried forward from the 4WD), analogue dials and Mahindra's BlueSense connectivity features. Safety kit includes dual airbags, ABS with EBD, ESP, hill-launch assist, hill-descent control, ISOFIX child seat mounts and a roll cage. The Mahindra Thar was awarded a 4-star rating on adult occupant proctection by GNCAP, albeit according to the older testing protocol.
Space on the inside is no different from the 4WD, which means you will have enough space to stretch in the front seats, but for large-framed adults, the snug seats won't be too comfortable over long journeys. The space in the rear too is unchanged, so after a brief struggle to get in the back (via the front doors), there is decent space for two. Boot capacity remains a weak point, with space enough only for a couple of medium-sized soft bags with the rear seats up.
2023 Mahindra Thar RWD: engine and performance
Powering the Mahindra Thar RWD are two engines, the 2.0-litre turbo-petrol mStallion 150 TGDi from the 4WD variant, and a new 1.5-litre CRDe turbo-diesel engine. Before we get to the new diesel, a few points of the petrol are worth noting. Given that there has been no change to the power output or even the gearing, performance is extremely similar to the 4WD variant. In our preliminary tests, the 0-100kph times and even the kickdown times were marginally quicker and that is primarily because of the lightness due to the elimination of 4WD.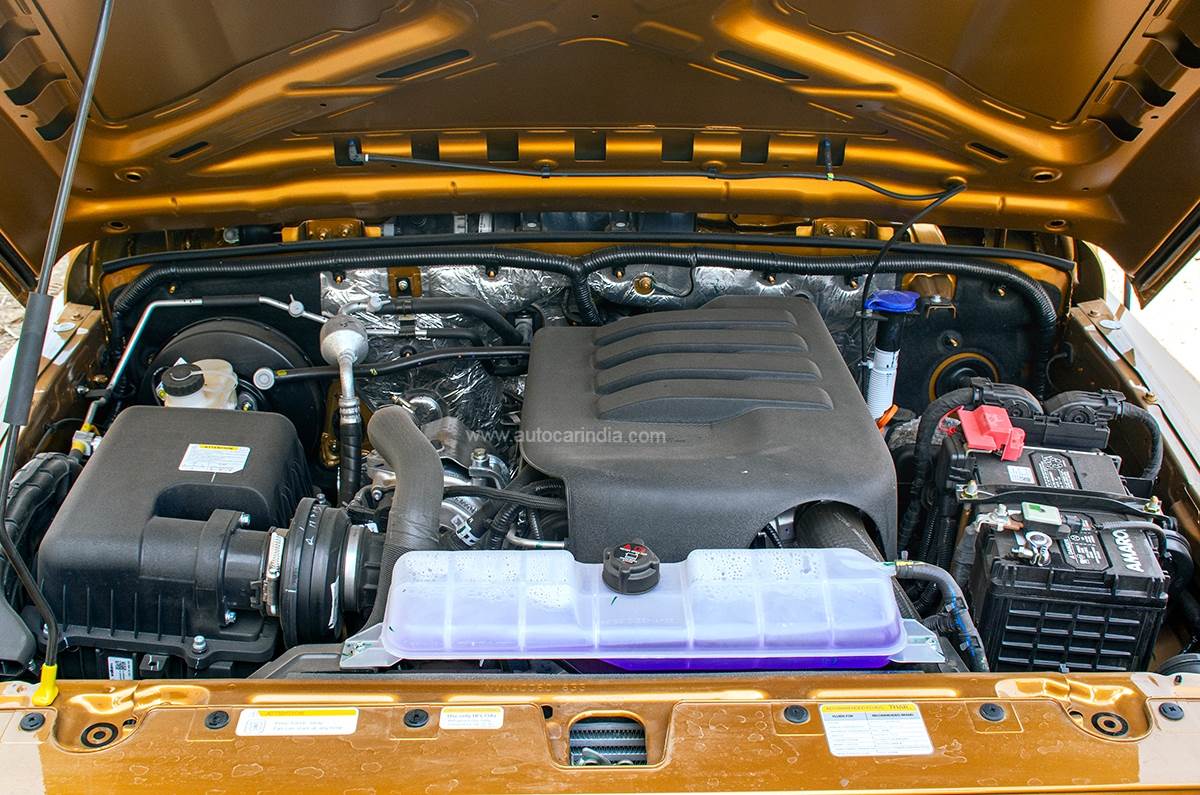 It even feels similar in the way it delivers power. The petrol is solely offered with a 6-speed automatic gearbox. The unit is smooth to shift, but isnt the most eager systems, so a bit of patience is required. Slot the lever in manual mode and it will hold the gears, but only up to a certain point, after which it upshifts. That said, the response is delayed and if you want convenience, it is best to leave the lever in auto.
There aren't any drive modes either, so performance is standard throughout. Off the line response is good and it does feel zippier as well, however, the newly added auto start/stop is not calibrated well and is hesitant. In stop-go traffic, it lacks the response and you will prefer having it switched off for the most part. Turn it on, and the petrol Thar, even in RWD guise, is far from efficient, returning 7-8kpl on average, which is similar to the 4WD.
The bigger change this time is with the diesel. In place of the 2.0-litre engine offered on the Thar 4WD, Mahindra has drafted a 1.5-litre, four-cylinder turbo-diesel unit from the XUV300. The move to this sub 1,500cc diesel engine qualifies the Thar RWD for small car excise benefits. We'll get to prices in a bit, but, let's first talk of the engine and what it's like. Dubbed the D117 CRDe, it makes 118hp and 300Nm, versus the Thar 4WD's larger hearted 2.2-litre mHawk unit that makes 130hp and 300Nm. Yes, the smaller engine delivers an identical peak torque figure, and fact is, in city driving conditions, this engine doesn't feel like a compromise.
Mahindra Thar 4X2 diesel performance
Speed
Thar 4X2 1.5 litre MT
Thar 4X2 2.2-litre MT
20-80kph (3rd gear)
10.20 sec
10.28 sec
40-100kph (4th gear)
12.72 sec
13.69 sec
0-100kph
14.85 sec
13.36 sec
Mahindra says the engine delivers 55 percent of its peak torque right from 1,000rpm and you can feel it on the go. Power comes in nice and early, and makes for an effortless drive in crawling city traffic. If you pay attention, in on-off throttle driving scenarios, you will note that power delivery isn't the smoothest, which is perhaps down to a sharp fuel cut off in the interest of efficiency. The easy access to power does reflect in the performance numbers, however, with the Thar RWD diesel matching the 4WD from 20-80kph in third gear, and posting a significantly better 40-100kph in fourth gear.
Mahindra Thar 4X2 petrol performance
Speed
Thar 4X2 AT
Thar 4X4 AT
20-80kph (3rd gear)
5.85 sec
6.19 sec
40-100kph (4th gear)
7.54 sec
7.77 sec
0-100kph
9.9 sec
10.2 sec
In flat-out acceleration – from 0-100kph – the Thar RWD, expectedly, proved to be slower. The 1.5 diesel isn't as free as the 2.2 when you're going faster, but it will happily maintain an 80kph or 100kph cruise. Of the other things, the 1.5 runs the larger 2.2 close on refinement as well, with engine noise and vibrations well in check. The Thar RWD's 6-speed gearbox is convenient enough to use, but its long throws will have your knuckle make contact with the centre console on a hard downshift. Clutch modulation is easy too, but you are always aware that the footwell is tight.
2023 Mahindra Thar RWD: ride and handling
The RWD's ride is similar to the Thar 4×4. The soft suspension is great news on trails, but over broken patches of tarmac, cracks in the road, potholes and undulations, it is a bouncy affair. Also, the missing 4WD system has taken away some of the stability too, and it now feels lighter, especially at the rear, resulting in more vertical movements. Off the road it is perfect, acting as a fast road roller, but since this one is for the city, every imperfection is felt through.
While we haven't done a back to back test, the RWD's steering seems lighter than what we remember the 4WD's to be, which is good news for city drivers. It's still not Hyundai light, though. So, as before, getting the Thar out of a tight parking space requires a fair bit of muscle, and a three-point turn is a proper arm workout.
In the corners, the wide track results in good stability, and the steering weight adds confidence as well, but the soft suspension causes it to lean a bit in corners, although it doesn't feel top heavy like the Scorpio Classic.
The Thar RWD is obviously not as adept in the rough as the Thar 4×4, but it can still take you off the beaten track. The tough ladder frame construction, chunky tyres and generous ground clearance give the Thar an inherent ability that soft roaders lack. Mahindra has packed in hill descent control too, and there's also an ESC-based brake lock differential.
2023 Mahindra Thar RWD: 

price and verdict
Let's talk of the Thar RWD petrol first. Offered only with an automatic gearbox, it's a clever pick for buyers keen on a Thar for city use alone. Priced at Rs 13.49 lakh (ex-showroom, India), the Thar RWD petrol-automatic is a good Rs 2.3 lakh more affordable than its 4×4 equivalent. The strong performance is a highlight, but be prepared for big fuel bills.
The Thar RWD diesel is the more tempting option, and thanks to its classification as a 'small car' and subsequent excise benefits, the Thar RWD diesel sees a bigger price drop. The Rs 9.99 lakh (ex-showroom, India) for the RWD diesel AX and Rs 10.99 lakh (ex-showroom, India) for the Thar RWD diesel LX, are a whopping Rs 4 lakh more affordable than the equivalent 4×4 versions! A rough and tough and big-on-image Thar, for compact SUV money, will sure get a lot of people interested.
That said, you have to ask yourself how well a Thar RWD will fit your usage. It's not as easy to drive, practical or comfortable as a similarly priced compact or midsized SUV, and, in that sense, makes for a committed choice. 
If you think it fits the bill for you, we'd suggest you hurry up and book one at the earliest. You know how the waiting periods on these can get.
Also see:
Mahindra Thar 4X2 video review
Source link