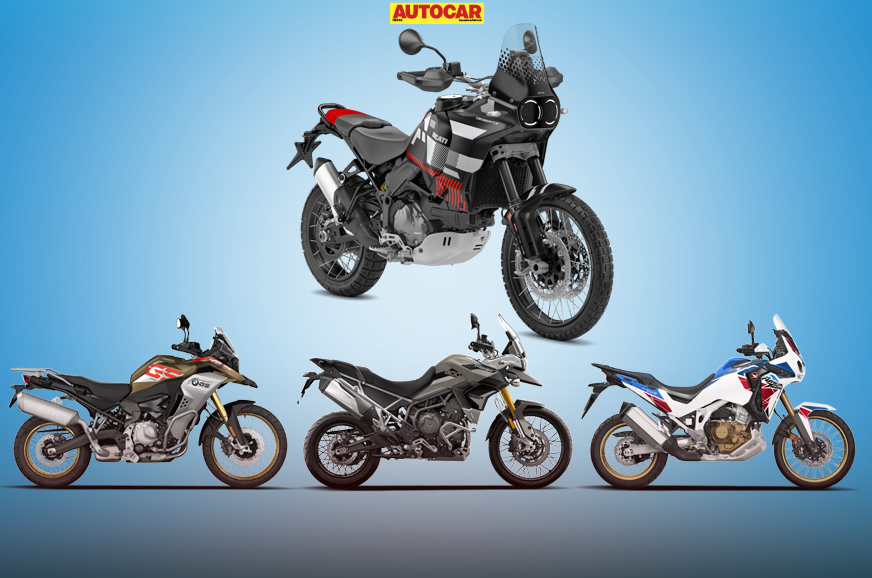 The much-acclaimed Ducati DesertX has made its way to India, and it is the Bologna marque's first modern-day adventure bike to feature a 21-/18-inch wheel setup. We pit it against comparable off-road-capable ADVs and see how it stacks up. 
The DesertX is quite comfortably the most powerful one here and makes roughly 12-15hp more than the others bikes mentioned here. But this class-leading figure is also produced higher up the tachometer than the others, suggesting that this is the peakiest motor of the lot. That being said, though its power figure is the largest here, it's still lower than what this same engine produces on other Ducati models where it is used, so Ducati seems to have prioritised delivery over output. We had a chance to take a small spin on the DesertX, and you can read about it here.
The Africa Twin, which has the largest displacement in this company, makes the most torque, and both its peak output figures arrive earlier in the rev range than all other bikes, so it should have the most accessible pulling power.
The Honda Africa Twin is also the only bike here to be offered with the option of a DCT (Dual Clutch Transmission), which completely eliminates the traditional clutch and gear lever operation as we know it. However, for the purposes of this comparison and to ensure a level playing field, we've chosen the manual transmission variant of the Africa Twin.    
Ducati DesertX vs rivals: suspension and brakes
Suspension and brakes
Ducati DesertX
BMW F 850 GS Adventure
Triumph Tiger 900 Rally Pro
Honda Africa Twin
Suspension (f)
Fully-adjustable USD fork
USD fork
Fully-adjustable USD fork
USD fork
Suspension (r)
Fully-adjustable Monoshock
Electronically-adjustable monoshock
Fully-adjustable Monoshock
Monoshock
Brakes (f)
320mm twin discs
305mm twin discs
320mm twin discs
310mm twin discs
Brakes (r)
265mm disc
265mm disc
255mm disc
256mm disc
Tyres (f)
90/90-21
90/90-21
90/90-21
90/90-21
Tyres (r)
150/70-R18
150/70-R17
150/70-R17
150/70-R18
All bikes here are pretty evenly matched in the suspension department and feature manually-adjustable componentry, except the BMW F 850 GSA which features an electronically-adjustable monoshock. However, the BMW doesn't feature any adjustability at the front. Brakes are an area where the bikes are very diverse, although all have ABS that can be switched off at the rear wheel. While the Ducati and Triumph have the same front brake sizes, the Tiger 900 Rally Pro has higher-spec Brembo Stylema calipers as opposed to the M50s on the DesertX. The Honda Africa Twin features twin, radially-mounted Nissin calipers biting on slightly smaller discs. The BMW F 850 GSA is the only one to feature axially-mounted Brembo calipers and has the smallest disc sizes here as well, at 305mm. 
Ducati DesertX vs rivals: features
As is the case with most modern ADV bikes, there's a gaggle of technology on offer on all these bikes to help you manage their power and weight on and off the beaten track. Riding modes, traction control, bidirectional quickshifters and cruise control are all standard features. Another purposeful feature present on these off-road capable bikes is tubeless wire-spoke rims. While all bikes here get TFT displays to control all the tech on offer, the Africa Twin takes it a step further with a touch-compatible screen featuring Apple CarPlay and Android Auto as well.
Ducati DesertX vs rivals: weight and dimensions
Weight and dimensions
Ducati DesertX
BMW F 850 GS Adventure
Triumph Tiger 900 Rally Pro
Honda Africa Twin
Kerb weight
223 kg
248 kg
222 kg
239 kg
Seat height
865mm
875mm
860-880mm
810-830mm
Fuel capacity
21 litres
23 litres
20 litres
24.5 litres
Wheelbase
1608mm
1593mm
1551mm
1558mm
At 222kg, the Tiger 900 Rally Pro is the lightest bike here but just by 1kg compared to the DesertX, and that's largely down to the fact that it carries 1 less litre of fuel. The F 850 GSA is the heaviest bike here and has the second largest fuel tank, at 23 litres. The Honda Africa Twin has the largest tank here, at 24.5 litres. It bears mentioning that the Africa Twin that is sold in India is the Adventure Sports, which is the more touring-friendly variant in the line-up. However, the India-spec model has a much lower seat height (the lowest one here) due to different suspension units, although the degree of change to the suspension remains unknown. Except for the Africa Twin, all bikes here have varying low seat and suspension options that make it easier for short-statured folk to get their feet down.   
Ducati DesertX vs rivals: price
Price
Ducati DesertX
BMW F 850 GS Adventure
Triumph Tiger 900 Rally Pro
Honda Africa Twin
Price (ex-showroom, India)
Rs 17.91 lakh
Rs 13.25 lakh
Rs 15.50 lakh
Rs 16.01 lakh
In this company, the BMW F 850 GSA makes quite a compelling case for itself with its aggressive price point. The Triumph Tiger and the Honda Africa Twin have quite a loyal customer base and both have proven to be long-standing stalwarts in this category. At Rs 17.91 lakh, the Ducati DesertX is by far the most expensive motorcycle here, although it does get some top-shelf equipment and features to boot. Whether people pony up the hefty asking price for this Italian ADV that's not afraid to get dirty, remains to be seen. 
Would you pick the DesertX over its rivals at the price it commands? Let us know in the comments section below.
Source link