Its most comprehensive update so far ensures that the 390 Duke remains the gold, erm, orange standard for sport nakeds under Rs 4 lakh.
Sure, the 200 Duke is the bike with which KTM made its impressive first impression in India. But it's the 390 Duke that really established the orange brand as a maker of properly serious and quick high-performance motorcycles. It brought in a level of focus and explosiveness that had never been seen at this price point, so it's not hard to see why it's had such a lasting impact. The 2024 390 Duke that you see on these pages is the most comprehensive update that the bike has received in its 10-year stint, and having ridden it on road and track, it's hard to point out too many areas where KTM could have done better. 
2024 KTM 390 Duke: design
Well, the one biggest area is the one you're looking at right now. KTM designs have never been to everyone's tastes, and this latest Duke is no different. The SuperDuke-inspired look has brought in larger, sharper tank extensions and an oddball headlight design. To be frank, it does look a good deal better in the flesh than it does in pictures. And even in the one day that we spent with the motorcycle, the design grew on me quite a bit. But the tank extensions are a little longer than they need to be, the DRLs flanking the headlight don't gel very cohesively with it and I think the orange seat on this colour option is tacky and overkill. That said, this is still an angry looking motorcycle with a nice purposeful appearance, and tank extensions aside, there is a great sense of proportion here.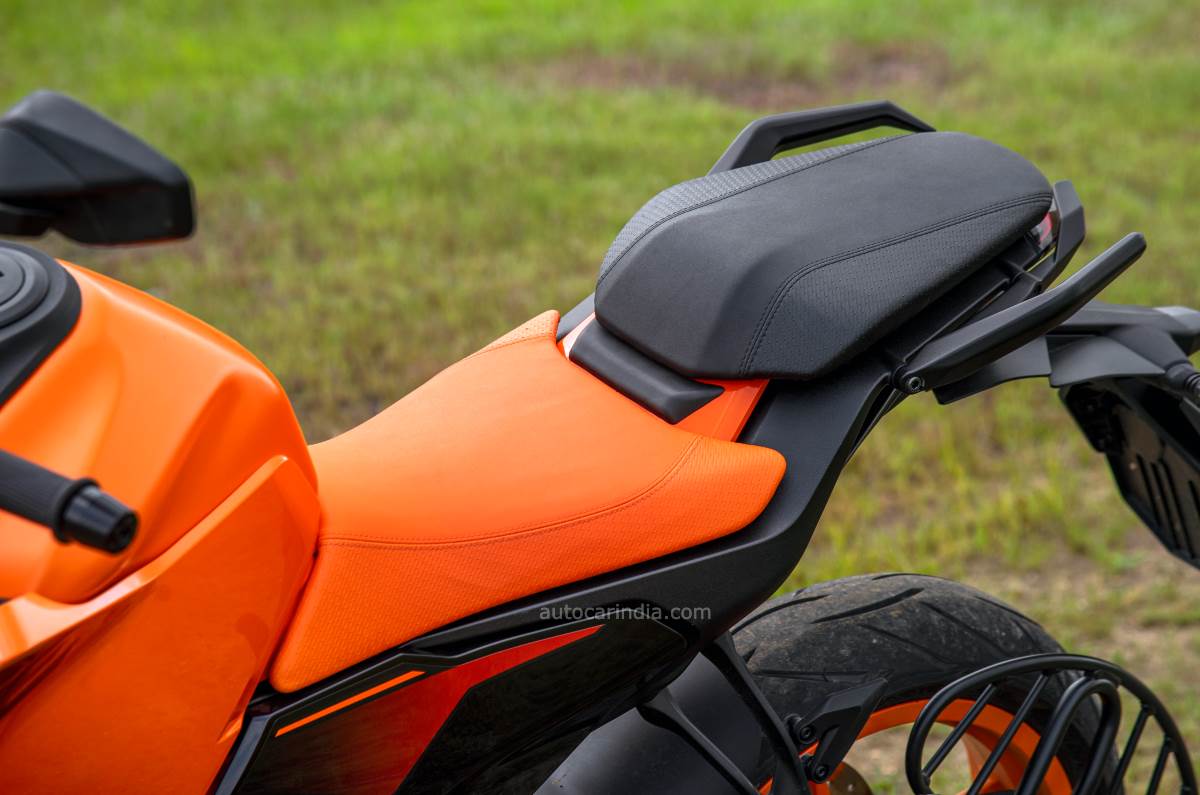 Whether you like the design or not, you will not be able to deny the noticeable step up in quality levels all across. There are nicer materials used in many areas – the aluminium subframe is a highlight here, but you also see the improvement in areas like the routing of hoses and wires as well as in the triple clamps, handlebar and switchgear. It's fairly well put together and feels solid, too, but we did see a few unsheathed wires in a couple of areas, and there were a few small electronic bugs with the TFT screen, which KTM is aware of and working on.
2024 KTM 390 Duke: features
Speaking of which, this continues to be a Bluetooth-equipped 5-inch TFT display but it's an all-new unit – the bezels around are much smaller and the graphics within are all new. You've got three riding modes – Rain gives you lower output, while Street and Track give you full output with different screen layouts. The latter also gives you launch control, which holds the revs at 7000rpm. This particular feature seems a little gimmicky – the bike bogs down when you let the clutch out, and I found myself able to manage quicker launches without it. But there are other new features that are more useful.
Traction control is a new addition here, even though it has been on the RC and Adventure for some time now. And it works well, intervening with a fairly soft hand when called upon, though still not quite as slick as the system on the new Apache RTR 310. Like the RTR, the new Duke also gets adjustable suspension at both ends for the first time, but unlike the RTR, it's standard fitment on the KTM. Among the features carried over from before are cornering ABS, all the Bluetooth functions including turn-by-turn navigation and controls for phone calls and music playback, and the bi-directional quickshifter. The latter works smoother and better than before, but it still does its best above 4000rpm, feeling a little lurchy and jerky below that.
2024 KTM 390 Duke: engine and performance
KTM hasn't just sprinkled frills over the top, though. There are major changes to the very substance of this motorcycle as well, all the way down to the heart of the matter: its engine. The big news is that displacement has been bumped up from 373cc to 399cc, which has brought with it an increase in power and torque – up by 2.5hp and 2Nm to 46hp and 39Nm. What's more, the peak figures now arrive earlier than before, making the performance that much more accessible. On the go, this continues to be a very fun engine to have at your disposal, there is a great rush from 6000rpm onwards, and though it doesn't quite smash into its rev limiter the way it used to, there is good pull available till 9500rpm.
And while it's still no tractable city slicker, it does now feel more flexible and less fussy than before. Even under 2000rpm, you can get the bike to pull cleanly if you pick up the throttle smoothly enough, and there's less protest than there used to be. That said, this is still very much an engine that tolerates low speeds rather than rewards them, and it's always egging you on to pick up the pace. You'll also want to stay away from the lower reaches of the tacho because of the buzz that you feel in the handlebar and footpegs in the 3000-5000rpm range – it isn't severe, but it isn't pleasant either. That said, this is a high performance single-cylinder engine, and vibrations are the price you have to pay for that; KTM has done a good job of making the motor now feel reasonably smooth for the most part.
2024 KTM 390 Duke: ride and handling
It retains the signature Duke fun-to-ride character in the handling department as well. Natural and easy are the first words that come to mind when speaking about how the new 390 feels through the bends – you've got a nice interface with the bike and you can latch on brilliantly with your legs, the body position feels very natural. The bike steers quickly, but feels planted enough, and there is an overall feeling of great comfort, even when you start to attack corners hard. The rubber also helps here – the Duke retains the grippy Metzeler Sportec M5 tyres. Also helping agility are the new wheels and brakes which are 1.7kg lighter than before (the bike as a whole is 4kg lighter at 168kg). Braking performance is still excellent, without being too sharp, and the cornering ABS works nicely behind the scenes to keep everything in control at all times and lean angles. 
At the same time, even though it now has a slightly sharper rake angle, this new bike doesn't feel as sharp or edgy as the earlier Dukes used to – there's much more stability here, and the tendency of snapping into a tank-slapper seems to be a thing of the past. A lot of this is down to the new suspension setup, which is a huge improvement over the Gen 2 machine.
Despite retaining its great handling attributes, this new Duke now offers far superior ride quality over our fairly abysmal roads. You could even call it almost plush. Sharp bumps are nicely rounded out, smaller imperfections are greatly ironed out and the bike always retains its composure. As far as adjustability is concerned, you've got compression and rebound up front, and preload and rebound at the rear. The windows aren't large – only 5 clicks for all the damping settings – but they do allow you to make an appreciable difference to the way the motorcycle feels, without ever going as far as making it unstable or dangerous. The idea here is to be able to customise the setup for your weight and riding style.
One area where comfort has taken a small step back is seating space, especially if you're a taller rider. Wheelbase is now actually shorter than before, and you don't have as much space to slide back and forth on the seat. It's definitely more roomy than the Gen 1 Duke, but not as generous as the Gen 2 model. That said, the seat height is now lower than before and sits at a nicely accessible 800mm, but despite this, you won't feel cramped in the leg region if you're a taller rider. Pegs are aggressively placed, put you in a sporty position and offer great cornering clearance, while your arms are nice and relaxed, with a slight forward lean that makes you feel engaged and involved, as you should on a sport naked. For sustained high speed riding, though, you will want to explore wind protection accessories.
The TFT screen also now seems closer to the rider, and while that's good for readability, it does make you feel rather cramped when you're in a full-tuck position, being right up in your face and stopping you from crouching further. And even though this is a naked bike, that is a relevant thing because it's such a good handler that it's a very rewarding experience even on the track.
2024 KTM 390 Duke: verdict
As great as the first two generations of the 390 Duke have been, they have always come across as a little single-minded and rough around the edges, although the second one made considerable improvements in this regard. This latest version retains all the attributes that we love about the Duke, while also making big leaps forward when it comes to rounding out the rough edges. It's still a very fun motorcycle with a strong hooligan streak that loves to be ridden hard and fast. But at the same time, ride quality is greatly improved and it's a little less fussy at low speeds and low RPMs. Seat height is now much more accessible and at the same time, ground clearance has grown significantly from 151mm to 183mm which makes it better suited to exploring the unknown – something 390 Duke owners tend to enjoy doing. It might be a little difficult to digest the way it looks when you walk up to it every morning. But as soon as you're on board and on the move, the 2024 KTM 390 Duke is an absolute riot.
Source link