Hero's new sporty 110cc scooter brings in some attractive features at an attractive starting price.
The new Xoom is Hero's latest entrant into the hugely popular 110cc scooter segment. While the manufacturer already has the Maestro Edge 110 and Pleasure+ in this segment, the Xoom is a more sporty scooter that's being targeted at younger buyers. Let's take a look at what it has to offer.
Hero Xoom: design and features
Overall, the Hero Xoom is an attractive looking scooter thanks to its angular styling. There's plenty of cuts and creases all around, which make it appear quite contemporary. Up front, there's a large LED projector headlamp, with Hero's signature H-shaped LED Daytime Running Lamp. Higher up, the halogen indicators are integrated into the handlebar cowl and there's a small flyscreen as well.
The Xoom's angular styling is appealing.
Along the sides, where we normally see a simple, rounded off body panel in other scooters in this segment, the Hero Xoom gets an angular design element that mimics a faux air vent. The rear grab handle is also flush with the bodywork, which looks nice. Carrying on the theme from the headlight, it gets an H-shaped LED tail-lamp as well. You have to credit Hero's design team too as this is one of the best looking 110cc scooters on the market and one of the nicest Hero designs in a while.
The Xoom is very well-equipped too, and the range-topping ZX variant we tested gets all the bells and whistles. Aside from the LED headlamp and tail-lamp, Hero has given the Xoom a segment-first feature in the form of cornering lights. This feature makes use of a gyroscope and an accelerometer, and depending on the lean angle, it lights up a small LED lamp in the fairing in the direction of which you're turning. While the feature did work well in a demo we got, we'll have to wait and see how effective it actually is in the real world. Other features on the Xoom include a digital instrument cluster, Bluetooth connectivity, alloy wheels and a USB charging port, although the placement of the port is awkward.
Positioning of the USB port is awkward.
While it does get all these features, Hero has not given the Xoom a multi function key slot and an external fuel filler, which is a rather important convenience to miss. So in order to tank up, you have to take the key out, open the boot and then fill fuel, which is a bit of an old school inconvenience.
Hero Xoom: ergonomics, storage and build quality
The Hero Xoom's overall ergonomics are comfortable for most riders. You're sat upright, the floorboard is flat, there isn't reach to the handlebars and there's ample room for you to move your feet. The seat too is well-padded and supportive. However, if you are over 5 feet 10 inches tall, you will find that the handlebar will foul with your knee when making lock-to-lock turns. This is only a small issue, however, and it can be solved by moving your knee out of the way while turning.
Gets 19.2 litres of underseat storage.
In terms of storage spaces, the Hero Xoom has you covered. You get 19.2 litres of underseat storage, two deep pockets in the front apron, which can hold 1-litre bottles, and a hook to keep your grocery bags secure on the move.
The build quality of this scooter is good to a large extent, but there is some room for improvement in certain areas. Things like the switchgear and mirrors could be made of higher quality feeling materials.
Hero Xoom: engine and fuel efficiency
Powering the Xoom is a 110cc, single-cylinder, air-cooled engine that puts out 8.15hp and 8.70Nm. While Hero does use this engine in its other 110cc offerings, it has been tuned specifically for the Xoom. This scooter feels peppy enough out on the road and it's quite linear as well, but it can't be described as fast. Engine refinement is a mixed bag though, as you do feel some mild business at lower speeds. However, as soon as you cross the 50-60kph mark, it becomes really smooth.
It's powered by a 8.15hp, 110.9cc engine.
Fuel efficiency is something we're yet to test out, but Hero claims the Xoom is one of the most fuel-efficient scooters in the segment as it comes with the company's i3S auto start/stop system. This fuel-saving tech cuts the engine off when you come to a halt and starts up when you press the brake lever and twist the throttle. While it is a nice inclusion, this system isn't as seamless to operate as some rivals. It takes a good few seconds to cut off, and having to press the brake and then use the throttle to set off seems a bit counterintuitive. 
The Xoom features Hero's i3s auto start/stop tech.
Hero Xoom: ride, handling and braking
The Xoom also impresses with its ride and handling set-up. This scooter comes with 12-inch wheels at both ends, which provides it with good stability around corners. Even though we didn't do some serious corner carving, the Xoom felt predictable and secure enough around the mild bends we tackled. Hero says the Xoom gets a new design for the frame, different from its other 110cc offerings as this one has been designed specifically for 12-inch wheels at both ends.
It feels stable around bends, owing to its 12-inch setup at both ends.
The ride is also well-judged as it dealt with bumps and expansion joints with relative ease. However, it's worth noting that we rode the scooter around Delhi-NCR's smooth roads so we'll have to wait and see how it deals with Mumbai's bumpy streets.
As for the braking, this top-spec ZX variant gets a disc brake up front and a drum at the rear. The braking performance is good, with decent feedback.
The range-topping ZX gets a disc brake up front.
Hero Xoom: verdict
The Hero Xoom does come across as a well-rounded package. It has an attractive design, plenty of features and decent performance. Priced from Rs 68,599, the Hero Xoom range is priced on par with its main rival, the Honda Dio. Sure, the Xoom's ZX trim costs around Rs 4,000 more than the Dio, at Rs 76,699, but it is far better equipped as well.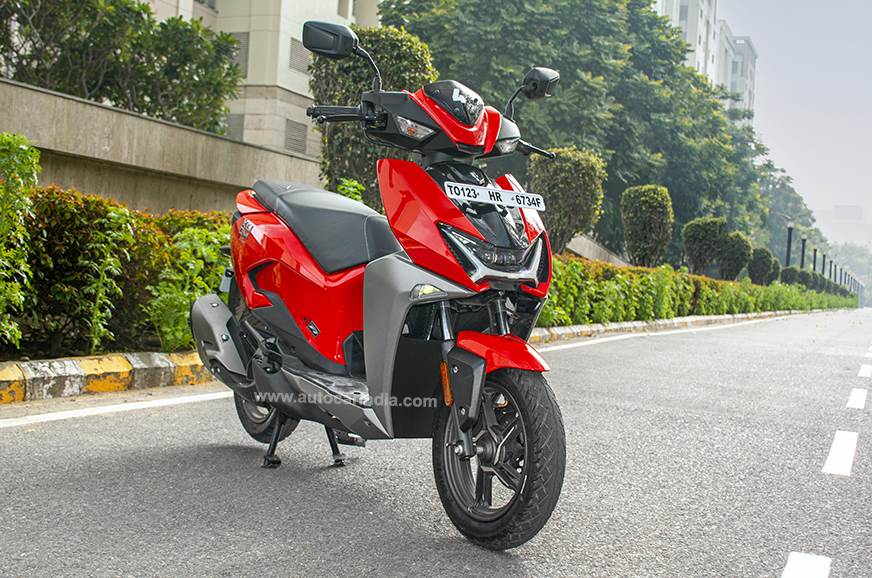 The Xoom is available in three variants – LX, VX and ZX.
Judging by initial impressions, the Hero Xoom feels like a promising scooter. So if you are on the lookout for a sporty, 110cc scooter, this one is definitely worth considering.
Also see:
Source link