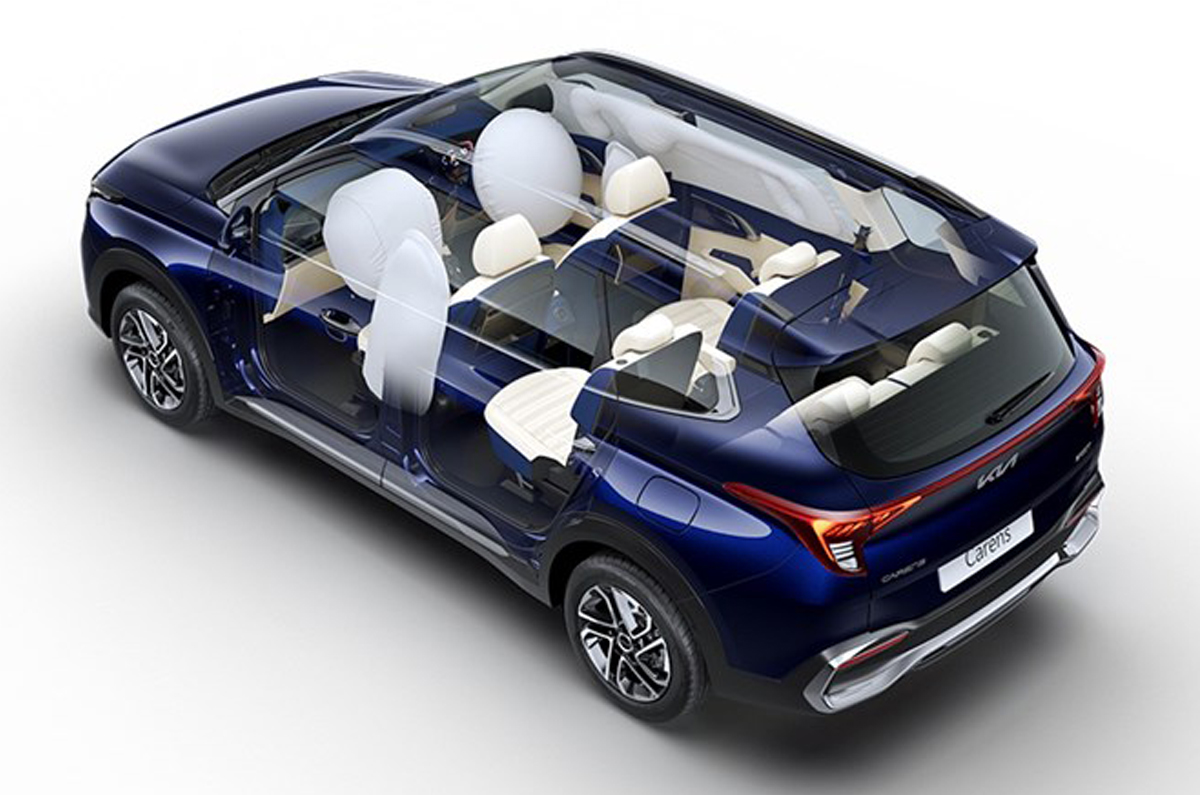 The delay is due to the lack of manufacturing capacity needed to fit around 18 million airbags into vehicles.
The Ministry of Road Transport & Highways (MoRTH) had previously proposed October 1 as the date when compulsory fitment of six airbags in cars were to come into effect. However, the said proposal is now likely to be deferred by up to 18 months.
Additional manufacturing capacity of 10 million units needed 
Lead time allowed was also very less
Mandatory six airbags could hurt the growth of passenger car market
Industry sources have revealed that there simply isn't enough airbag manufacturing capacity in India, which is the prime reason behind the expected delay. Airbag production would have to be nearly tripled to 18 million units a year to meet the surge in demand if all cars had to be compulsorily equipped with six airbags.
MoRTH had issued a draft notification in January, mandating six airbags in all cars in the country, and directed all manufacturers to follow the proposed guidelines by October 1, 2022.
A senior industry executive said, "The six-month timeframe within which the ministry has to legislate a notification has technically elapsed. Hence, we are essentially looking at reissuance of the notification." The guidelines are now expected to get implemented only around April 2024.
India's total passenger vehicle market size hovers around the three million units mark, with FY2022 (April 2021-March 2022) sales being pegged at 30,45,465 units after registering a 12 percent year-on-year growth. A dual-airbag mandate, which kicked in earlier this year in January, has already taken the total capacity requirement to about six million airbag units. With an estimated 15 percent of all PVs already being equipped with six airbags, the capacity need for airbags is presently close to eight million units.
If the remaining 85 percent of the PV market was to switch to six airbags, there would be a requirement of an additional capacity for 10 million airbags, therefore requiring suppliers to dramatically increase manufacturing to 18 million airbag units to serve the entire market.
An industry expert said, "We don't even have a capacity of six million units right now. The new guidelines call for a significant expansion of capacities as well as localisation of airbags and their associated parts as a lot of components are currently being imported."
"It is impossible to cater to this demand explosion within a short timeframe, despite component makers' willingness to invest into more capacities as per customer demand," he further added.
Hasty and expensive transition
Though the six-airbag mandate, which has been uniquely proposed in India, is great business for safety system suppliers, there is a fear in the industry that the cost impact and engineering challenges in implementation would seriously hurt the growth of the passenger car market. The budget segment, which includes the entire gamut of mass market models right from the Maruti Suzuki Alto and Renault Kwid at the entry level to popular family cars – like Maruti Suzuki Wagon R and Tata Tiago – would be impacted.
All such A- and B-segment cars that hold the lion's share of the price-sensitive Indian car market, and are primarily offered with affordable mobility as their unique selling proposition, will need a thorough re-engineering of their side-body structures, or in some cases, even a grounds-up development of their platforms, to be able to conform to the proposed mandate.
Furthermore, it is learnt that more than the airbag cost, which is understood to make carmakers incur an additional expense of around Rs 7,500 per car for adding side and curtain airbags, the cost of model redevelopment as well as lack of adequate lead time to undertake such mega reengineering projects are other big concerns. "The government had allowed almost two years of time for the mandatory implementation of dual airbags in cars. But this time around, it's a much more critical implementation and we will definitely need more time. This is more of a lead-time issue than cost (airbag)," said another top industry executive.
While the total cost of a six-airbag system is estimated to range between Rs 12,500 and Rs 15,000 to OEMs, the effective price paid by the customer inflates by two to three times by the time the car reaches a customer's home, due to levy of various central and state taxes, including road tax.
In India, a driver airbag was made mandatory in all cars from July 2019, with dual front airbags becoming compulsory from January 1, 2022. While the first draft notification for the same was rolled out in December 2020, the initially proposed deadline was April 1, 2021, for new models, extending to June 1, 2021, for all other existing models. However, after subsequent deadline extensions, dual airbags in cars could eventually became mandatory only at the start of this calendar year.
Six airbags an overkill
While the ministry's move to make dual front airbags compulsory in all cars was welcomed across the board – it was strategically introduced alongside the front seatbelt reminder alarms that became a mandatory fitment in all cars from July 2019 – the six-airbag proposal has received flak from all corners. Without first effectively enforcing rear seatbelt usage in cars, it could end up being an unnecessary deterrent for the industry's growth because of the huge cost implications. Budget cars would become too expensive, which could further bring down the rates of motorisation in the country, which is at a low 32-cars-per-thousand-people.
Moreover, the recent road accident that claimed the life of Cyrus Mistry is a clear example that more than airbags, it's the seatbelt – part of a vehicle's primary restraint system – that ends up saving lives in the event of a crash. An airbag, on the other hand, forms the vehicle's supplementary restraint system (SRS) and essentially assists an occupant's seatbelt to help cushion the adverse impact of an accident from being transmitted to the human body. The efficacy of an airbag is only achieved when the occupants are securely strapped in their seats.
So, as the industry possibly stares at a deadline extension for the proposed six airbag rule, the MoRTH has issued a new draft notification that proposes amendments to the Automotive Industry Standards (AIS156), suggesting mandatory fitment of seat belt reminders for all front-facing rear seats in cars. Industry experts believe that this could be a rather good move and an incremental, low-cost and more effective step than a six-airbag mandate.
Also See:
Source link