The third-gen Range Rover Sport is here, and it's not just its effortless style that will lure you to spend big on one.
It's hard to call an SUV that starts at Rs 1.64 crore (ex-showroom) a steal, but that's what the new Range Rover Sport comes across as. See one in light of 'the' Range Rover (Rs 2.38 crore onwards), and you'll get what I mean.
New Range Rover: exterior design
It starts with the way the new Sport looks. Measuring just under 5m long, 2m wide and 1.8m to the roof, the Range Rover Sport is a lot of SUV. In fact, it's not much smaller than the standard-length Range Rover and the two models are actually identical in wheelbase too. But, as is evident, there's much more to the Sport than mere size. The raked A- and D-pillars help identify it as a Sport and the styling just grabs you. And that's without reliance on oversized grilles or shouty elements. Rather, it's all about minimalist details and subtle cues that work together delightfully.
It's got a familiar silhouette but new-age style is attention grabbing.
The lines are crisp, surfacing is clean and what can be hidden, is hidden. For instance, the door handles that sit flush with the body only pop out on unlocking, and if you pay close attention, you'll notice there's no step in the glasshouse and pillars either. Slender tail-lamps are in keeping with this new theme, but don't quite have the wow factor of the latest Range Rover's discrete vertical units. Still, as an SUV to make a grand entry in, the Sport has you covered.
At its very core, the Sport is also closer than ever to the full-fat Range Rover, which is a very good thing. Land Rover's latest MLA-Flex platform forms the base of the Sport too, and brings with it all the advancements in refinement, technology and stiffness we've experienced on the top-tier Range Rover.
New Range Rover: interiors and features
Much is shared between the Range Rover and Range Rover Sport on the inside too. The elegant dashboard has the same basic layout, though a higher centre console and three-spoke steering wheel have been incorporated to give the Sport's cabin a, well, sportier vibe. The seats are positioned 20mm lower too, but you still get that very Range Rover captain's view of the world.
And lest you dismiss the latest Range Rover Sport as a Range Rover 'Lite', you should know – in material quality – what you touch and how it feels, it's up there with the more expensive Rangie. Almost. There's a generous use of leather in the cabin and you can have the interior finished in vegan materials if you so desire. There's loads of room for customisation in appearance and equipment.
Talking features, the Dynamic HSE variant we have here is packed with goodies, some being options. You can refer to the spec page for the exhaustive list, but highlights include digital LED headlights, air suspension, soft close doors, digital rear view mirror, head-up display, front seats with heating, ventilation and massage; heated and ventilated rear seats and more.
The 13.7-inch digital dials are also easy to refer to (if not as customisable as Merc's latest), while the 13.1-inch touchscreen is slick and friendly. Dedicated physical dials for the AC controls get our thumbs up too. Also part of the package are ADAS functions such as adaptive cruise control and lane keep assist that work well in our conditions.
New Range Rover: rear seat, comfort
Rear seat passengers have it good too. Space is generous even by large SUV standards, the large windows equal a great view out and the seats are properly comfy offering great back and leg support. However, for that ultimate rear seat experience, you might have to consider the added outlay for the more premium Range Rover. The Sport doesn't get an individual rear seat option (or long wheelbase variant) and its bench seat offers only limited adjustability.
Comfort is great but rear seat experience is down on full-spec Range Rover.
The backrest can be electrically reclined by 37 degrees, but in operation, it's more hospital bed than a stately SUV. Also, manual adjust for the window shades aren't in keeping with the Sport's price. Also worth bringing up is that the Sport's high-set cabin isn't the easiest to enter. Access Height that lowers the air suspension does prove handy here. The rear suspension can also be lowered at the touch of a button in the boot to ease loading luggage. The luggage bay is cavernous and there's an electric fold for the rear seats for occasions when you need even more space.
New Range Rover: powertrain, performance
The new Range Rover Sport is offered in India with two engine options. The D350 that's powered by a 350hp and 700Nm, 3.0-litre straight six turbo diesel will likely be the mainstay of the range. Featured here is the P400, which gets a 400hp and 550Nm, 3.0-litre straight six turbo-petrol engine. The engine is paired to a mild hybrid system that chips in in the background. If you aren't deterred by the high single-digit economy figures (on the best of days), the P400 sure deserves a fair hearing for its characterful engine.
The petrol engine is expectedly refined, but its rich snarl will also entice you to extend it.
It's smooth and quiet at low speeds as you'd expect a large petrol unit to be, but drive with a bit more vigour and it's happy to show its more entertaining side. Power delivery is not forceful per se, but the feeling is of an engine with deep reserves. It's got a sustained and strong build of power, and will readily rev past 6,000rpm if you're inclined to extend it. You will be tempted to do so every now and then just to hear the deeply satisfying snarl from the six-pot engine that's partly piped in through the sound system.
However, it's also when you're going for it that you'll find the 8-speed auto gearbox to be a bit hesitant. Switching the gearbox to Sport or using the paddleshifters is an easy workaround. We haven't verified the 5.9 second claimed 0-100kph time, but there's no denying the Range Rover Sport is a brisk SUV.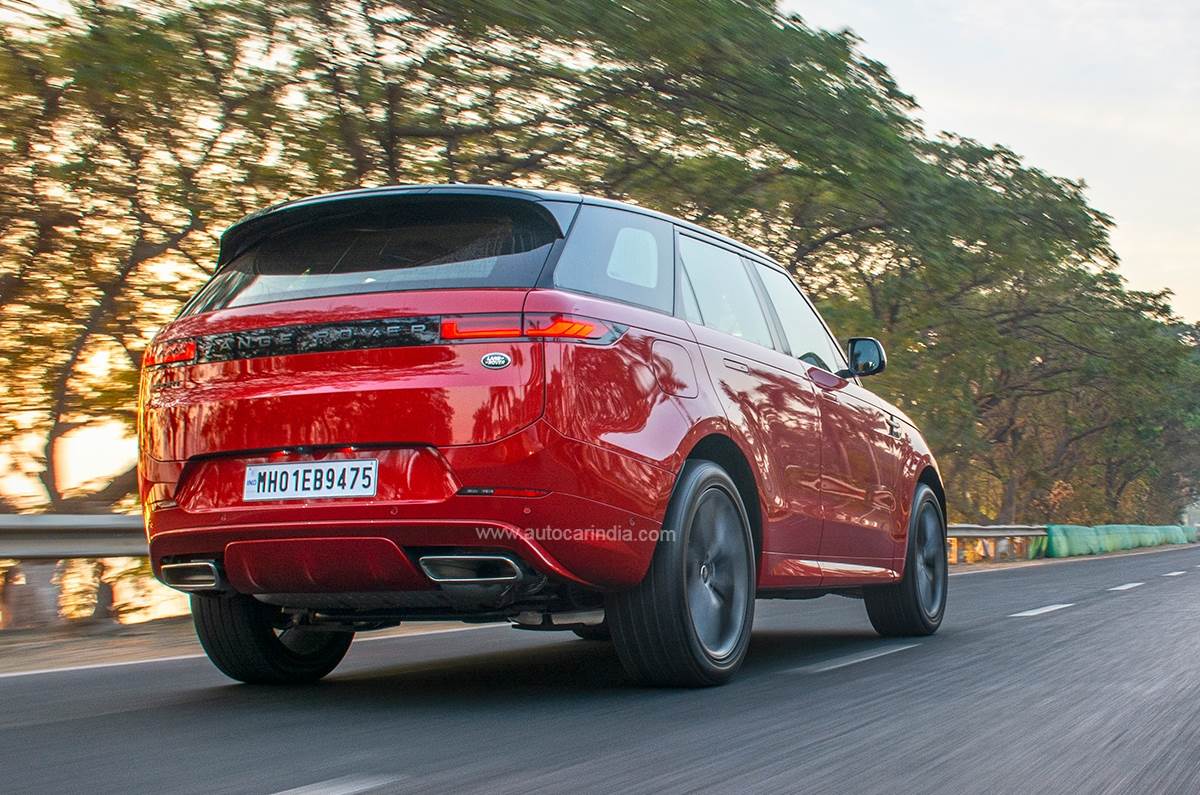 Going fast in a straight line is one thing. Has the latest model finally got the handling chops to do complete justice to the 'Sport' in the name? The short answer is no. While it is more engaging than its predecessor courtesy a more feelsome steering and enhanced composure, the tall and heavy Sport also always feels its size. It doesn't shrink around you in the way a Porsche Cayenne can. You get the most out of the Sport driving it at eight-tenths where you'll appreciate its generally unflustered demeanour.
Where the new Sport takes half a step backwards is in low-speed ride comfort, something we noted on the new Range Rover too. On our test car running on 22-inch rims, the ride felt a bit choppy, and there was some side-to-side movement too. Smaller rims with thicker sidewall tyres would likely cushion road shock better; something to keep in mind when speccing your Sport. For an SUV that will likely have a minder to ensure it's gleaming at all times, it's easy to forget the Range Rover Sport has a rugged side too.
All-wheel drive aside, there's Land Rover's Terrain Response 2 that preps the vehicle for different off-road scenarios, while the standard fit air suspension unlocks 281mm of ground clearance at its highest setting. And the really adventurous will be happy to know the Sport can wade through 900mm of water too. A cool and handy inclusion is the ClearSight Ground View monitor that gives a visual of the area hidden by the bonnet. The extra eyes on the Sport (including a superb 360-degree camera) and the driver's high vantage point really are a boon in unfamiliar environments.
New Range Rover: verdict
The Range Rover Sport is a charmer. It feels distinct and special even within the small universe of large luxury SUVs. It's a model that will lure you to spend big given how much more expensive it is than traditional rivals. But as mentioned at the very start, the right way to see the Sport, is from the perspective of the even more expensive Range Rover.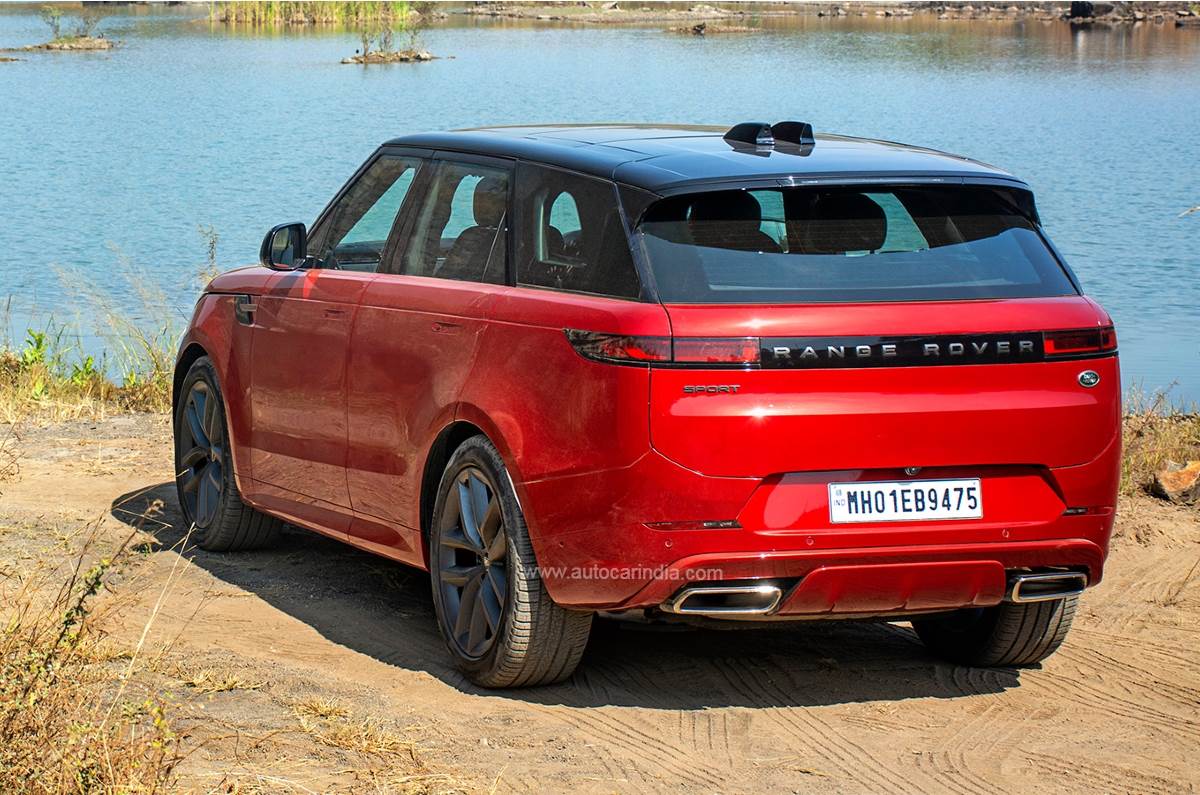 Do so, and you'll find that the Sport does most things as well as the top of the pyramid Range Rover, for relatively (relatively being the operative word) sensible money. It's still not quite the ultimate sport as its name would have you believe, but as a 'Range Rover', the Sport is splendid.
Also see:
New Range Rover Sport makes India debut; deliveries commence
Source link