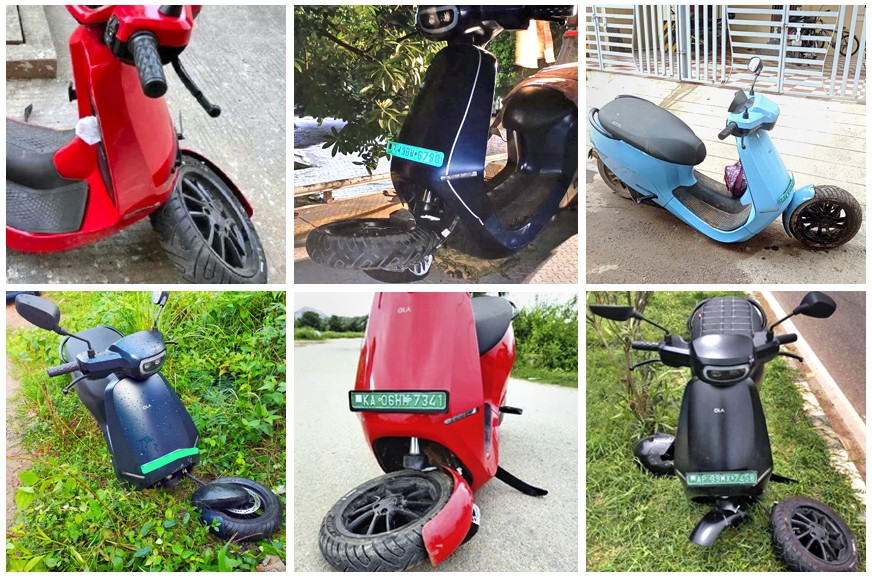 We had last reported on the suspension failure issue in May 2022, and the number of incidents has tripled since then.
In May 2022, we had reported that customers were complaining of front suspension failure in their Ola scooters. At the time, the company did not officially release a statement, but we were informed that these were due to high impact accidents on the road
Since then, the number of suspension failure cases shared by customers has grown from three to at least nine, from what we have been able to find on social media. In the most recent incident, the rider got injured when the scooter's suspension failed and the entire front wheel broke away. 
Each incident is very similar as the single-sided front fork appears to have completely broken at the point where it forms a rather thin arm above the front tyre. This failure leads to the front wheel breaking away, with it remaining tethered to the scooter only via the hydraulic front brake hose. This is a highly dangerous situation as it will be almost impossible to save oneself from an accident if the front wheel breaks away at speed.
With the latest incident raising attention on social media, the company released a statement where it has essentially claimed 'very high impact road accidents' as the cause. The company also states that it has over 1.5 lakh vehicles on the road and that they have observed this in 'extremely isolated cases'.
Be that as it may, high impact situations are common on our roads where hidden and nasty potholes are a part of daily life. This is not something normally seen with most two wheelers and it may come down to the fact that Ola is the only company that currently uses this unique design for its single-sided front suspension. This has been a part of the scooter's design from its early days, when it was created by a Dutch start-up named Etergo well before Ola bought the company out in 2020.
Meanwhile, some owners have shared that Ola has updated the suspension design slightly on the base Ola S1 model that was launched in August 2022. There are a few small visual differences on the neck area of the S1's fork with a rougher casting surface and the removal of a small rivet in that area. Whether this updated suspension is designed to be more resistant to high impact is unknown as Ola has not made any announcement about this change. In its recent statement, the company says it will be happy to check owners' scooters at its service centres to alleviate any concerns. However, the company has not made any announcements about a recall.
More recently, the new low cost Ola S1 Air model was unveiled with a completely different chassis design that features a conventional telescopic front suspension fork. It is extremely unlikely that this telescopic fork can be made to work on existing scooters on the road.
Source link