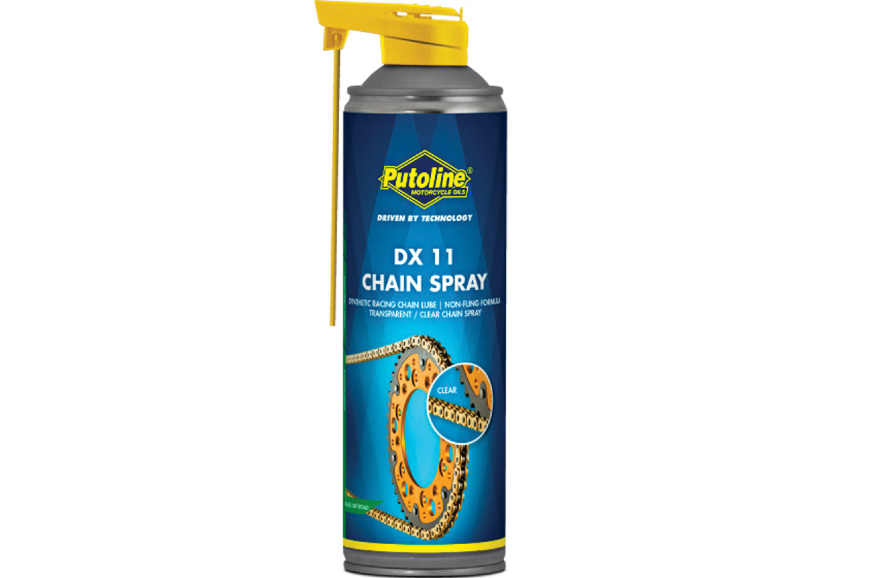 A value for money chain lube that does the job well.
Chain lube is one of those things where you'll find unending options and even more opinions on how good those options are. In my experience, identifying a good one comes down to trying a few options until you find something that works for your circumstances. 
My circumstances were quite unique. The KTM 790 Duke runs a cheap CZ chain that has a tendency to start squeaking quite quickly. I eventually discovered that this annoying chain squeak could only be dealt with by frequently using copious amounts of chain lube, sometimes as frequently as every 300km. 
What I needed was something that was resistant to flinging, didn't mind getting wet and mainly something that would shut the chain up! After going through a few options, including the OKS lube used at the KTM service centre, good ol' Motul C2 and Maxima chain wax (which worked well, but didn't seem to like water) I've found the best results so far with Putoline DX-11.
This Dutch lubricant company is best known for its premium TechChain lubricant in the superbike market, but it's the DX-11 lube that gets used by Dakar Rally teams. If it works for the Dakar teams, I figured it should work for me. So what's this stuff like to use?
The first impression is that the 500ml can is nicely designed with a neatly foldable nozzle. Unfortunately, the smaller, travel-sized 75ml can is not currently available. 
Putoline has a dedicated video on their YouTube channel on how to use this lube and one of the key takeaways is to avoid spraying too much. It's easy to get carried away and overspray, but you'll only end up with a lot of lube getting flung off the chain – I know because I've tried.
This is a wet lube, but if you use just the right amount, it's quite resistant to flinging and I've found that it consistently lasts longer than any other lube I've tried. Where the squeak usually begins at around 300-350km, I've stretched it as far as 450km using DX-11. 
Ultimately, I need to replace my chain with something better, but that's not a priority right now and DX-11 has made my maintenance routine a little more forgiving. I haven't ridden the bike in the past month and a half, and while it's been parked, the lube has also done a good job of keeping rust at bay during the monsoon. 
At Rs 649 for a 500ml can, it's priced about on par with Motul C2 and about Rs 350 less than the range topping TechChain. If you can do without the dry finish and cool white look of TechChain, I find DX-11 easy to recommend.
Also See:
Carbonado Modpac luggage series review
Source link