Tata Motors takes the CNG game forward with the well-packaged and feature-rich Altroz iCNG.
In theory, CNG cars offer the best of both worlds. You get lower running costs compared to your normal petrol and diesel cars and they're lower on emissions as well, making them kinder to the environment. But there's always been some compromises with CNG cars in general – boot space and drivability – that's discouraged potential buyers, until now; enter the Tata Altroz iCNG.
Tata Altroz iCNG tanks, boot space and spare tyre
The Altroz iCNG's USP is the fact that you get lower running costs without having to sacrifice boot space entirely. Tata Motors has used an innovative twin-cylinder setup for the CNG tanks that are placed under the boot floor, where you'd normally find the spare wheel. This packaging liberates 210 litres of boot space, which, though down on the standard Altroz's 345-litre boot, is still better than nothing at all.
Boot space is down from the standard Altroz's 345 litres to 210 litres.
The positioning of the tanks raises another question: what about the spare wheel? Tata has thought of that too. The iCNG gets a smaller size spare that's mounted underneath the car, the likes we've seen on SUVs. The spare can be released by loosening a bolt inside the boot, just ahead of the CNG tanks. The tyre drops down on a cord and is unhooked easily enough, and to put it back, you simply hook it up again and wind it the other way. And that's not all, Tata also provides the Altroz iCNG with a puncture repair kit.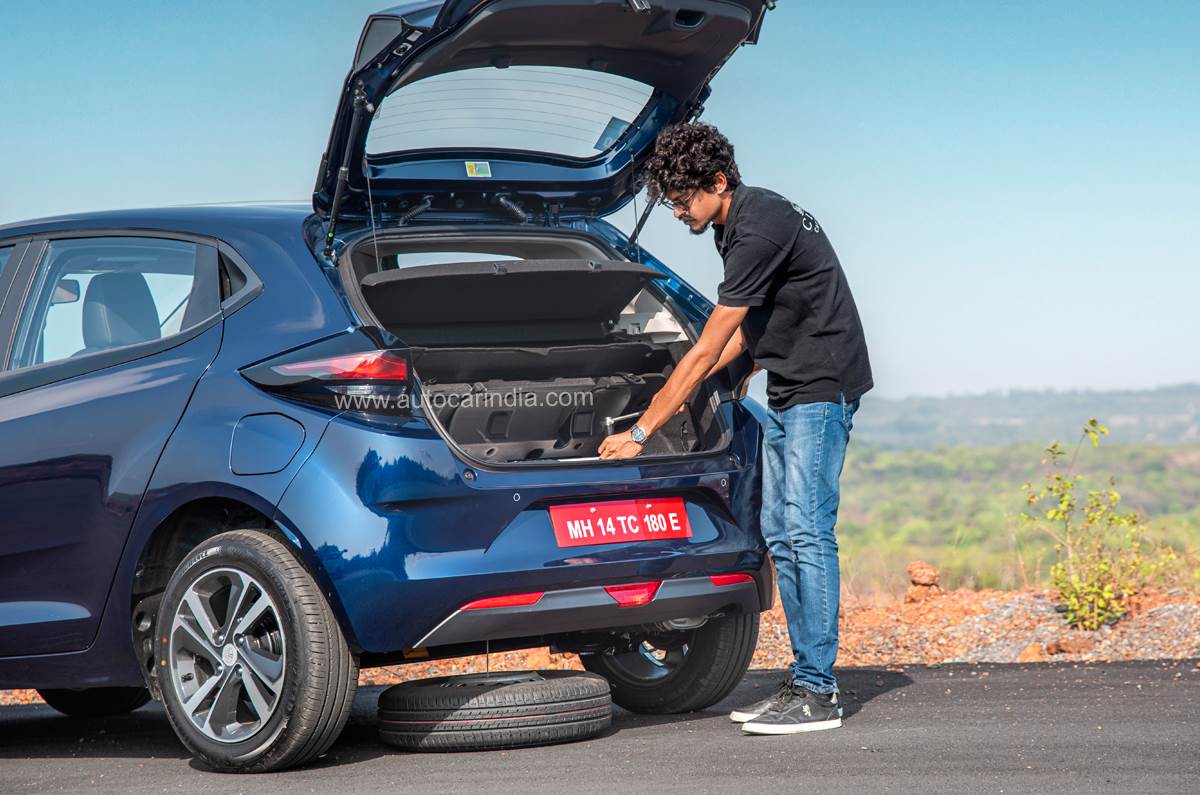 Space saver spare is mounted underneath; can be lowered by losening a bolt in the boot. 
Safety has also been a cause for concern in CNG cars thus far as the tanks are placed in close proximity to the passenger compartment, so in case of a crash or a leak, it can be dangerous. To alleviate those concerns, the Altroz gets a fire extinguisher under the driver's seat and a system that automatically switches to petrol if a leak is detected. Tata also claims it has used "advanced materials" in the CNG kit. Furthermore, there's a micro switch in the fuel filler area, which shuts off the car during refuelling. It also gets thermal incident protection that cuts off CNG supply to the engine and releases the gas into the atmosphere if a fire is detected. The Altroz's CNG tanks also sit in a cradle, which prevents it from entering the passenger compartment in the event of a crash.
But one thing you'll still have to contend with is the CNG infrastructure in our country, or the lack thereof, and the long queues for fill-ups.
Tata Altroz iCNG engine, performance
Powering the Altroz iCNG is Tata's 1.2-litre, three-cylinder engine that puts out 73.5hp and 103Nm in CNG mode and 88hp and 115Nm in petrol mode. Another advantage of the Altroz iCNG is that it can be fired up directly in CNG mode, which saves petrol during starting. This is down to the Altroz only having one ECU, compared to the two that's been the norm for CNG cars so far. Apart from the aforementioned advantage, another plus point of a single ECU is that there's no delay in switching between CNG and petrol modes, which makes the entire experience seamless.
The Altroz can be started in CNG mode itself.
As for performance, there is a noticeable difference between the two modes, but it's not as large as you'd expect. For starters, the engine doesn't feel strained when running on CNG, which means you'll be happy to let it run in that mode most of the time. But you should know that performance was never this engine's strong suit. It builds speed in a laidback manner and there isn't much to extract at the top end even if you rev it out. It's not very refined either as you do hear a lot of the engine inside the cabin.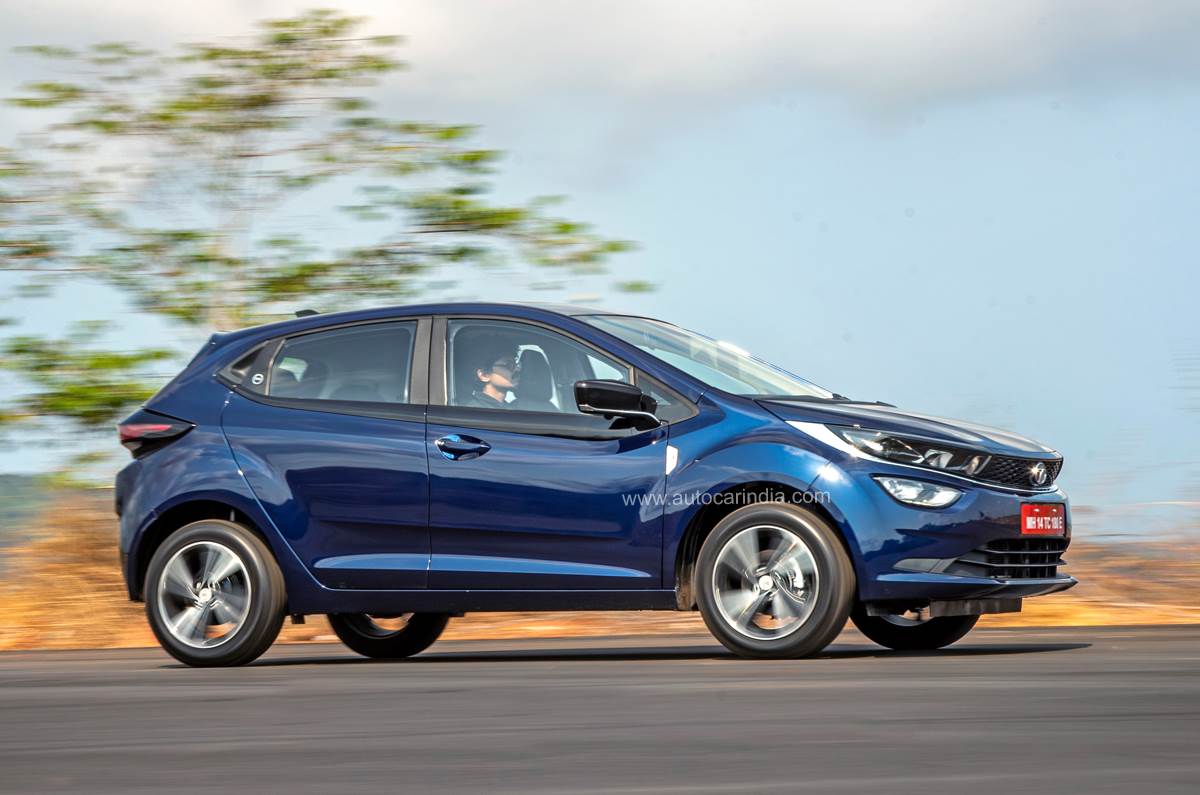 The engine doesn't feel strained even when running on CNG.
The clutch, however, is light and easy to modulate, but the 5-speed gearbox takes some effort to slot in. As for fuel efficiency, Tata is yet to disclose official figures for the Altroz iCNG, so we'll update you as and when we get our hands on them.
Tata Altroz iCNG ride and handling
In order to compensate for the extra weight (around 150-200kg), Tata has stiffened the Altroz's rear suspension by about 15 percent. But this has only had a marginal effect on the way this car rides. It does feel a bit stiffer, especially at lower speeds, but it's never uncomfortable. It continues to feel comfy and composed over bumps and that feeling only increases as you pick up pace. What also helps is that the Altroz's ALFA platform was designed with CNG powertrains in mind, so the ground work was in place from the start.
Ride and handling is one of its strenghts. 
The Altroz was also one of the nicest-handling hatches around, and that's still the case. Body movements are kept well in check around corners, and the steering is feel some and weighs up nicely as you go faster. If only the engine had the performance to match this chassis' superb dynamics.
Tata Altroz iCNG exterior design
There's not much to discuss in terms of design as almost nothing has changed. The only things of note are two new badges – an iCNG badge on the boot and a '50 lakh cars sold' milestone badge on the C-pillar. But again, nothing needed to change as the Altroz remains one of the most stylish hatches on the market. As for colour options, you can have the iCNG in Downtown Red, Arcade Grey, Avenue White and this Opera Blue shade you see here.
It remains one of the nicest looking hatches on the market; iCNG offered in four colours.
Tata Altroz iCNG interior
The interior also remains largely unchanged, but there are a few differences. The biggest of which is the new 4-inch LCD digital instrument cluster, which has been taken from the Tiago and Tigor iCNG models and features two fuel indicators – one for petrol and one for CNG. It does look out of place on a premium hatch like this though. Other changes are a CNG button on the right-hand side of the steering and the omission of the drive mode switch from near the gear lever. Other than that, the Altroz's stylish, layered dash remains identical to the rest of the range. The materials feel nice enough and you get a sense that it's built to last.
New digital instrument cluster is shared with the Tiago; note the two fuel guages.
Space inside the cabin also remains one of the Altroz's strong points. The front seats are large and supportive while at the rear, though the knee room is more than ample, taller passengers will find headroom to be a bit tight. But what's nice is that you do get an armrest, dedicated AC vents, a USB port and adjustable headrests for rear passengers.
Tata Altroz iCNG variants and features
Another thing which prospective buyers will appreciate is the number of variants the Altroz iCNG is offered in. Where its chief rival, the Baleno CNG, is only offered in two mid-spec trims, the Altroz iCNG is available in six trims – the base XE to the top-spec XZ+ O (S). This should give buyers the liberty to choose whichever variant best suits their needs without having to compromise on features.
It's also the first CNG hatchback to feature a sunroof.
Speaking of which, this top-spec XZ+ O (S) model we tested was loaded with features like a sunroof (a first for a CNG hatch in India, which can also be operated via voice commands), 16-inch alloys, leatherette upholstery, auto headlamps/wipers, ambient lighting, a 7-inch touchscreen with Android Auto and Apple CarPlay connectivity, Tata's iRA connected car tech, a wireless phone charger and an onboard air purifier. Safety kit includes dual airbags, corner stability control, ISOFIX mounts, adjustable headrests, rear camera and rear parking sensors. The Altroz has received a 5-star safety rating from Global NCAP, but that was based on the older testing protocol.
Dash is identical to the rest of the range; iCNG misses out on drive modes and cruise control.
While this car is fully loaded, it would have been nice to see some more features that are already present on the rest of the Altroz range like drive modes, cruise control, the digi-analogue cluster with a colour TFT screen and auto engine start/stop. Furthermore, things like LED headlights, wireless smartphone connectivity, Tata's new 10.25-inch touchscreen, more airbags and ESC would have been nice in this premium hatch, but it's perhaps being saved for a later update.
Tata Altroz iCNG price and verdict
The Altroz iCNG is priced at Rs 7.55 lakh for the base XE trim and Rs 10.55 lakh for the top-spec XZ+ O (S) (introductory prices, ex-showroom, Delhi). Meanwhile, its rivals, the Baleno CNG and Glanza CNG, cost between Rs 8.35 lakh-9.28 lakh and Rs 8.50 lakh-9.53 lakh, respectively. While it may seem like they're more affordable, they're only offered in their mid-spec trims and miss out on a lot of features that the top-spec Altroz iCNG offers like a sunroof, leatherette upholstery and more.
The Altroz iCNG is available in six trims.
In conclusion, the Altroz iCNG does a good job of making a CNG car feel premium and not something that's just reserved for taxis, commercial vehicles and such. Sure, the top-spec variant is pricey (it costs even more than highest-spec Altroz diesel), but it gives you the option of having a fully-loaded CNG car, which wasn't the case in our market earlier. Moreover, the Altroz is the only car on sale in India that can be had with a petrol, diesel, turbo-petrol, and now, a CNG powertrain option, which is a boon for potential buyers. If you're one of those that thinks CNG cars would never have the practicality or premiumness of a regular petrol or diesel car, the Altroz iCNG will make you think again.
Also see:
Source link