The new Maruti Suzuki Celerio and Tata Tiago are similar in size and price. We put them through our instrumental tests to find out which is better.
SUVs are the flavour of the season and they've been dominating the sales charts. Maruti, however, continues placing its bets on budget hatchbacks, having no less than five offerings – Alto 800, Alto K10, S-Presso, Celerio and Wagon R. Sure, SUVs are more desirable and their high ground clearance and upright seating makes them more practical, but for buyers looking for an affordable, compact and efficient small car, hatchbacks remain the quintessential choice.
The focus of this review is the all-new, second-generation Celerio and its headline-grabbing fuel efficiency number of 26.68kpl, making it the most efficient hatchback in the country. We put it through our instrumental tests to find out how it fares in the real-world, and to spice things up, we pit it against the similarly sized and priced Tata Tiago facelift to find out which is the better  budget hatchback.
Maruti Celerio vs Tata Tiago: design
The Celerio's styling is rounder and fresher in this iteration.
This second-generation Maruti Suzuki Celerio shares its underpinnings with the Alto K10, S-Presso and Wagon R, and is based on the Heartect architecture, which is lighter yet more rigid than the older platform. So, despite being larger in size than the first-gen Celerio, the second-gen tips the scales at 820kg, merely 10kg more.  The second-gen Celerio looks radically different and sports a newer, curvier design language making it look more cheerful than the version it replaces.
Request sensor, handle placement isn't well executed.
The oversized front air dam styling and blackened 15-inch alloys add a touch of sportiness, while its roundish headlamps and tail lamps lend a cutesy appeal. What seems like an afterthought are its old-school, flap-type door handles, with the front request sensors and key holes scattered around it without cohesive integration.
The Tiago has been around since 2016, but in its current iteration, it gets some styling tweaks which significantly sharpen its appearance. Complementing its clean yet distinct body lines are premium touches like chrome tri-arrow elements on the front grille, projector headlamps and LED DRLs, all of which were recently introduced.
The Tiago looks more premium than its price suggests.
The car showcased here, however, is a 2020 model year of the facelift, which doesn't feature these minor updates. The Tiago is 70mm longer and 22mm wider than the Celerio, although the latter is 20mm taller and has a 35mm longer wheelbase. Not only is the Tiago larger, but it is also a significant 162kg heavier than the Maruti. It also feels tougher and better built, and what's reassuring is that in 2020, the Tiago was also awarded a respectable four stars in Global NCAP's crash safety tests.
Maruti Celerio vs Tata Tiago: interior
The Celerio's wide opening doors make ingress/egress a breeze, and once you step inside its grey themed cabin, what'll immediately grab your attention is its funky dashboard with several swoops and cuts, and also some matte silver highlights to mask its budget credentials. However, its hard scratchy plastics feel built to a cost, and it won't take you long to discover that form takes precedence over function here.
Funky-looking dashboard. However, gets hard, scratchy plastics; the interior feels basic and built-to-a-cost.
Storage areas aren't well-shaped or fully utilised either. For instance, the cut on the passenger side on the dashboard is purely for aesthetics rather than a nifty storage shelf, and there isn't a broad enough recess to securely stow an average-sized smartphone anywhere in the front. But what owners will appreciate is the generous glass area, agreeable ergonomics and supportive front seats.
Roomy cabin with ample head and knee room for rear passengers in the Celerio.
Rear passengers will also enjoy an airy, spacious experience, although the fixed rear head restraints are too low to offer any support or protection from whiplash injuries in the unfortunate event of a rear collision. Another strength of the new Celerio is its voluminous 313 litres boot, which is best-in-class, and with 60:40 split rear seats, you even have the additional flexibility to haul more luggage.
Dual tone colours, textured materials and a knitted roof liner enhance the cabin's premium appeal.
Step into the Tiago and like its exterior, the clean-cut interior styling feels posh and upmarket with a two-tone grey and black theme, textured materials, splashes of chrome and a premium knitted roof liner. The large dashboard, however, protrudes into the cabin, and takes away from the sense of space. The high set seats, however, ensure that most will appreciate the raised driving position, which aids visibility. The front seats are broad, but don't offer as much side bolstering as the Celerio's.
Space at the rear in the Tiago is tight; cabin feels narrower too.
The story is a bit different at the rear though: while the Tiago's bench is more supportive, nicely contoured and comfier than the Maruti's, the space is tighter, and the cabin's narrower width means that a third passenger at the rear won't be as welcome as in the Maruti. Even the Tiago's rear neck restraints are short and don't offer adults any support or protection. At 242 litres, the Tiago's boot is much smaller, and though its seats drop down, they don't split like the Maruti's.
Maruti Celerio vs Tata Tiago: features
Both cars cover the basics well with kit like a 7-inch touchscreen with Android Auto and Apple CarPlay, 15-inch alloys, keyless entry and go, and all four power windows. Tata updated the Tiago this year with features like projector headlamps, LED DRLs and chrome-lined door handles.
8-speaker Harman system on the Tiago is simply the best in this segment.
It also packs in a digital instrument panel, which looks modern, but because it is cluttered, it isn't very easy on the eyes. Other premium kit that it gets is a rear parking camera and a fantastic 8-speaker Harman audio system, which is easily class-best.
Chilled auto AC in the Tiago; but blower is loud.
Both cars have chilled air-conditioners, but the Tata goes a step ahead by offering an automatic climate control. In fully automatic mode, however, the Tiago's blower can  get very loud, eventually needing a manual intervention to lower the fan speed to keep sound levels in check.
Equipment
Maruti Celerio ZXi+ MT
Tata Tiago XZ+ MT
Projector headlamps
NA
Available
LED DRLs
NA
Available
Alloy wheels
15-inch
15-inch
Electric folding mirrors
Available
Available
Automatic climate control
NA
Available
Tilt steering
Available
Available
Adjustable front headrest
Fixed
Available
Adjustable rear headrests
NA
NA
Touchscreen
7-inch
7-inch
Android auto/Apple CarPlay
Available
Available
Speakers
4
8
Cooled glovebox
NA
Available
Rear seat fold
60:40
Available
Rear view camera
NA
Available
Rear wiper + washer
Available
Available
Follow-me-home headlamps
NA
Available
Corner stability control
NA
Available
Auto engine stop-start
Available
NA
ABS
Available
Available
Dual airbags
Available
Available
Fog lamps
Available
Available
Maruti Celerio vs Tata Tiago: performance
Maruti's new 67hp, 1.0-litre three-cylinder petrol with dual jet (injectors) and dual variable valve timing is an engine that's focused on maximising fuel efficiency. Those who have experienced the outgoing Celerio's K10B engine  will immediately find similarities with this new engine, particularly in terms of its smoothness and its vibe-free nature. What also hasn't changed is its faintly buzzy sound track when spun quicker. But compared to the Tata, this  one is quieter and more refined, testified by the readings on our specialised sound equipment.
Tall fifth gear aids efficiency while cruising on the highway.
The Celerio's shorter gearing, particularly the first three gears, help extract the best out of this engine and the build-up of speed feels effortless. Complemented by its light clutch and buttery smooth gearbox, it makes it a rather breezy urban commuter. On the occasion that you spin this engine harder, it doesn't feel as free-revving as the outgoing K10B, and seems like it has been deliberately restricted in the interest of efficiency. Highway cruising on the other hand isn't as effortless because of a very tall fifth gear. Now, while the taller overdrive gear ensures the engine sips less fuel while cruising at steady speeds, any drop in speed will warrant a downshift in order to regain momentum.
Despite being more powerful, the Tiago isn't as quick, due to its heavier kerb weight.
The Tata Tiago has the displacement advantage in this contest boasting of a larger 1.2-litre three cylinder engine that makes 86hp, and right off the bat, it impresses with freer power delivery and sharper responses. Having more torque than the Maruti certainly aids drivability and makes pottering around in higher gears even more forgiving, warranting fewer downshifts. But even though the Tata's drivability feels a bit better, flat-out performance is where the Celerio pips the heavier Tiago. The Maruti will out-accelerate the Tata in a sprint from 0-100kph by almost a second; and the lighter Maruti will also pull ahead while rolling from 20-80kph in third gear and 40-100kph in fourth gear.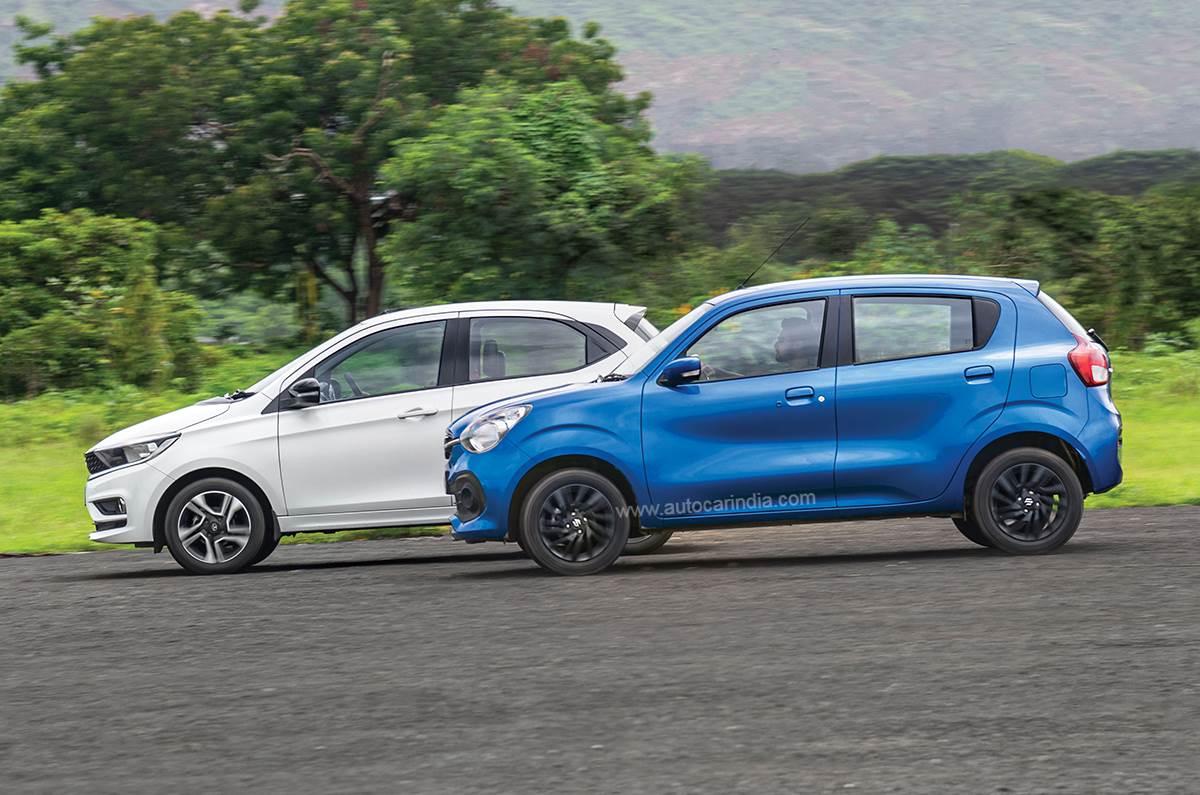 Celerio has an edge over the Tiago when it comes to ride comfort.
An area where the Tiago's 1.2-litre gets marked down, however, is for its refinement.  You can feel this three-cylinder unit rock on its mounts at idle, emitting prominent vibrations on the seats, steering, clutch pedal and gear lever; although these smoothen out on the move. And if you pay close attention,  you will spot certain flat spots across its rev band and power delivery isn't as smooth or as  well-calibrated as the Maruti.
Performance
Maruti Celerio ZXi+ MT
Tata Tiago XZ+ MT
PERFORMANCE
Acceleration (from rest)
Acceleration (from rest)
0-20kph
1.36s
1.45s
0-40kph
3.14s
3.55s
0-60kph
6.08s
6.68s
0-80kph
9.60s
10.59s
0-100kph
15.26s
16.18s
0-120kph
23.24s
23.35s
ACCELERATION IN GEAR
20-80kph (in third)
15.68s
16.36s
40-100kph (in fourth)
22.88s
23.44s
BRAKING
80-0kph
28.46m
29.78m
FUEL ECONOMY
City (kpl)
14.5
13.3
Highway (kpl)
21
16.6
SOUND LEVELS
Idle
40.9dB
43.1dB
Idle AC at mid blower speed
52.8dB
52.1dB
Idle AC at max blower speed
62.1dB
63dB
50kph in fourth gear
67dB
67.7dB
80kph in fifth gear
71.8dB
72dB
Maruti Celerio vs Tata Tiago: fuel efficiency
As mentioned earlier, the unique selling proposition of the Celerio's engine is its 26.68kpl (ARAI certified) figure, making it the most fuel-efficient hatchback in the country. To keep a check on fuel consumption while idling, this Maruti gets an engine stop-start function, which switches off the engine at a traffic light when at a standstill and immediately restarts when the clutch pedal is depressed. With this feature working in the background, in our real-world tests, the Celerio achieved 14.5kpl in the city – 1.2kpl higher than the Tiago, which managed a rather respectable 13.3kpl.
Auto stop-start in the Celerio aids fuel efficiency.
Out on the highway, not only does the Celerio's lighter mass give it an advantage, but also its taller fifth gear ensures that its engine is spinning at a lower speed than the Tiago's; to put it into perspective, at 100kph the Celerio's engine is spinning at a lazy 2,700rpm, whereas the Tiago's is at 2,900rpm. As a result, the Maruti's highway efficiency is a whopping 21kpl, whereas the Tiago's is 16.6kpl.
Maruti Celerio vs Tata Tiago: ride and handling
Like most cars based on the Heartect platform, the Celerio also boasts of a rather compliant ride quality. It tackles smaller road imperfections and bad roads with  a sense of maturity, and despite weighing merely 820kg, it doesn't feel flighty or unsettled at higher speeds. With its suspension tuned for comfort, it does roll around corners and the steering doesn't translate any feedback from the tyres, so it isn't quite as engaging to drive as the Tiago. And while on that topic, the Celerio's steering is unusually sticky so it doesn't self-centre automatically after a turn, and hence, the driver will need to put in equal effort to turn it and bring it back to the straight-ahead position.
Tiago is the better handler with a tighter chassis and nicer steering.
For keener drivers, it is the Tiago, with its stiffer suspension and tighter body control that feels nicer and more surefooted. The superbly tuned steering is not only lighter, but far more consistent in feel, and because it weighs up nicely, it infuses confidence in the driver to tackle corners at a higher pace. Even its brake pedal offers a stronger bite. Its sharper handling and stiffer set-up comes at the cost of ride comfort though. It doesn't absorb road shocks nearly as nicely as the Celerio and the Tata's ride feels much busier in comparison.
Maruti Celerio vs Tata Tiago: price and verdict
Maruti Suzuki's long and unmatched experience with budget cars can be seen in the fundamental strengths of the Celerio. It is marginally better than the Tata in several crucial areas like cabin and boot space, engine refinement, fuel efficiency, and it also happens to offer a more comfortable ride. The Celerio's interior, however, screams 'budget' and it only gets bare essential equipment for the Rs 6.50 lakh it commands. Aspriational buyers of this segment are likely to gravitate towards the Tiago, which feels like a car from a segment above.
Sure, at Rs 6.83 lakh, the Tata is a bit pricier, but its interiors feel well-appointed and upmarket, and offer a far more premium cabin experience. It also gets so many additional features like the fantastic 8-speaker Harman system, reverse camera, projector headlamps and auto climate control, thereby delivering your money's worth. Even though the Celerio is marginally better in some areas, because the Tiago's premium quotient is a quantum leap ahead, it simply tilts the balance in its favour. What also wins the Tiago some brownie points is its respectable four-star crash safety score awarded by Global NCAP. With the Tiago, Tata delivers on its 'more car per car' promise, and gets our vote.
Price and Verdict
Maruti Celerio
Tata Tiago
Price (ex-showroom, India)
Rs 6.50 lakh
Price Rs 6.83 lakh
Variant
ZXi+
XZ+
For
Very fuel efficient / Spacious cabin and boot
Upmarket interior, premium kit / Feels tough and well-built
Against
Interior feels very basic / Steering doesn't return to centre
Not as spacious / Engine refinement
Rating
8/10
8/10
Also see:
Source link