Scouting for a new premium hatchback? We bring together all the options in the market right now.
It's been a while since we had a good old-fashioned group comparison of premium hatchbacks, right? Thing is, there hasn't been much activity in the segment for quite some time. 2022, however, has put the spotlight back on what is the hottest non-SUV segment, what with the arrival of the new Maruti Suzuki Baleno and its twin from partner Toyota, the new Glanza. Over the past few months, the Tata Altroz has also got the much-awaited option of an automatic gearbox, and even the Hyundai i20 line-up has seen a mild reshuffle. Missing here is the Volkswagen Polo that's just bowed out after 12 years and we've passed up on the competent Honda Jazz too, which is in its run-out phase.
The four contenders will be judged on our usual long list of parameters, but convenience, comfort, feel good factor and value will get due importance.
Glanza vs Baleno vs i20 vs Altroz:

 d

esign, styling

Given that this is the first time we're seeing the quartet in one frame, we'll start with the matter of design and styling. Built to conform to the 'small car' specifications for excise benefits, each of these hatchbacks measures just under 4m in length. And there isn't all that much difference between them in height and width either. However, there are very different approaches to styling visible here.
Glanza and Baleno are one and the same, but there is more visual differentiation with this gen.
The new Baleno is arguably the most conservative in appearance. There's a clear visual link to the last-gen Baleno and many might not even register it as a new model at first glance. But a closer look will tell you much has changed. All body panels are new and, in general, there's a chunkier, more solid appearance to the car. The wide, chrome-lined grille, three-dot LED Daytime Running Lights and LED signature at the tail-lights give the Baleno enough flash too.
What's nice is that the new Glanza isn't merely a Baleno with a Toyota badge slapped on to it, as was the case the last time around. Yes, the basic design is same, but the Toyota sports a redone front end, which helps give it more of an identity of its own. The Glanza's slimmer grille and sportier front bumper (replete with faux carbon-fibre detailing!) give it a more youthful look, and many at the office actually preferred the Glanza's styling to the Baleno's.
Where the i20 grabs your attention with extroverted styling, the Altroz is classically handsome.
You'll get stronger reactions to the i20's look. It's the most radical in its styling, with its large grille and drooping nose, multiple cuts and creases on the sheet metal, and Z-shaped LED signatures at the tail-lights. The i20 looks the most distinct and many will like/dislike it for just that. The Tata Altroz? To my eyes, it's a classically handsome car with just the right proportions. The large swept-back headlights and edgy tail make it easy to identify, and it really can carry off that tipped forward stance with elan.
Technical Details
Toyota Glanza 1.2P V AMT
Maruti Suzuki Baleno 1.2P Alpha AMT
Hyundai i20 1.2P iVT Asta (O)
Tata Altroz 1.2P XZ+ DCA
L/W/H
3990/1745/1500mm
3990/1745/1500mm
3995/1775/1505mm
3990/1755/1523mm
Wheelbase
2520mm
2520mm
2580mm
2501mm
Tyres
195/55 R16
195/55 R16
195/55 R16
185/60 R16
Kerb weight
960kg
960kg
1022Kg
1088kg
Engine
4 cyls, 1197cc, petrol
4 cyls, 1197cc, petrol
4 cyls, 1197cc, petrol
3 cyls, 1197cc, petrol
Power
90hp at 6000rpm
90hp at 6000rpm
88hp at 6000rpm
86hp at 6000rpm
Torque
113Nm at 4400rpm
113Nm at 4400rpm
114.7Nm at 4200rpm
113Nm at 3300rpm
Gearbox
5-speed AMT
5-speed AMT
6 step CVT
6-speed dual-clutch auto
Fuel economy (ARAI)
22.94kpl
22.94kpl
19.6kpl
18.18kpl
Fuel tank capacity
37 litres
37 litres
37 litres
37 litres
Boot space
318 litres
318 litres
311 litres
345 litres
Glanza vs Baleno vs i20 vs Altroz: interior 
It's inside that the new Baleno really looks and feels like a new Baleno. The experience starts with a deeper sound on door shut. The layered dashboard is stylish and Maruti has even been adventurous with a navy blue finish for the lower plastics; though the colour only comes through on bright days.
Baleno's layered dash is stylish and overall quality is a step up on old model. 
The large free-standing 9.0-inch touchscreen is in keeping with the times, and though the dials are analogue, the colour MID screen is well executed. Quality has also taken a jump up, with a more premium feel to touch points like the steering, front centre armrest and climate control buttons.
High efficiency numbers on MID make for happy viewing.
The sculpted front seats add to the look and are supportive too, though not everyone will take to the overly soft cushioning.
Glanza identical to Baleno inside, save for colour theme. Toyota's beige-on-black look easy to perceive as more upmarket.
The Glanza's interior is identical to the Baleno in every way, save for the colour theme. And interestingly enough, it's that beige on black theme that might make some prefer the Glanza over the Baleno. The Glanza interior's lighter colours not only appear a bit more premium, but also enhance the sense of space inside.
Low dash cowl aids visibility and also gives i20 cabin an airy feel. All-black theme is drab and quality isn't Hyundai's best.
In absolute terms, however, it's the i20 that has the roomiest cabin. It's the widest of the hatchbacks and the low-set dash not only helps the airy feeling inside but also allows the best view out.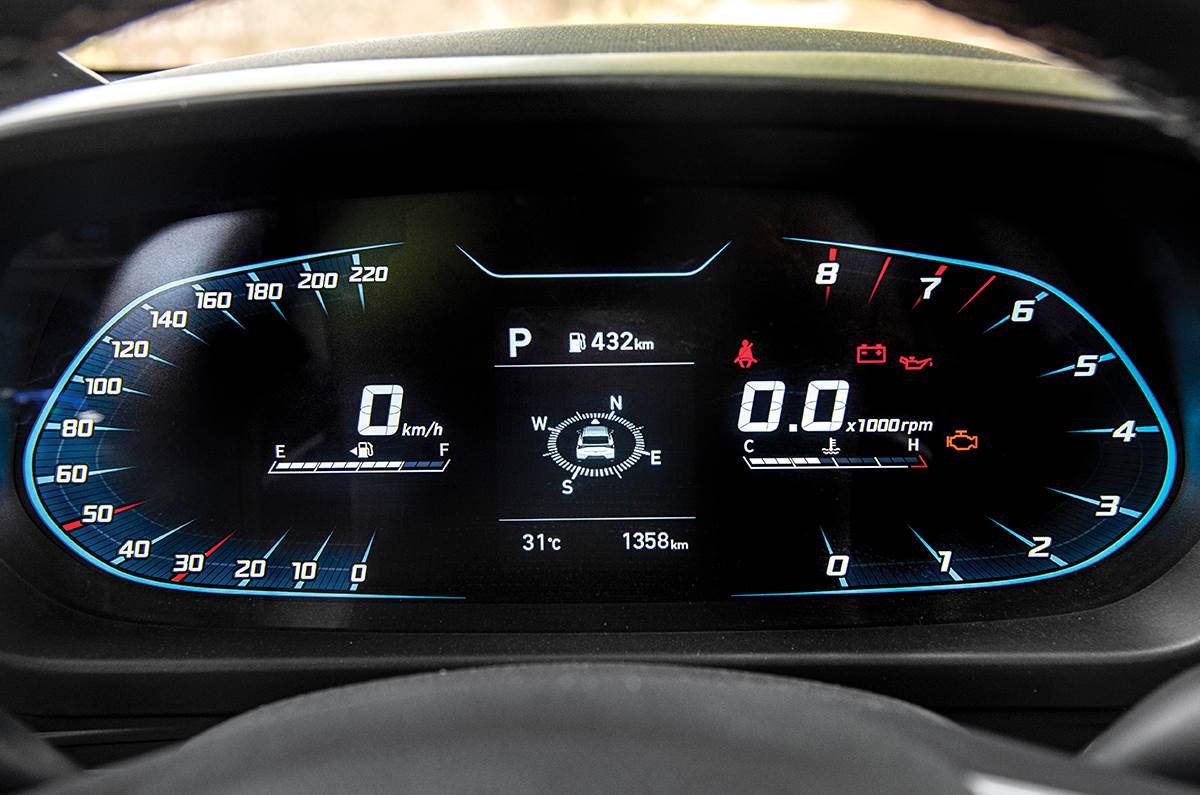 Digital instrument cluster adds vibrancy to i20 interior.
Other highlights include the large 10.25-inch touchscreen that sits in clear sight without being obtrusive, and the digital instrument cluster (we aren't fans of the counterclockwise tacho) also adds some vibrancy to the all-black interior. Sadly, quality is not the best we've seen from Hyundai, with quite a few scratchy plastics inside. Also, the i20's front seats aren't the largest or most supportive.
Altroz's doors unique in 90-degree opening; aids access.
Thanks to doors that open 90 degrees, getting into an Altroz is that little bit easier than the other cars here. And that thud on door shut makes for a reassuring welcome note too; the Tata feels the toughest in its build. Plastic quality is of a generally good standard (panel fit could be better at places), there's a slick use of different textures and colours, and the leatherette upholstery, unique to the Tata, only further ups the ambience inside.
Colours and textures are used to great effect in Altroz. Material quality is good but panel fit is inconsistent at places.
What stands out, or perhaps not enough, is the free-standing 7.0-inch touchscreen that's the smallest here. The part-digital instruments with squared-out dials aren't easiest to refer to either. Front seat comfort is good but drivers will miss telescopic steering adjust, a feature offered on the others. The thick A-pillars also hamper visibility at crossroads.
Glanza vs Baleno vs i20 vs Altroz: tech and features
We've considered these cars in their highest trim levels and each gets you a whole lot of goodies. Keyless entry, push-button start, auto headlights, front centre armrests, cruise control, touchscreens with Android Auto/Apple CarPlay, connected tech and auto climate control are some of the features you'd find on all.
Top-spec i20's sunroof is a draw in its own right.
The fully loaded Hyundai i20 Asta(O) is the priciest car here but it does hold allure, being the only one to offer a sunroof. Of the other things, the i20's slick 10.25-inch touchscreen is the largest, it's got the crispest rear camera and is the only one to get a wireless phone charger. The i20's Bose sound system also adds most depth to your music.
Glanza (and Baleno) head-up display easy to get used to.
The top-spec Baleno Alpha and Glanza V are identical in what they offer. Head-up display that projects info like speed, RPM, blower settings and AC temperature onto a fold-out screen in your line of sight is a cool inclusion.
Baleno (and Glanza) 360-degree camera is useful.
It's not a feature you'd necessarily want, but one that is easy to get used to. Also included is a handy (and segment-first) 360-degree camera, though the resolution is just alright. The Baleno and Glanza's 9.0-inch touchscreens are nice to use, and auto-dimming inside mirrors are also a premium inclusion. The duo do well enough for themselves with an Arkamys sound module that offers good adjustability.
The Tata Altroz XZ+ is on the back foot when talking wow features. Its touchscreen is the smallest, the interface is laggy and the reverse camera is relatively low-res too. The Tata's four-speaker, four-tweeter audio system does deliver punchy sound though.
Altroz touchscreen is smallest and trails in slickness too.
Where the Altroz has bragging rights is in the area of safety courtesy of a Global NCAP 5-star rating for adult occupant protection. The i20 was rated three stars while the Baleno and Glanza are yet to be put to the test. Interestingly, where the fully loaded i20, Baleno and Glanza get six airbags, the Altroz makes do with just two. Things will equalise later this year when the six airbag norm comes into effect. Over and above regulatory requirements of ABS and rear parking sensors, all cars get ESC and ISOFIX child-seat mounts.
Equipment
Toyota Glanza 1.2P V AMT
Maruti Suzuki Baleno 1.2P Alpha AMT
Hyundai i20 1.2P iVT Asta (O)
Tata Altroz 1.2P XZ+ DCA
Airbags
6
6
6
2
ESC
Available
Available
Available
Available
Tyre pressure monitor
NA
NA
Available
Available
ISOFIX child seat mounts
Available
Available
Available
Available
Headlights
LED projector
LED projector
LED projector
Halogen projector
Auto headlights/wipers
Available/NA
Available/NA
Available/Available
Available/Available
Leatherette upholstery
NA
NA
NA
Available
Head up display
Available
Available
NA
NA
Touchscreen
9.0-inch
9.0-inch
10.25-inch
10.25-inch
Camera
360-degree
360-degree
Rear
Rear
Wireless charger
NA
NA
Available
NA
Auto-dimming rear view mirror
Available
Available
NA
NA
Cruise control
Available
Available
Available
Available
Sunroof
NA
NA
Available
NA
Auto climate control
Available
Available
Available
Available
Rear AC vents
Available
Available
Available
Available
Rear armrest
NA
NA
Available
Available
Idle stop/start
Available
Available
NA
NA
Glanza vs Baleno vs i20 vs Altroz:
interior space and storage
These cars are large as hatchbacks go, and each offers ample kneeroom at the back. Rear AC vents, adjustable headrests for the outboard seats and some form of charging also make it easy to get comfy at the back of these cars. But there are differences.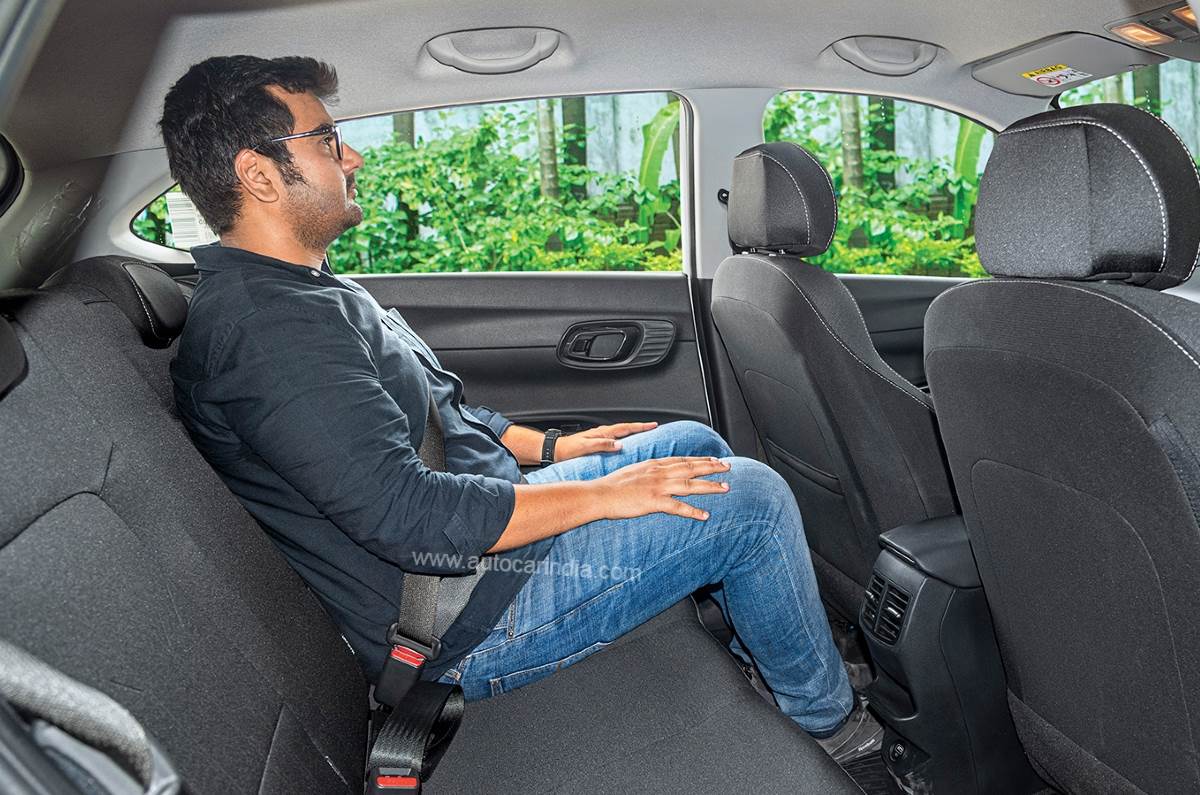 i20 the roomiest hatchback here. Rear seat also most accommodating for three.
It's the i20 that's the roomiest, with the most knee-, head- and shoulder-room. Three abreast seating is easily the comfiest in the i20 and the large windows also lend an airy feeling inside.
Glanza (and Baleno) roomy, but seat is best for two. Centre armrest is missed.
Tall passengers will find the Baleno and Glanza just about adequate on rear headroom. A rear centre armrest (offered in the i20 and Altroz) is missed too and again, the overly soft seat cushioning isn't ideal on long journeys.
Altroz's leatherette upholstered seats look rich. Space is down on rivals.
The Altroz has its hits and misses in a well-cushioned seat but a backrest that's a touch too upright. Headroom is also adequate but no more. You'll be content with how much luggage you can fit in to these cars' boots. Volume-wise, the Altroz tops the charts with 345 litres to the Baleno and Glanza's 318 litres and i20's 311 litres.
Ample bootspace provided. (Clockwise from top left: Toyota Glanza, Maruti Baleno, Hyundai i20 and Tata Altroz)
All models offer the option to fold down the rear seat backrests to make more space, though only the Baleno and Glanza offer the flexibility of 60:40 split seats.
Do note, loading heavy suitcases into the Baleno and Glanza takes most effort due to their high loading lips and low boot floors.
Glanza vs Baleno vs i20 vs Altroz:
engines, performance
In consideration, here are the automatic gearbox versions of the four contenders. To give an overview of the engines and gearboxes, the Baleno and Glanza feature a 1.2-litre, four-cylinder petrol mated to a 5-speed automated manual transmission or AMT; the Tata Altroz pairs a 1.2-litre, three-cylinder petrol to a 6-speed dual-clutch transmission, while the i20 featured here comprises a 1.2-litre, four-cylinder petrol and CVT (continuously variable transmission) combo. Notably, the i20 is also available with a more powerful 1.0-litre, three-cylinder, turbo-petrol engine and 7-speed dual-clutch gearbox, but that version's a whole lot pricier too.
The Glanza is Toyota's first AMT-equipped car in India.
Anyone familiar with the last-gen Baleno auto and/or Glanza auto and their smooth CVTs will be in for some disappointment in the latest models. And that's largely down to the shift to an AMT arrangement. Sure, gentle inputs are catered to admirably with smooth enough gearshifts but press a bit harder on the accelerator pedal and you'll often find the system doesn't quite get what you want of it. The gearbox tends to fumble and the pause between shifts and resulting 'head nod' takes away from the experience. In fact, we found ourselves taking over gearshifts via manual mode more often than we'd have liked. AMTs might have come a long way but this test alone has established there's still a huge gap to the more sophisticated transmissions out there. In terms of engine performance too, some of the zing of the last-gen models is missing. That said, Suzuki's new 90hp and 113Nm K12N engine allows easy progress and scores well on refinement as well.
In terms of engine performance, some zing from the previous-gen Glanza, Baleno models missing.
While the gearbox is a sore point in the Baleno and Glanza, it's the engine that's the weak link in the Altroz package. Performance is reasonable for the urban grind but unimpressive in faster scenarios, reflected in its relatively slow kickdown acceleration times.
The build of power is flat and you really have to work the 86hp and 113Nm engine to get the most out of it. Trouble is, the engine gets noisy when you do so and the three-cylinder thrum fills up the cabin. For its part, the dual-clutch transmission is smooth and responsive to accelerator inputs, even if it's not as quick on the draw (in manual mode too) as a Volkswagen DSG unit. We also found the Altroz to be easiest in crawling traffic with a well-calibrated creep mode.
The i20 and Altroz deliver real-world city fuel economy in the 9-12kpl band.
The surprise of the test was the i20 CVT. Where the last-gen i20 CVT was dull to drive, the new i20 CVT feels like an accomplished city car. The 88hp and 114Nm engine is smooth and quiet, and performance is pleasant. It's not a quick car per se, but you'll appreciate the ready access to power. The CVT (IVT in Hyundai speak) is well in tune with power requirements and that 'rubberband' effect (revs rising faster than road speed) CVTs are notorious for is largely restricted to pedal-to-the-metal driving only. It's reasonable fun to work through the six steps of the gearbox in manual mode too. The i20 CVT is not only better to drive than its rivals here but, as a city car, also feels nicer than the pricier i20 Turbo-DCT.
Performance is one thing. How do these cars deliver on the all-important matter of fuel economy? It's the Baleno AMT and Glanza AMT that score big in this area, with an official ARAI-rated economy of 22.94kpl. Real-world city economy is in the 12-14kpl band, and can be maximised with switchable auto stop/start that's part of the package on the duo. The i20 IVT (19.6kpl ARAI) and Altroz DCA (18.18kpl ARAI) aren't quite as efficient, delivering real-world city economy in the 9-12kpl band.
Performance
Toyota Glanza 1.2P V AMT
Maruti Suzuki Baleno 1.2P Alpha AMT
Hyundai i20 1.2P iVT Asta(O)
Tata Altroz 1.2P XZ+ DCA
PERFORMANCE
Acceleration (from rest)
Acceleration (from rest)
Acceleration (from rest)
Acceleration (from rest)
0-20kph
1.81s
1.81s
1.76s
1.80s
0-40kph
3.53s
3.53s
4.00s
4.02s
0-60kph
6.91s
6.91s
6.66s
6.86s
0-80kph
9.72s
9.72s
10.25s
10.62s
0-100kph
14.92s
14.92s
15.23s
17.08s
0-120kph
21.24s
21.24s
23.07s
25.43s
ACCELERATION IN GEAR
20-80 (kickdown)
8.55s
8.55s
8.15s
9.11s
40-100 (kickdown)
11.93s
11.93s
11.11s
13.25s
Glanza vs Baleno vs i20 vs Altroz: ride and handling
As a baseline, each of these cars offer good driving comfort, with easy to twirl steerings and nice ride quality.
There's an improvement in steering feel in the Glanza and Baleno.
The Baleno and Glanza feel the cushiest at low speeds and smoothen out bad roads better than the others do. There's an improvement in steering feel too, (versus the last gen cars) with a stronger return to centre action. High speed manners are decent as well, though frequent highway goers will find the most suitable match in the Tata Altroz.
The Baleno and Glanza feel the cushiest at low speeds.
The Tata feels the most surefooted at high speeds, handling is keen and the slick steering is the nicest too. That tough build also subconsciously adds to confidence levels. In slower settings, the relatively firm set Altroz can't filter out the bumps (or road noise) as well as the others, but when the road deteriorates entirely, it's the Tata that, once again, shines with a rugged side that the others don't have.
The Tata Altroz feels the most surefooted at high speeds.
The i20 is closer to the Baleno and Glanza in its city-biased manners, with a suspension that rounds off the bumps well. The i20 makes for an able highway car as well, exhibiting good stability and tidy, if unexciting, handling.
The Hyundai i20 makes for an able highway car as well, exhibiting good stability.
Glanza vs Baleno vs i20 vs Altroz: price
Before we give our pick, it's prudent to talk prices. The Baleno AMT (available in three trims) has the lowest starting price of Rs 7.83 lakh (ex-showroom, Delhi), while the range-topping Alpha trim featured here comes in at Rs 9.71 lakh. The Toyota Glanza AMT is marginally pricier (Rs 7.93 lakh- 9.90 lakh) but also packs in a longer 3 year/1,00,000km warranty, versus the Baleno's 2 year/40,000km standard warranty.
Tata Altroz DCA (available in three trims) prices start at Rs 8.29 lakh and top off at Rs 9.79 lakh, with all-black Dark versions commanding an additional Rs 20,000. You'll find three options for clutch pedal-free comfort in the i20 line-up, with intelligent manual transmission (iMT), CVT (aka IVT) and dual-clutch transmissions (DCT) on offer. The i20 IVT in focus here is offered in two variants, with the Sportz trim priced at Rs 8.95 lakh and the fully-loaded Asta(O), the most expensive car, at Rs 10.56 lakh. So, which one should it be?
The dual-clutch transmission has added ease of use to the Altroz's well-established list of strengths that include a tough build, confident manners, practicality and, of course, that striking design. If you are shopping within the Altroz range alone, it's the DCA that we'd recommend. However, as a premium hatchback, the Altroz still falls short on account of its insipid petrol engine and the lack of wow features.
Price and Verdict
Toyota Glanza
Maruti Suzuki Baleno
Hyundai i20
Tata Altroz
Variant
1.2P V AMT
1.2P Alpha AMT
1.2P iVT Asta (O)
1.2P XZ+ DCA
Price (ex-showroom, Delhi)
Rs 9.90 lakh
Rs 9.71 lakh
Rs 10.56 lakh
Rs 9.79 lakh
Verdict
It's a Baleno in every which way. Toyota badge could be a lure for many buyers.
Efficient, well equipped and upmarket but feels best when paired with a manual gearbox.
The best of the auto hatchbacks. More sensible pick than i20 Turbo-DCT too.
Tough Tata has its strengths. Lags in performance and features though.
Rating
8/10
8/10
8/10
7/10
Maruti's Baleno and Toyota's Glanza have wider appeal. Their long list of features will resonate with new-age buyers and the duo also address the age-old concern of 'kitna deti hai?' with class-best fuel economy numbers. They also build on the practicality of their predecessors with enhanced quality all around. The spoiler here is the AMT gearbox that's just not fitting in a car of this class or price point. In fact, you might just prefer the manual versions to these AMTs. As for the question of Baleno or Glanza? Both cars are fundamentally the same, and your decision should hinge on styling preference or even proximity to a dealer/service centre.
As for the i20 IVT, top-spec versions are expensive by class standards, but for many features like a sunroof and Bose sound system make it worth the stretch. What also makes your money feel well spent is that the i20's got the best engine-gearbox combo and offers the most polished drive.
That the i20 is also the roomiest car only helps its case. The i20 is premium in price but also most premium in experience, and that's why it's our pick.
Also read:
Source link