Though late to the midsize SUV party, Toyota has come well prepared with segment-unique mild and strong hybrids as well as an all-wheel drive.
Although late to arrive in India, with diesels on the brink of extinction and electric vehicles being rather expensive, there's a dearth of high efficiency, low running cost vehicles, thus creating an opportunity for hybrids.
Leveraging its global alliance with Suzuki to share technology and models, Toyota, a pioneer in hybrid tech, has joined hands with Maruti, the master of frugal engineering, to jointly develop a midsize, Hyundai Creta-rivalling SUV, which will be sold by both brands. The Toyota SUV is christened Urban Cruiser Hyryder and the Maruti iteration is called the Grand Vitara, and both will be manufactured at Toyota's Bidadi plant in Karnataka. 
The talking point of these SUVs will be their strong-hybrid system, a technology which, for the longest time, was available only in Toyota's premium cars in India, due to the significant costs involved. However, shared components with Maruti, heavy localisation and economies of scale will likely keep a check on costs and achieve a very aggressively priced SUV.
Toyota Urban Cruiser Hyryder: underpinnings, dimensions
Built on Suzuki's Global C platform, the Toyota Urban Cruiser Hyryder and Maruti Grand Vitara share their underpinnings with the second-generation Maruti Brezza and borrow several components from the Maruti parts bin. While the silhouette of the Hyryder is identical to its Maruti twin, Toyota has done well to present its SUV as its own, with unique design traits such as the twin DRLs and the black grille panel featuring a carbon fibre pattern along with tasteful chrome treatment. The LED headlamps have chrome surrounds too, and they flank the oversized air dam that's underlined by a dark grey chin. 
210mm ground clearance is best-in-class.
The raised flat bonnet, squared-off wheel arches, plastic body cladding and silver roof rails add much needed ruggedness to an otherwise neat and clean side profile. Its split tail lamp set-up is very interesting with attractive twin C-shaped LED elements in the brake lamps, while the reversing light and indicators are placed lower, in a separate vertical housing. With a heavy dose of chrome and distinct lines, the boot lid does stand out, and like the front, the rear bumper gets a dark grey faux skid plate on the plastic cladding.
Measuring 4,365mm in length, the Hyryder is longer than the Creta and Seltos, however, the Seltos is taller and wider; and, at 2,600mm, the Hyryder's wheelbase is 10mm shorter than its Korean rivals. The Toyota's standout spec is its segment-best 210mm ground clearance (unladen) in line with its SUV credentials.
On offer is a choice of two engines – one is a Maruti-sourced 103hp, 1.5-litre, four-cylinder K15C petrol engine, along with a mild hybrid system, and the other is Toyota's own strong hybrid engine. The mild hybrid version gets either a 5-speed manual or a 6-speed automatic transmission, with the manual also getting a segment-first all-wheel-drive option.
Toyota Urban Cruiser Hyryder: interior
If you've been in the second-generation Maruti Brezza, the interior ambience of the Hyryder will seem very familiar, because the cars share the dashboard, gear lever and steering. But Toyota has done a great job in dressing up the cabin, befitting a car in this segment. The padded area on the dashboard with the double stitching as well as the vertical silver trim bits on the centre console are design elements borrowed from the more expensive Toyota Fortuner. The cabin's brown and black theme looks appealing and the massive panoramic sunroof takes its premium quotient up a notch. Unique to the Hyryder, both the panes of the panoramic sunroof slide open, liberating a large opening area. Few bits like the power window switches are shared with lesser Marutis and those stand out like a sore thumb on an otherwise well-appointed interior.
Uniquely, both panes of the panoramic sunroof slide, opening up a large area.
Toyota has got the seat cushioning spot on, and the seats are broad, supportive and very comfortable. Adding to the comfort is the seat ventilation for the front passengers, which is a boon in a tropical climate like ours, and thankfully it has become a norm in this segment. The driving position is upright and quite commanding, just what is expected in an SUV, however, the placement of the inside mirror and the free-standing large touchscreen panel do hinder frontal visibility to some extent. What's nice is that to aid visibility while parking, the Toyota gets a handy 360-degree parking camera. The hybrid version also gets a 7-inch instrument cluster which is large, informative and very easy on the eyes, and it's particularly satisfying to watch the power flow animation on the MID (more on that later). The driver also gets a heads-up display which shows a digital speedo along with some other data.
Seats are large, supportive and very comfortable.
Like the front, the Hyryder's rear seat experience is also very good, with well-judged cushioning and supportive seat. You're seated quite high in almost a theatre-like position as the bench is placed at a higher level than the front.There's adequate knee room and ample space to tuck your feet under the front seat, and the backrest also reclines to get more comfortable. Headroom, on the other hand, is adequate for all except those around six feet tall, who will find their heads brushing against the roof. A welcome addition is the inclusion of three individual adjustable neck restraints as well as three-point seatbelts for all passengers.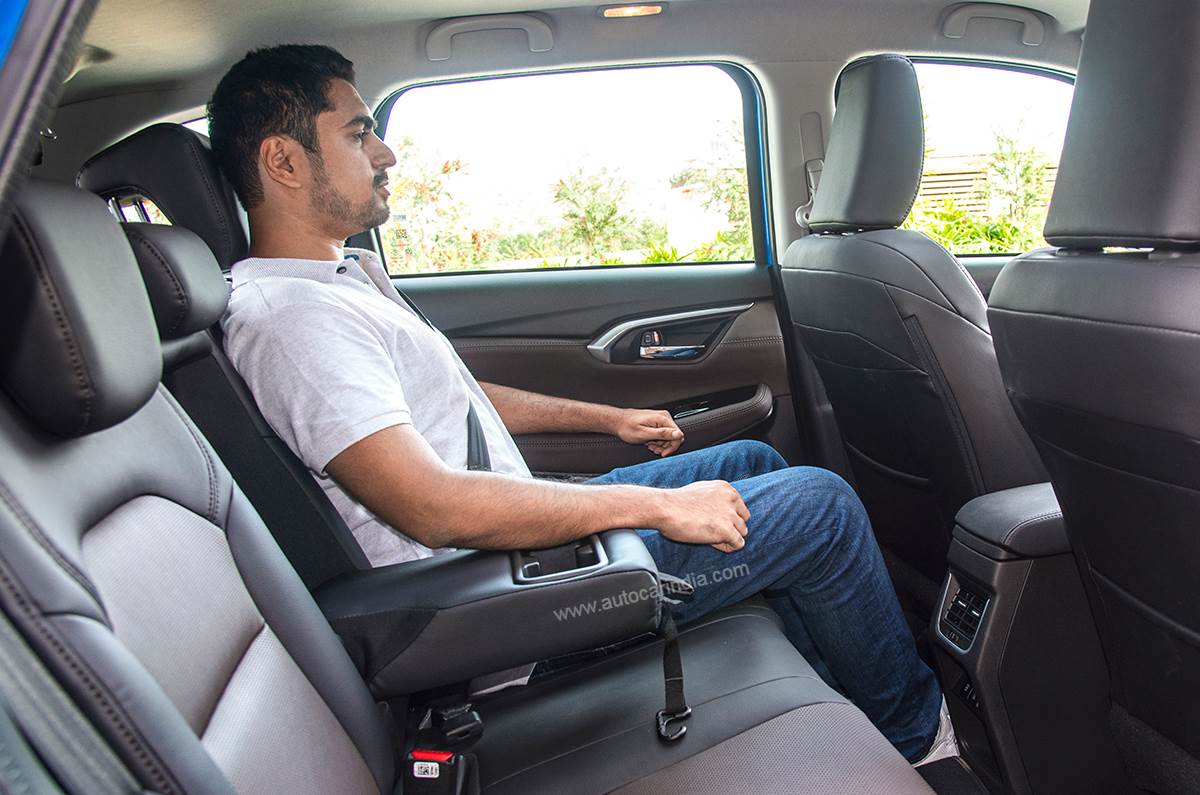 Rear seat is very comfy, and the backrest reclines too.
Boot space in the hybrid is compromised due to the placement of the 1.8kWh lithium-ion battery pack, which results in a raised boot floor, limiting cargo space to 255 litres – 100 litres less than the standard petrol version. There is a nifty additional storage area beneath the boot floor as well as smaller storage areas on either side of the rectangular boot to stow smaller items. The full-sized spare tyre (on steel wheel) is tucked on the outside, beneath the boot, like in the Innova and Fortuner. 
The 255-litre boot is small – 100 litres less than the mild-hybrid version.
Toyota Urban Cruiser Hyryder: performance, ride and handling
In focus here is the 92hp, 1,490cc three-cylinder petrol engine running the more efficient  Atkinson cycle, coupled with Toyota's fourth-generation hybrid system comprising a 1.8kWh lithium-ion battery pack; and an 80hp electric motor, which not only drives the wheels but also recharges its battery. Power is transmitted via an e-CVT (in Toyota's speak), which switches between the direct electric, hybrid and petrol-only modes, and channelises power to the front wheels. 
Three-cyl engine runs smoothly with no vibrations, but breaks EV's silence when it kicks in.
Being a strong hybrid, the Hyryder gets an EV mode, so you can drive around only on battery power and this happens automatically or manually via a button on the console – if, of course, conditions are met like sufficient charge in the batteries. Toyota says that up to 50 to 60 percent of an urban commute is possible in full electric mode, with the petrol engine firing up to offer stronger performance under heavier throttle inputs, or when the battery's state of charge drops below a certain level. And when it does, you'll hear a grumble from the three-cylinder engine – it isn't a typical thrum and there aren't any vibrations to speak of either, but this low frequency hum will break the silence of the full-electric mode.
System seamlessly shifts between petrol-only, electric and hybrid mode.
It'll easily do the urban grind, and with part-throttle inputs, you'll do well to keep up with the flow of traffic. Aggressive drivers or those expecting a turbo-petrol-like lusty surge of power will find the Hyryder's unhurried build of speed lackluster, owing to its flat midrange. But with your foot pinned to the floor, producing 116hp combined in hybrid mode, the Hyryder will sprint from 0-100kph in just 12.10 seconds in its sportiest 'Power' mode, which is at par with the Kia Seltos 115hp, 1.5-litre petrol IVT's 12.06 seconds. In other modes like 'Normal' and 'Eco', performance is quite similar, and it does the sprint in 13.10 and 13.35 seconds, respectively.
Like the Brezza that it shares its platform with, the Toyota also offers a great balance between ride and handling. Its underpinnings feel tough, and with a generous 210mm ground clearance, it takes on bad and broken roads with a sense of authority. What's also nice is that the ride remains composed at all speeds, body roll for such a high-riding vehicle is well-contained and this feels confident while making sudden lane changes or tackling corners. Its steering isn't one-finger light, but what's nice is that it weighs up consistently as you build speed, and gives you a good amount of feel.
Well-judged ride and handling; its underpinnings feel tough.
The Hyryder gets all-wheel disc brakes, and stopping power is strong. While slowing down, particularly at low speeds, you can hear an electric whine when you depress the brake, as the motor generator converts the kinetic energy to electricity and recharges the lithium-ion battery and also aids stopping.
Toyota Urban Cruiser Hyryder: should I buy one?
Toyota might be late to join the midsize SUV bandwagon, but it has come all guns blazing with the Hyryder. Besides looking thoroughly modern and exuding a rugged appeal, it gets the basics right with a well-judged ride and handling balance. Toyota has done really well to give the interior an upmarket treatment; the seats are comfortable, space on offer is plenty, and its equipment list is generous. The ace up its sleeve is its hybrid technology which is smooth in its operation and is likely to be very efficient in the real world. Sure, performance isn't as strong as its turbo-petrol rivals and its boot is quite small, but in every other area, the Hyryder comes across as a well-rounded practical SUV. Plus, the lure of the Toyota badge will only strengthen its appeal. At the end of the day, what'll make or break the deal, however, will be its price. Toyota, can we have the pricing, please?
Also see: 
Source link