At long last, the Ultraviolette F77 is finally ready for sale, and it's a very different motorcycle compared to when we last rode it.
A lot can change in three years and a lot has since we last rode the Ultraviolette F77 in 2019. The start-up from Bengaluru took the pandemic as an opportunity to heavily overhaul the motorcycle, and it now has a battery pack that is more than double in size, a whole new chassis, a more powerful motor and a considerably bigger price tag. With the company finally ready to begin customer deliveries, we got to ride this bike and make sense of where it fits in the market.
The original F77 had a 4.3kWh battery split into three removable packs. That number was decent in 2019, but it's now the mainstay of the scooter market and the company realised that if this bike was to work, it had to have a much bigger battery pack. Switch to 2023, and the top F77 Recon we are riding here has a fixed 10.3kWh battery (7.1Kwh on the base F77). That means that the company can claim a 307km IDC range with a real world range of well over 200km. That's way better than any other two-wheeled EV in India and it makes the F77 a far more practical prospect. But as with most things in life, there are no silver bullets.
DOUBLE-EDGED SWORD
Batteries are heavy and when you more than double the capacity, there's no hiding that mass. The F77 now weighs nearly fifty kilos more than it did in 2019, but Ultraviolette wanted us to start our day by seeing that the F77 is still a sharp and sporty motorcycle, despite all the weight it's gained. And that's why we began with a few fast laps around a go-kart track.
207kg is a lot, but to the F77's credit, it doesn't feel that heavy when you're moving. You certainly feel that this is no longer a lightweight motorcycle (it used to be 158kg), but it also never felt too heavy or out of place for a go-kart circuit. The agility and balance is a little blunted, but still good; the feel from the front end is still there and the bike is still good fun to ride in a place like this. The F77 debuts a new tyre from MRF called the Steel Brace, which is visually very similar to the Metzeler M5 and performed very nicely on track. The biggest sign of the added weight came from the brake lever going a little soft after a few laps but it wasn't to the point of being a concern. Most customers won't be that demanding on the brakes in the real world.
TWIST AND GO
From the track, we were moved to the lovely Nandi Hills road outside Bengaluru where there was another set of F77s waiting. Even on the short kart track, the F77 was crossing 105kph down the straight, but riding on the road would help understand the performance levels more clearly. 
There are three riding modes – Glide, Combat and Ballistic – and the bike feels usably quick even
in the base mode, where it can cross 80kph and climb inclines without stress. Combat mode unlocks access to about 70 percent of the performance while Ballistic gives you everything the bike has to offer. Thankfully, Ultraviolette has updated the software, so you can now use Ballistic mode until the battery has 30 percent charge remaining.
The Recon model has a more powerful motor (38.9hp, 95Nm) to help offset the extra weight, and the company claims a 0-100kph time of 8sec, with a top speed of just under 150kph. That puts the performance in the 250-300cc zone, but in reality, it feels different to any other petrol vehicle. That's because it's a wonderful, torque-dominated linear surge of acceleration that goes on nicely till over 120kph, before things begin to taper off. We didn't get to try, but I'm sure that it can hit its top speed given enough room. The only thing that feels weird is that there's nothing for your left limbs to do, but the human brain is an exceptionally adaptable thing and you'll soon
get used to that.
No matter which mode you use, the feel and connection from the accelerator is very natural, and there isn't much of a learning curve if this is your first EV after years of riding petrol motorcycles. In fact, what took me the most time getting used to was that, with all that torque, there was almost always a little more acceleration than I expected on corner exits and that definitely ups the excitement factor.
The sound is also quite interesting, and the F77 produces a futuristic blend of electric motor and primary reduction whine, mixed with the noise from the chain drive. Unlike most EVs in the market, the F77 gets dual-channel ABS as standard.
HEAVY HANDED
To help the motorcycle cope with all the added weight, the chassis had to be completely redesigned and strengthened in pretty much every area.
One of my concerns with the added weight was that the company would have to seriously firm up the suspension to cope. They have done that, but they've also managed to end up with a decent ride quality. You certainly feel the motorcycle's weight on big potholes, but it copes with small and medium bumps quite well. In fact, it's actually the firm seat and sporty riding position that have a bigger impact on the comfort factor. The ergos are nicely balanced, with neither your upper or lower body being extremely contorted, but this is very much a sportbike riding position. 
Suspension is pre-load adjustable at both ends.
We've already established that the F77 hides its weight superbly well once on the move, but you
feel every one of those kilos at parking speeds. It's a pain to walk the bike around forward and backwards, especially if the motor is on (which creates quite a bit of drag resistance). This is also the first EV where I've voluntarily and regularly used the reverse parking assist.
LONE RANGER
The F77 looks like nothing else because it has the side profile of a faired motorcycle and the face of a naked street bike. The funky fork shrouds add to the visual drama and the bike also has a great looking set of wheels that are completely unique. Those small fins that stick out of the sides aren't just aesthetic either, and help direct cool air towards the electric motor. They're also designed to help protect the bodywork in case the bike falls over, and the company also provides an internal set of crash protection bars as standard.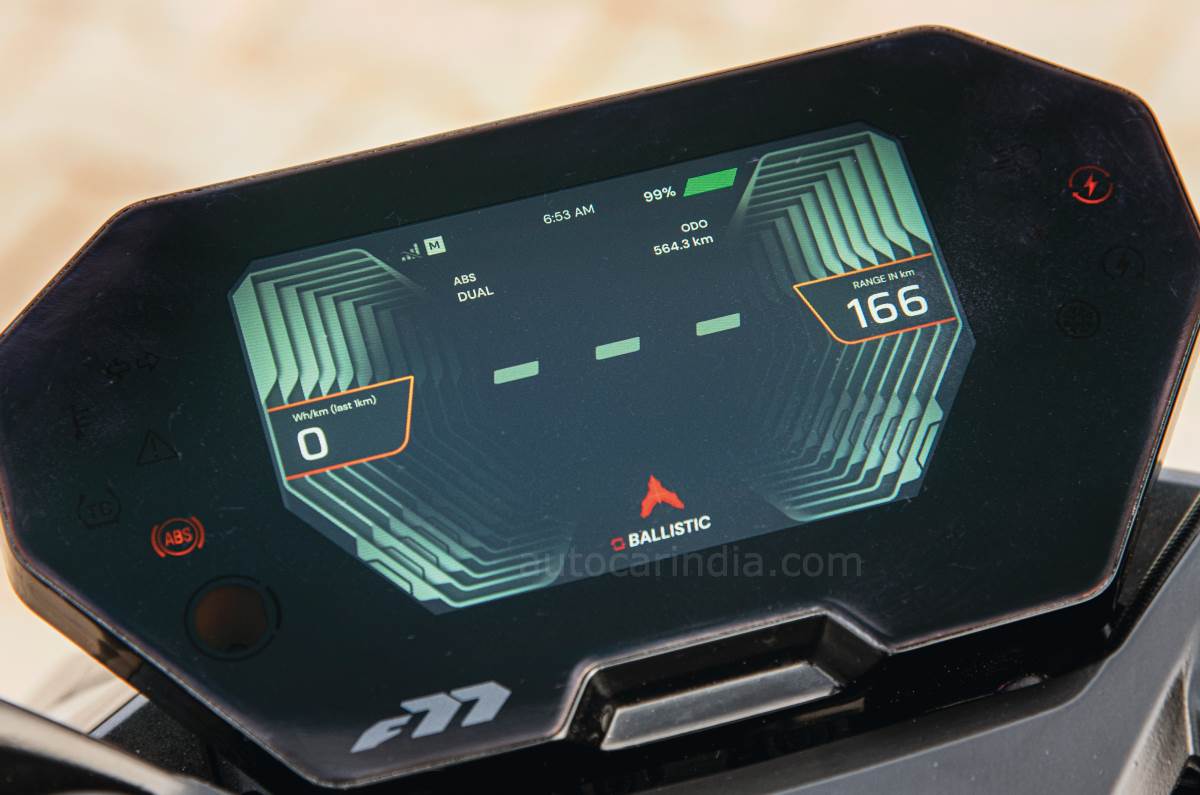 The F77 is fully loaded with a 5.0-inch TFT display, auto on/off headlamps, navigation with real-time traffic assists, geofencing and a whole lot more. There's even a lockdown mode in case your bike gets stolen. The connected features are powered by a built-in 4G SIM and Ultraviolette says there will be no subscription charges.
Quality wise, this is easily the best of the few electric motorcycles on sale in India today and most of the body panels look good and fit well. However, some plastics still need to improve and the company says that they're working to sort this out as production begins to step up. Speaking of, deliveries will start in Bengaluru in the next couple of weeks with more cities in South India to follow in the coming months.
SENSE AND SENSIBILITIES
It's worth mentioning that the bikes we've ridden are from a pre-production batch and they had no electronic or mechanical glitches, which is quite a rarity when it comes to launch events by EV start-ups. That's a crucial first dose of confidence because these bikes don't qualify for the FAME 2 subsidy and that means a startling price tag – Rs 3.8 lakh for the base model and Rs 4.55 lakh for the Recon, both ex-showroom. 
As has become the reality with EVs at the moment, the buy-in cost is considerably higher than a similar petrol vehicle, but that gets offset by the running costs. So, if you intend on keeping the bike for a long period, the numbers could work in your favour. And that means buying the F77 isn't so much a matter of whether it's worth the money, because the bigger question is whether it makes sense. 
The truth is that even three years later, you still need to be okay with being an early adopter who's willing to pay more for something new and make some sacrifices along the way. However, the good news is that with a very realistic range of 200-plus km, this becomes more than just a city bike, as it can take on those fun weekend rides as well. It would take some serious commitment to try and tour on an F77. But as a fun and completely unique addition to your garage, there really isn't anything else like this motorcycle, and I don't think there will be for sometime. That makes it worth your consideration.
Source link