Far from its image of being a focused scooter, the Aerox is proving to be a true jack of all trades.
It's been an eventful couple of months for the little Aerox. Since its homecoming journey from Pune, where I took delivery, to Mumbai, it has done more than its fair share of city runabouts, gotten its first service and oil change done, impressed me on a couple of highway blasts, attacked some twisties, and even partaken in a little bit of racing! The only real hiccup so far has been a shoddy service job by Dolphin Yamaha at Mumbai, which saw the transmission oil filler cap improperly fitted, leading to a small oil weep at that location.
CARVING IT UP: Large wheels and grippy tyres offer confident handling, allowing you to push hard in the corners.
The 155cc engine continues to be a highlight of the scooter, and with fresh oil, I could finally take it up to some proper highway cruising speeds. In the company of much larger, quicker motorcycles on the way to the event at Aamby Valley, the Aerox held its own on the open highway, sitting pretty at 100-110kph with a little left in reserve. But this high-speed blast brought to the fore one of the Aerox's shortcomings – its rather small 5.5-litre fuel tank. In the city, it sips through its tank rather frugally, but at sustained high speeds, the fuel gauge dropped rather quickly, and the 100km distance to Lonavala required about half a tank.
From that point on, it was twisties all the way to Aamby Valley, where once again, the Aerox was quite happy to go toe-to-toe with bikes that are built to be corner carvers. Of course, it didn't quite have the grunt of something like the Trident 660 or even the RC 390 that were along for the ride, but like a determined little ant, it was always clawing back ground in the twisties. The only caveat is that you need to make sure you lift your butt off the seat a little when you encounter mid-corner bumps – the Aerox is never unsettled or pushed wide by them, but it does send the jolts through to you quite sharply.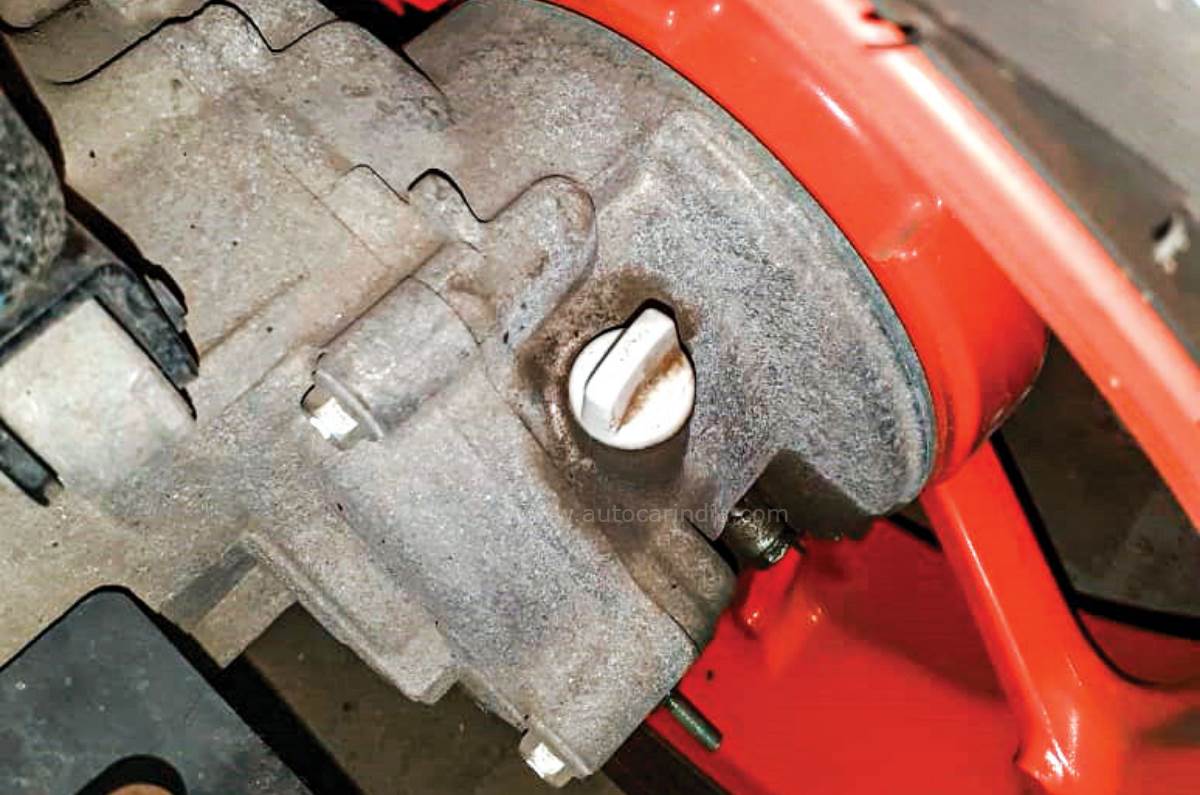 CRYING OVER SPILT OIL: Poor service job left transmission oil filler cap improperly fastened, leading to a small oil weep.
Managing your body weight is something you need to do on the highway as well, because the Aerox's already sloped-forward seat has been made even more challenging by my addition of the Yamaha accessory seat cover, which has turned out to be quite slippery (a necessary evil since the cats had already begun to sink their claws into the seat). This means that you find yourself sliding forwards quite a lot, especially under braking. My workaround is to wedge my feet against the front of the floorboard and use my legs to hold myself in place.
What also robs you of a little confidence at high speeds is the underwhelming braking set-up. Initial bite is quite spongy and you really need a strong tug at the lever to seriously shed speed, and even then, it's just about adequate. Thankfully, there is a vast aftermarket for this scooter, owing to its astronomical popularity in South East Asia. A fellow Aerox owner recently swapped to a larger front brake rotor, and there is even the possibility of converting the rear drum to a disc. Bigger fuel tanks, better suspension – there's a whole world of possibilities. I think I'll start off with a smaller step though – more aggressive brake pads. Watch this space to see how things pan out.
Also see:
Source link