Apart from a trip to Pune with Nikhil, the Audi e-tron has been Hormazd's daily driver. But living just 7 kilometres away from the office and with a charger at both ends, serving as the boss' daily driver is simply not a challenge.
Thus, I planned to find out if someone like me, with a 37km journey one way and no charger at home, could live the EV life. And to make things interesting, I would take it home over a weekend that we planned to head back into town to visit friends.
This would mean a 75km office-home-office round trip, as well as running around on the weekend with the family and the 80-odd kilometre trip visiting friends. In our tests, the 95kWh battery of the e-tron would return an average of 350-380km on a full charge, and so some quick mental maths showed me that I could indeed survive the weekend without a sweat, but range anxiety would be real and I was determined not to use a public charger to simply top off. Besides, as we learned from Nikhil's trip to Pune (previous report May 2022) to take part in the EV rally, not all chargers actually work all the time. So a full charge at the office was all I was planning on using over the course of the weekend.
I topped the battery on Friday and left that night for home with a 99 percent charge. The trip home was pretty uneventful, and while I thought I'd use 10 percent of the battery, I consumed about 8 percent. Not bad at all, what helped save a percent or so was the traffic, which ensured I had a lot of lift-off regen every time it slowed.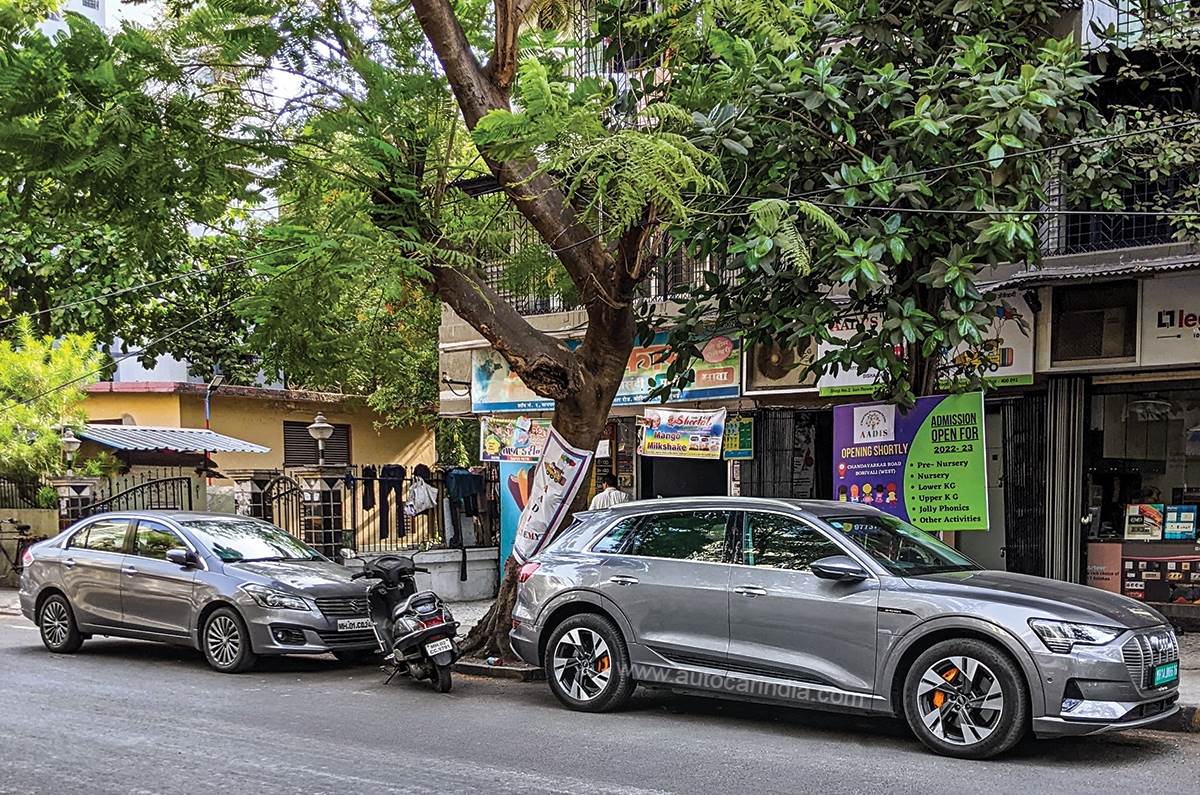 Though it needs a large spot, parking is quite easy due to the 360-degree camera and light steering.
The next day was a trip to the dentist to get my daughter's braces fitted and my wallet flattened. Yes, dentistry is expensive; thank God I had the e-tron, which costs – on our office charger – about Rs 750 to fully charge. Hmm, now that I think of it, it did not greatly impact the dentist's bill, but it's still nice to know. Parking at the side of the road was another aspect of our daily life the e-tron would have to live up to. While it is a big car, manoeuvring it into a spot meant for a mid to large sedan isn't too challenging, as the all-round cameras make light work of this; the power-assisted steering isn't unwieldy either.
SAFE AND SECURE: Cargo net is quite handy in securing loose cargo.
Braces done, we decide to head to a book sale we saw on the way, you know, the 'by the kilo' type. As we're a family of avid readers, we bought quite a few books, and with our fastidious attempts at not using plastic bags, we carried them all loose. That's where the boot net came in handy, securing what would otherwise have been loose cargo sliding around, and dog ears is something I simply hate on my books. This entire outing was 17km and took 6 percent of the battery.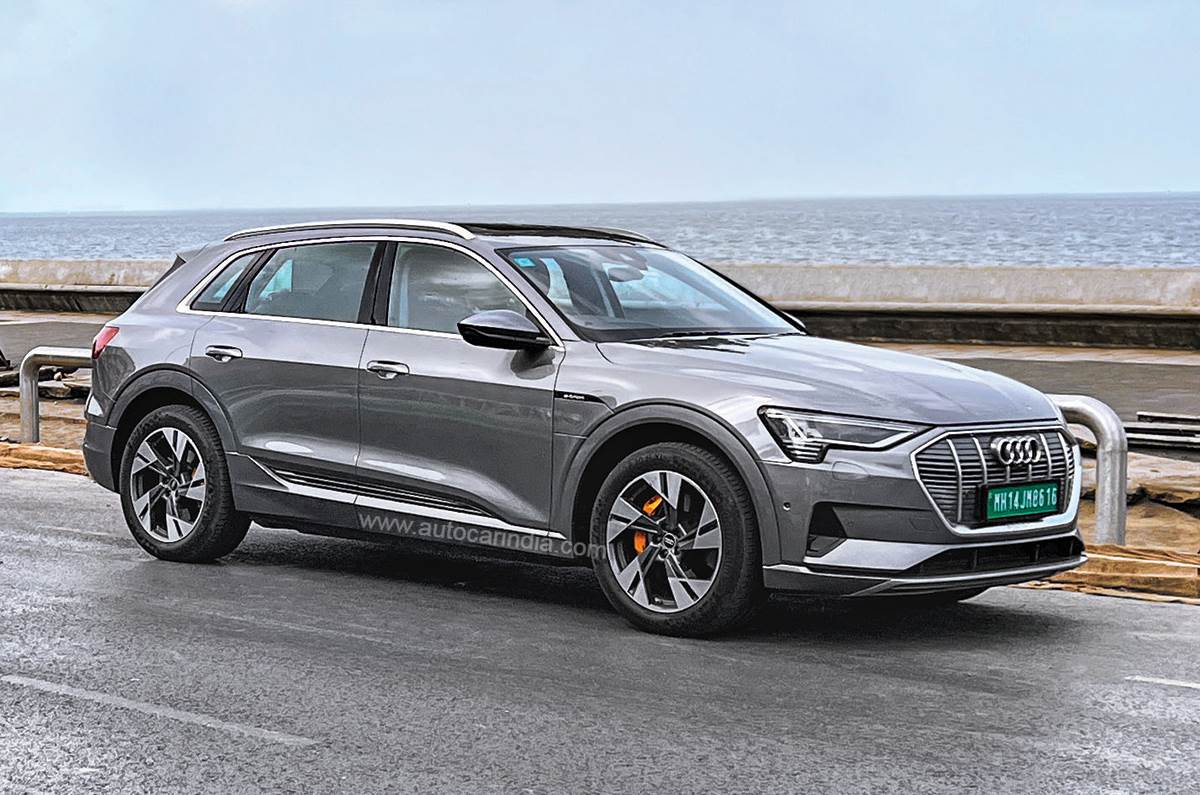 NO CREEP: Creep function absent. Makes moving in slow traffic difficult.
The Sunday drive to meet our friends would, however, take a lot more. We live in Dahisar and they at Colaba – basically two ends of Mumbai – which is around 45km one way, and adding to that would be any driving we'd do in town. Also, being a Sunday, we'd use a lot more of the battery, as there wouldn't be much traffic, and thus, the opportunity to benefit from a lot of regen.
Our friends Rohan and Smriti have a lovely Series-1 Land Rover, but the Audi being an electric piqued their curiosity, and I obliged – or is it indulged – with some electrifying launches, much to the delight of their kids too. It always surprises people how quick electric cars get off the line, and the Audi is no different. The launches would mean a bigger bite into the battery, but we had left home  in the morning with 85 percent, so it was all good.
HOT SEAT: With cooled seats now quite common you miss them here.
Back home at night, we'd covered 110km, which cost us 29 percent of the battery. This meant the e-tron had 55 percent of the battery remaining, over half its capacity, not bad at all. All that was left was the run back to the office, which I knew would only take about 10 percent. And come Tuesday (I didn't go in on Monday, though drove a bit around the house), I was left with 45 percent of the total charge after reaching office.
POINT OF VIEW: Nice to see rendered lights mimicking the actual ones.
So, the whole weekend trip saw me cover exactly 200km and use 55 percent of the battery; mathematically, that would equate to about a 363km range. So yeah, living the EV life with a charger on only one end is very doable, at least with the e-tron. Next up would be to try the same with a smaller battery.
Tata Motors?
Also read:
Audi e-tron 55 quattro India review, test drive
Source link